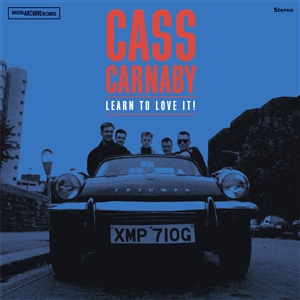 1 - CASS CARNABY - LEARN TO LOVE - (CD)
BRISTOL ARCHIVES

300 copies only - Limited edition (flip back sleeve) vinyl replica CD.Formed out of the ashes of Bristol band Blue Riverside, members Sean Parry, Neil Garland and Pat Evans recruited Phil Elvins and Andy Baker in July 1986 to form The Cass Carnaby Five, a name taken from a puppet band on an episode of Thunderbirds. They soon set about writing a set of original songs about sex, love, drinking, 60's TV superheroes and what was going on in their lives, rapidly picking up a large loyal fan base that followed them everywhere over the next three years.The band underwent various member changes during that time and a streamlining of their name, but the music remained the same. Loud, in your face Punk R&B, with always outrageous front man Neil Garland a cross between Steve Marriott and Johnny Rotten. They appealed to Scooter Boys, Mods and Garage Rock fans. Over the time they were together Cass Carnaby gigged heavily all over the UK, recorded 28 studio tracks but only released one well-received 45 single, 'Captain Scarlet'.Here is a selection of those wonderful and never heard before tracks. Whenever the band wrote songs or had to make decisions they weren't sure about, drummer Pat Evans would simply shout - 'Learn to Love It!' and so you have it!

TRACKLISTING: 01. November Rain 02. Die Young, Stay Pretty 03. Rich Justice 04. Forgive Me 05. Baby When I See You 06. Don't Blame Me 07. Perfect Man 08. Don't Stay 09. Bat Slamming 10. Sexual Stranger 11. Don't Let Us Down 12. Watch Yourself 13. Captain Scarlet.



Format: CD

Disc Quantity: 1
Release date: 09-10-2020
Item # : 543069
Availability: IN STOCK

[login]