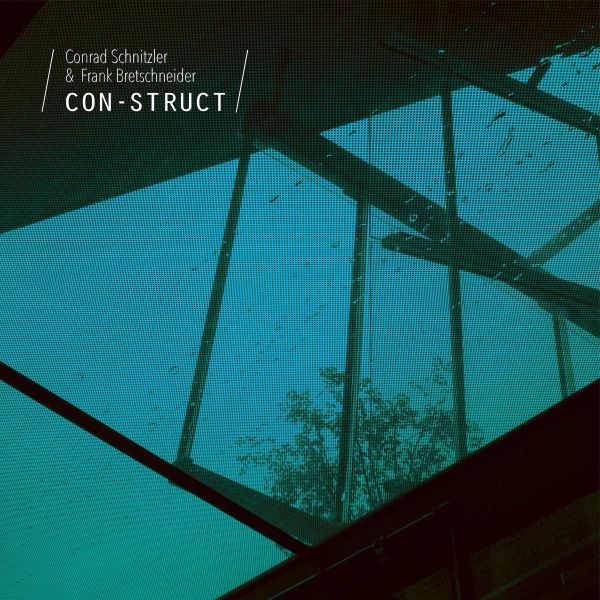 1 - SCHNITZLER, CONRAD/FRANK BRETSCHNEIDER - CON-STRUCT - (CD)
BUREAU B

About the Con-Struct series:Conrad Schnitzler liked to embark on daily excursions through the sonic diversity of his synthesizers. Finding exceptional sounds with great regularity, he preserved them for use in combination with each other in subsequent live performances. He thus amassed a vast sound archive of his discoveries over time. When the m=minimal label in Berlin reissued two Conrad Schnitzler albums at the outset of the 2010 decade, label honcho Jens Streuver was granted access to this audio library. Streuver came up with the idea of con-structing new compositions, not remixes, from the archived material. On completion of the first Con-Struct album, he decided to develop the concept into a series, with different electronic musicians invited into Schnitzlers unique world of sound.Bretschneider on his Con-Structions:I read the name Conrad Schnitzler for the first time in the article about Tangerine Dream in the Rowohlt Rock Lexicon from 1973 (back then, at 17 in the GDR, an indispensable guide). The first time I heard his music was only in 1980, when his wave track "Auf dem Schwarzen Kanal" was played on the radio, an RCA 12" Super Sound Single in disco remix. Then the man was gone and stayed under the radar again, in spite of his almostinflationary number of releases. Maybe his material was too obscure or his approach too radical to be noticed by the general public. It wasnt until 1988 that I heard from Schnitzler again, a tape on Joerg Thomasius East Berlin Kroeten Kassetten label. And again almost 10 years later his PlateLunch CDs "Rot" and "00/106". But it was all too rough and raw for me, both in terms of sound and organization, kind of mechanically and not really cool. Only after I heard Wolfgang Seidel at the NBI around 2002 with one of his tape concerts, I came slowly closer.

TRACKLISTING: 01. Klirrfaktor 02. Schwingkreis 03. Gegenkopplung 04. Emitterfolger 05. Gegentakt 06. Phasenschieber 07. Hysterese 08. Grenzfrequenz 09. Ruhestrom 10. Vierpol 11. Monoflop

People who bought this item also bought FELBM, ESPLENDOR GEOMETRICO, LUCY AND THE RATS, NUCLEAR WARFARE, ...

Format: CD

Disc Quantity: 1
Release date: 07-08-2020
Item # : 542111
Availability: IN STOCK

[login]