New & updated section last updated: 22.07.2019
16.07.2019
SPECIAL ATTENTION!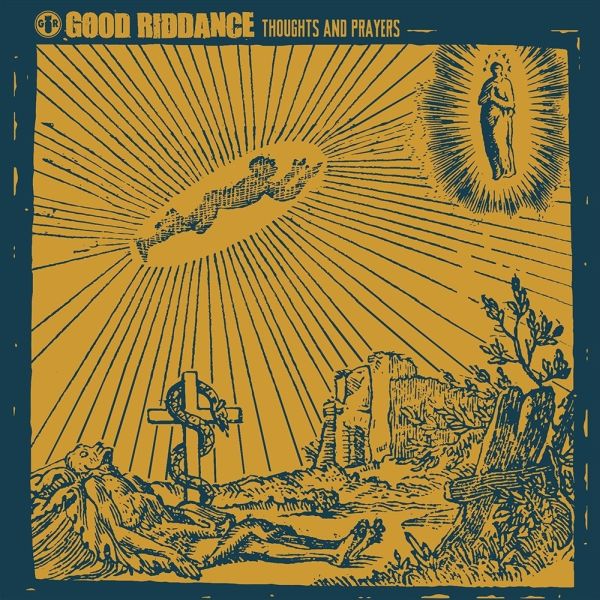 GOOD RIDDANCE - THOUGHTS AND PRAYERS - (LP/CD)

Second album since their reformation in 2012. As a voice of resistance through four presidential administrations,GOOD RIDDANCE seems well-suited for these fraught times-but dont expect a bunch of obvious anti-45 screeds. Though the anxiety and anger of the day is palpable on Thoughts and Prayers, a title taken from the inane platitudes spouted by politicians after mass shootings. "Our Great Divide" reflects the unprecedented polarization of American society over a classic three-chord progression and breakneck beat.



16.07.2019
SPECIAL ATTENTION!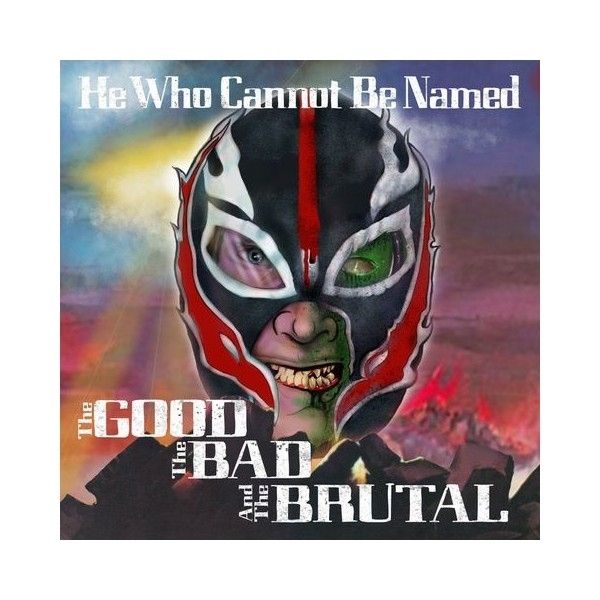 HEWHOCANNOTBENAMED - THE GOOD THE BAD & THE BRUTAL - (LP+CD)

Limited edition of 100 copies on blue vinyl!He Who Cannot Be Named has been playing punk rock for almost 30 years, most of that time with the legendary "Dwarves". An original member of this San Francisco based combo, he wrote or co wrote many of your favorite tunes from the early Sub Pop albums "Blood Guts and Pussy", and "Thank Heaven For Little Girls". "The Good, The Bad, and The Brutal" will be HeWho's fourth solo release. Keith Mueller again appears on lead guitar with the addition of drummer Eric Borst and bassist Bobby Ramone. This album is a collection of songs, half with the word "Good" in the title and half with the word "Bad". It also features guest vocal appearances by Spike Slawson (Me First and the Gimme Gimmes), Chris Barrows (Pink Lincolns) Sean Wheeler (Throw Rag) and Nick Oliveri (Dwarves, Mondo Generator, Queens of the Stone Age).



VASUDEVA
LIFE IN CYCLES (CD)
SKELETAL LIGHTNING

Vasudeva is a playful instrumental band who deploy an array of delay, reverb, and echo to define their complex texture.The 2013 release "Life in Cycles" is like a soundtrack made for stargazing. Sonically, it's not far from a 'sounds of nature' disc; crafted with a delicate ambiance that borders on the spiritual. Mixed and produced by good frie ... read more >

Disc Quantity: 1
Release date: 2019-07-19
Item # : 534576
Availability : IN STOCK

Format : CD
[login]
DANNY 'O' & THE ASTROTONES
INTRODUCING... (CD)
WITCHCRAFT INT.

The debut LP of this red hot UK Rockabilly band. 14 tracks, that will rock your socks off. Premium manufacturing comes in a multicolored gatefold cover including a glossy 12" 8 page insert with photos & lyrics.

Disc Quantity: 1
Release date: 2019-06-21
Item # : 534170
Availability : IN STOCK

Format : CD
[login]
GOOD RIDDANCE
THOUGHTS AND PRAYERS (CD)
FAT WRECK CHORDS

Second album since their reformation in 2012. As a voice of resistance through four presidential administrations,GOOD RIDDANCE seems well-suited for these fraught times-but dont expect a bunch of obvious anti-45 screeds. Though the anxiety and anger of the day is palpable on Thoughts and Prayers, a title taken from the inane platitudes spouted ... read more >

Disc Quantity: 1
Release date: 2019-07-19
Item # : 534648
Availability : IN STOCK

Format : CD
[login]
ZAHN/HATAMI/MCCLURE
YPSILON (CD)
N5MD

The trio have also worked together on numerous collaborative projects between each other as duos, and "Ypsilon" album finds them back together, ever expanding their shared aural ideology into new territories. Their 2016 release, "Veerian," [eilean rec.] focused on free-flowing soundscapes, whereas this new album incorporates more overtly melodi ... read more >

Disc Quantity: 1
Release date: 2019-07-26
Item # : 534087
Availability : IN STOCK

Format : CD
[login]
SMALL FACES
TRANSMISSIONS 1965-1968 (CD)
AUDIO VAULTS

Tracks 1-3 Saturday Club, 23rd August, 1965Tracks 4-7 Joe Loss Pop Show, 14th January, 1966Tracks 8-10 Saturday Club, 14th March, 1966Tracks 11-13 Saturday Club, 3rd May, 1966Tracks 14-16 Saturday Club, 30th June, 1966Tracks 17-19 German TV Show, Hessischer Rundfunk At Offenbach Town Hall, 28th September, 1966Track 20 French TV Show, Bouton Rou ... read more >

Disc Quantity: 1
Release date: 2019-07-12
Item # : 534050
Availability : IN STOCK

Format : CD
[login]
NECKING
CUT YOUR TEETH (CD)
MINT

Necking became a band before playing a note of music together. The origin story of the Vancouver-based powerhouse post-punk quartet starts at a party where all four members met for the first time and began boasting untruths about their group's musical accomplishments. Following a series of fake names including Britney Bitch and Four White Guys, ... read more >

Disc Quantity: 1
Release date: 2019-07-05
Item # : 533633
Availability : IN STOCK

Format : CD
[login]
DUMB
CLUB NITES (CD)
MINT

Dumb are good at plenty of things, but relaxing isn't one of them. The Vancouver four-piece write feverish tunes at a frantic pace, delivering catchy post-punk songs in two-minute blasts of wiry riffs and indignant social critiques. As the title indicates, Club Nites is a collection of narratives drawn from the nightlife ecosystem. Attempting ... read more >

Disc Quantity: 1
Release date: 2019-06-07
Item # : 533208
Availability : IN STOCK

Format : CD
[login]
HOLT, JOHN
3000 VOLTS OF HOLT (CD)
KINGSTON SOUNDS

The 3000 Volts of Holt album was the third in a series of records that launched John Holt into the UK charts in the 1970s.To say that every home had a copy of a 1000 Volts and many 2000 Volts of Holt might be an overstatement but it certainly felt that way, as all good radio stations and parties seemed to have these tracks on permanent rotation ... read more >

Disc Quantity: 1
Release date: 2019-07-19
Item # : 534599
Availability : IN STOCK

Format : CD
[login]
SET AND SETTING
TABULA RASA (CD)
PELAGIC

SET AND SETTING are a young band from St. Petersburg, Florida who merge instrumental rock with a thick metallic edgeand elements of drone and ambient music. The result is a captivating, wordless, genre amalgam", Decibel raved, andBrookly Vegan defined their sound as "metallic chug to trippy psychedelia to soaring post-rock beauty... like Russia ... read more >

Disc Quantity: 1
Release date: 2019-07-12
Item # : 534646
Availability : IN STOCK

Format : CD
[login]
NORTH EAST SKA JAZZ ORCHESTRA
NORTH EAST SKA JAZZ ORCHESTRA (CD)
BRIXTON

Second album from the Italian big band with 9 brand new own-penned tracks further investigating Jamaican sounds from the perspective of a contemporary big band. The outcome is a mixture of sonorities and textures based on the tradition of original ska, soulful discharges and youth

Disc Quantity: 1
Release date: 2019-07-01
Item # : 533997
Availability : IN STOCK

Format : CD
[login]
NEW YORK SKA JAZZ ENSEMBLE
BREAK THRU! (CD)
BRIXTON

The real kings of contemporary ska-jazz invite us to an exciting cocktail of jamaican beats and jazz sounds. Brilliant instrumental tracks that will soon be classics an vocal songs showing their exquisite taste and savoire faire. Includes a posthumous musical tribute to the great Tom Petty.

Disc Quantity: 1
Release date: 2019-07-01
Item # : 533988
Availability : IN STOCK

Format : CD
[login]
OLDTIME STRINGBAND
PRETTY LITTLE HORSES (CD)
OTSB

This is the 4th cd by this 5 piece bluegrass, folk and americana band. Recorded live, standing in a circle. Just playing and having fun without any overdubs. This 8 track album proves the unique and recognizable sound of this dutch band.

Disc Quantity: 1
Release date: 2019-07-10
Item # : 534740
Availability : IN STOCK

Format : CD
[login]
WAKE, THE
MASKED (CD)
CLEOPATRA

Deluxe CD edition and first time vinyl pressing of the landmark 1993 debut album from Columbus OH goth rockers, The Wake!Special bonus disc contains unreleased mixes, demos and versions heard here for the first time ever!As part of the early '90s wave of goth rock bands, The Wake earned numerous critical accolades and through extensive touring ... read more >

Disc Quantity: 2
Release date: 2019-06-28
Item # : 533511
Availability : 2/3 WEEKS, NOT IN STOCK

Format : CD
[login]
TEA SET, THE
BACK IN TIME FOR TEA (CD)
CLEOPATRA

The definitive singles collection from UK underground post-punk heroes, The Tea Set!Includes all of the band's recordings originally released on 7" from 1978-1981 as well as two never heard before tracks "Walk Small" and the recently recorded "Pharaohs!"The Tea Set were the complete package with a highly energetic, theatrical live show that mad ... read more >

Disc Quantity: 1
Release date: 2019-07-19
Item # : 533889
Availability : IN STOCK

Format : CD
[login]
STONE, ANGIE
FULL CIRCLE (CD)
CLEOPATRA

R&B icon Angie Stone comes full circle with her strongest album of original material to date!Includes the blockbuster single "Dinosaur" that has been lighting up the air waves all over the US, cracking into the Top 30 of the Urban AC chart, as well as "Gonna Have To Be You," a special duet track with another R&B superstar, Jaheim!Will be suppor ... read more >

Disc Quantity: 1
Release date: 2019-07-12
Item # : 533948
Availability : IN STOCK

Format : CD
[login]
TRAVERS, PAT
SWING (CD)
PURPLE PYRAMID

Legendary guitarist Pat Travers gets swinging on a set of big band classics from '40s & '50s on this unique project!Features full band rock arrangements of Louis Prima's "Sing Sing Sing," Duke Elington's "Take The 'A' Train," Glenn Miller's "In The Mood" and many more!

Disc Quantity: 1
Release date: 2019-07-26
Item # : 534079
Availability : IN STOCK

Format : CD
[login]
PRETTY BOY FLOYD
STRAY BULLET (CD)
DEADLINE

A collection of rare demo recordings from the early '90s that was to be the band's follow-up to their major label debut album Leather Boyz With Electric Toyz!Also includes the entire 1998 EP A Tale Of Sex, Designer Drugs, And The Death Of Rock N' Roll PLUS 3 special bonus tracks!Available on both CD in a gatefold sleeve with hand-numbered certi ... read more >

Disc Quantity: 1
Release date: 2019-08-02
Item # : 534126
Availability : IN STOCK

Format : CD
[login]
ARISTOCRATS
YOU KNOW WHAT.. ? (CD)
BOING MUSIC

The Aristocrats, perhaps the best-known instrumental rock-fusion band on the circuit, have recorded their most ambitious and exploratory album to date. "You Know What...?" is the fourth studio album from the trio and includes nine new tracks recorded at Brotheryn Studios, Ojai, CA.A glance at the track listing for "You Know What...?" may cause ... read more >

Disc Quantity: 1
Release date: 2019-07-12
Item # : 534330
Availability : IN STOCK

Format : CD
[login]
STEREO TOTAL
AH! QUEL CINEMA! (CD)
TAPETE

An album title with not one, but two exclamation marks, meaning something akin to "what a palaver"as it primes the listener for songs like "Cinemascope". Themes such as personal injuries ("Ich bin cool"), betrayal ("Mes copines"), personality deficiencies brought on by drug abuse ("Methedrine"), rage ("Hass-Satellit"), inflated opinions of ones ... read more >

Disc Quantity: 1
Release date: 2019-07-12
Item # : 526980
Availability : IN STOCK

Format : CD
[login]
SHATTERED FAITH
VOLUME I (LIVE) (CD)
HOSTAGE

For the first time ever, Shattered Faith's classic debut album restored for CD. These versions have the uncut banter between songs that were edited off the LP, plus the rare and epic version of Too Tense from the studio session that did not make the original LP.

Disc Quantity: 1
Release date: 2019-06-28
Item # : 534641
Availability : 2/3 WEEKS, NOT IN STOCK

Format : CD
[login]
VARIOUS
THE STARDUMB BUBBLE (CD)
STARDUMB

Sampler CD featuring 22 songs showcasing 22 available or upcoming Stardumb releases, including high energy rock n roll by punk rock veterans like Kepi Ghoulie, The Peawees, Geoff Palmer, The Copyrights and The Methadones, as well as some brilliant tunes by newer names like Lone Wolf and Local Drags.

Disc Quantity: 1
Release date: 2019-07-12
Item # : 534125
Availability : IN STOCK

Format : CD
[login]
GUTS
STRAIGHT FROM THE DECKS (CD)
HEAVENLY SWEETNESS

Compilation of funky, tropical tunes from all over the place, following up the well know Beach Digging compilations!Straight From The Decks compiles seventeen tunes that constitute the true essence of Gut's DJ sets.To listen at home, or to remind you of the atmosphere you may have experienced at one of them.

Disc Quantity: 1
Release date: 2019-07-05
Item # : 534166
Availability : IN STOCK

Format : CD
[login]
RAMONA
DEALS, DEALS, DEALS (CD)
RED SCARE

Ramona formed in Seattle, kicked some ass out there, then moved to Philadelphiabecause-if you wanna know the truth-you can buy two drinks for $4 at most any bar.FOUR BUCKS. So then they get asked to play shows with bands like The LawrenceArms, The Menzingers, etc. and people are really responding to their songs and their funshows. Next we shipp ... read more >

Disc Quantity: 1
Release date: 2019-06-07
Item # : 533646
Availability : IN STOCK

Format : CD
[login]
LAISSEZ FAIRS, THE
MARIGOLD (CD)
RUM BAR

THE LAISSEZ FAIRS...John Fallon and Joe Lawless...the team...the dream...singers, songwriters. mult-instrumentalists,record producers...for the love of it...for the art of it...that is why. Cromm Fallon and Aaron Archer are there, as well, making it all happen. Yes, John was in The Steppes and that was a golden moment...but that was then and th ... read more >

Disc Quantity: 1
Release date: 2019-07-12
Item # : 533944
Availability : IN STOCK

Format : CD
[login]
BILLY LIAR
SOME LEGACY (CD)
RED SCARE

Every label needs a vegan Scotsman, so we went out and nabbed thevery best: Billy Liar. The wee lad is known as a punk troubadour whohas covered a LOT of ground in Europe and America with his acousticguitar, but on Billy's debut album, "Some Legacy", our hero is backedby a loud rock band. Imagine a horde of rowdy punks led by a very,very small ... read more >

Disc Quantity: 1
Release date: 2019-06-21
Item # : 534045
Availability : IN STOCK

Format : CD
[login]
CAPE, JOEY
LET ME KNOW WHEN YOU GIVE UP (CD)
FAT WRECK CHORDS

Originally known as the singer, songwriter, and founder of both Lagwagon and Bad Astronaut, JOEY CAPEhas established himself as a recognized solo artist over the past 13 years. His solo ventures have allowed himto stretch the bounds of his musical stylings, highlighting more diverse instrumentation, subdued pace,and experimental elements. The o ... read more >

Disc Quantity: 1
Release date: 2019-07-05
Item # : 534111
Availability : IN STOCK

Format : CD
[login]
HILLBILLY RAWHIDE
MY NAME IS RATTLESNAKE (CD)
CRAZY LOVE

The 2019 album by famous brasilian Rockers HILLBILLY RAWHIDE, mixing their music with Blue Grass, Psychobilly, Outlaw Country, Honky Tonk and Rock'n'Roll! An amazing band on stage and touring a lot through Brasil and Europe!

Disc Quantity: 1
Release date: 2019-07-05
Item # : 534538
Availability : IN STOCK

Format : CD
[login]
MULLET MONSTER MAFFIA, THE
TO MEGA SURF (CD)
CRAZY LOVE

The brasilian Surf/Punk heroes with a compilation release of their sold out brasilian CD's!Amazing mix of Surf and Punk with Metal and Psychobilly influences!

Disc Quantity: 1
Release date: 2019-07-05
Item # : 534536
Availability : IN STOCK

Format : CD
[login]
LAVEY, ANTON
SATAN TAKES A HOLIDAY (CD)
CLEOPATRA

A delightful romp through several pipe organ classics courtesy of black arts loving, Beelzebub worshipping founder of the Church Of Satan, Anton LaVey! Includes vocal and instrumental favorites all performed by LaVey who was an accomplished organist thanks to a Robert Johnson-like deal with the devil in which LaVey exchanged his soul for a sho ... read more >

Disc Quantity: 1
Release date: 2019-07-06
Item # : 526821
Availability : IN STOCK

Format : CD
[login]
LUCKY + LOVE
TRANSITIONS (CD)
LUCKY + LOVE

Impulsive electro bliss in a similar stratosphere with Ladytron.this is rich intriguing synthtastic mastery- Big Takeover MagazineCalling to mind the work of Depeche Mode and Washed Out.envelopes the listener and takes them on a sci-fi journey- Overblown MagazineLucky and Love ride out their Ryan Gosling film fantasies like a science fiction ro ... read more >

Disc Quantity: 1
Release date: 2019-06-07
Item # : 533884
Availability : IN STOCK

Format : CD
[login]
BLOODRED HOURGLASS
GODSEND (CD)
OUT OF LINE

"Godsend" is a masterpiece full of enthralling Melodic Death Metal anthems, recorded by Juho Raiha (Soundspiral Audio) and high-tuned in mix and master by Henrik Udd Recording (u.a. Architects, Bring Me The Horizon, At The Gates).Future begins now, and the new world belongs to young bands, that despised their respect sawing on the throne of th ... read more >

Disc Quantity: 1
Release date: 2019-06-28
Item # : 533885
Availability : IN STOCK

Format : CD
[login]
JOLLY
FAMILY (DELUXE) (CD)
GLASSVILLE

Jolly is a progressive-alternative rock band from New York City, influenced by bands including Tears For Fears, Radiohead, Faith No More, and Pink Floyd.Between 2009 and 2014 they successfully released 4 albums. After the band was hit hard by hurricane Sandy which destroyed their studio the band decided to change course and finance their music ... read more >

Disc Quantity: 2
Release date: 2019-07-12
Item # : 534124
Availability : IN STOCK

Format : CD
[login]
OSBOURNE, JOHNNY
NIGHTFALL (CD)
BACO

"Nightfall" is a deep collectors rarity from reggae anddancehall icon Johnny Osbourne. The original album,recorded at Channel One and produced by LinvalThompson, was released in Jamaica on the Jah Guidancelabel in 1981. VP Records released the album in the US,and in Europe the album got a release on the Cha-Chalabel, renamed "In Nah Disco Style ... read more >

Disc Quantity: 1
Release date: 2019-06-28
Item # : 534235
Availability : IN STOCK

Format : CD
[login]
QUANTUM FANTAY
YEMAYA ORISHA (CD)
PROGRESSIVE PROMOTION

8th interstellar release of Belgiums spacerock collective Quantum Fantay - Perfect balance between Spacerock, Trance Goa and Progressive Rock with etnic and dub vibes.

Disc Quantity: 1
Release date: 2019-07-05
Item # : 534666
Availability : IN STOCK

Format : CD
[login]
TEARDROP, MIKE -TRIO-
TILL THE DAWN (CD)
ENVIKEN

With a driving Slap-bass, great harmonies and a touch of good olCountry music in there somewhere they have formed a sound not present in many bands today and it is evident that theyfill a void out there. During the vinter of 2019 they entered the studio here in Enviken and started recording newsongs, according to the reactions so far it looks l ... read more >

Disc Quantity: 1
Release date: 2019-07-12
Item # : 534581
Availability : IN STOCK

Format : CD
[login]
REV, MARTIN
CHEYENNE (CD)
BUREAU B

Although it was not released until 1991, Martin Revs thirdsolo album features a wealth of material from the year 1980.For "Cheyenne", Rev created instrumental versions ofmany of the tracks which had formed the basis of the secondSuicide LP entitled "Alan Vega / Martin Rev".

Disc Quantity: 1
Release date: 2019-06-21
Item # : 533398
Availability : IN STOCK

Format : CD
[login]
REV, MARTIN
CLOUDS OF GLORY (CD)
BUREAU B

Martin Rev is best known as one half of the seminal duoSuicide (with Alan Vega). Listening to his solo albums, itbecomes clear that Rev was responsible for the groupsmusic. Clouds of Glory, his second solo effort, was releasedon the French label New Rose in 1985.

Disc Quantity: 1
Release date: 2019-06-21
Item # : 533394
Availability : IN STOCK

Format : CD
[login]
FORSTER, ROBERT
THE EVANGELIST (CD)
TAPETE

Remastered reissue of the album The Evangelist (originally released in 2008) on CD (Digipak + Booklet) and Vinyl.

Disc Quantity: 1
Release date: 2019-06-28
Item # : 533761
Availability : IN STOCK

Format : CD
[login]
GARRIE, NICK
THE NIGHTMARE OF J.B. STANISLAS (CD)
TAPETE

Occasionally, a work of art falls into your hands with such a bizarre backstory, you just have to run with it. The implausible origins of Nick Garries folk-pop album "The Nightmare of J.B. Stanislas" require just such a leap of faith. The Englishman recorded his masterpiece in France at the tender age of nineteen. The year was 1968 and Garrie f ... read more >

Disc Quantity: 1
Release date: 2019-06-28
Item # : 533611
Availability : IN STOCK

Format : CD
[login]
VARIOUS
LE BEAT BESPOKE, VOL. 8 (CD)
DETOUR RECORDS

As well as a collection of rare and un-issued tracks from the Golden era "Le Beat Bespok" is an international festival every Easter in London. This is volume eight of this popular series and like its predecessors LBB8 is restored and mastered to the highest standard. The selections are sequenced like a fast-moving DJ set featuring current dance ... read more >

Disc Quantity: 1
Release date: 2019-06-14
Item # : 526905
Availability : IN STOCK

Format : CD
[login]
CAIS SODRE FUNK CONNECTION
BACK ON TRACK (CD)
RASTILHO

Born in the heart of the bohemian neighborhood that gives them their name, CAIS SODRE FUNK CONNECTION is a band of veterans of Portuguese music and true ambassadors of funk and soul.The soul power of this band is assured by Joao Cabrita, Francisco Rebelo, Joao Gomes, David Pessoa, Rui Alves, Jose Raminhos and Miguel Marques, lead by the unmista ... read more >

Disc Quantity: 1
Release date: 2019-05-20
Item # : 533247
Availability : IN STOCK

Format : CD
[login]
TOMMY AND JUNE
TOMMY AND JUNE (CD)
FAT WRECK CHORDS

Since Fat Wreck Chords began nearly 30 years ago, people have associated the label with a certain sound, and its safe to say it bears little resemblance to Tommy and June. The self-titled debut from the mysterious duo lacks the aggressive, overdriven power of the bands on Fat Wrecks Mount Rushmore. Tommy andJunes 10 tracks stick mostly to acous ... read more >

Disc Quantity: 1
Release date: 2019-06-21
Item # : 533662
Availability : IN STOCK

Format : CD
[login]
MORS SUBITA
HUMAN WASTE COLLECTION (CD)
OUT OF LINE

MORS SUBITA - a band getting ready to conquer the world. Scandinavic Melodic Death Metal and Modern Thrash are their basis, bands such as Soilwork and Lamb Of God are as much part of their DNA as the characteristic melodies of Finland. Now their complete works are available worldwide for the first time.Finland experts are already aware of this ... read more >

Disc Quantity: 3
Release date: 2019-06-21
Item # : 534191
Availability : IN STOCK

Format : CD
[login]
I KONG
A LITTLE WALK (LP)
FRUITS

A Little Walk features six original songs, plus four dub versions,each of songs found on the very same album. From GuidingLight, the first track, to the last one, Mysterious Ways, I Kongexcels. Najavibes and their guests open wide musical spaceswith a plethora of details to discover. This is an album thatgrows on you, one that needs to be activ ... read more >

Disc Quantity: 1
Release date: 2019-07-26
Item # : 477464
Availability : IN STOCK

Format : LP
[login]
INSPIRATORS, THE
THE INSPIRATORS (LP)
FRUITS

The debut-album by an all-star roots reggae band, featuring Leroy "Horsemouth" Wallace, Earl "Chinna" Smith, Lloyd Parks, Sangie Davis, Vin Gordon, Dean Fraser and others.

Disc Quantity: 1
Release date: 2019-07-26
Item # : 483386
Availability : IN STOCK

Format : LP
[login]
PSYCHOTIC YOUTH
STRAIGHT FROM THE GARAGE (LP)
DANGERHOUSE SKY

Great garage session for this cool swedish band, coming back to their first love and early sound full of fuzz guitars and sixties organ... 4 original tracks and two Link Wray and Fuzztones covers.

Disc Quantity: 1
Release date: 2019-07-19
Item # : 534632
Availability : IN STOCK

Format : LP
[login]
VASUDEVA
LIFE IN CYCLES (180 GR) (LP)
SKELETAL LIGHTNING

Vasudeva is a playful instrumental band who deploy an array of delay, reverb, and echo to define their complex texture.The 2013 release "Life in Cycles" is like a soundtrack made for stargazing. Sonically, it's not far from a 'sounds of nature' disc; crafted with a delicate ambiance that borders on the spiritual. Mixed and produced by good frie ... read more >

Disc Quantity: 1
Release date: 2019-07-19
Item # : 534577
Availability : IN STOCK

Format : LP
[login]
BEAUTY IN CHAOS
BEAUTY RE-ENVISIONED (LP)
33.3 MUSIC COLLECTIVE

40+ minute remix companion to the Finding Beauty in Chaos album, which is the brainchild of Michael Ciravolo, guitarist for The Models, Human Drama, and Gene Loves Jezebel. Each track features a special guest musician, drawn from The Mission UK, The Cure, Ministry, Gene Loves Jezebel, Cheap Trick, Van Halen, Offspring, Ice-T, and more! Colored ... read more >

Disc Quantity: 1
Release date: 2019-07-19
Item # : 534919
Availability : IN STOCK

Format : LP
[login]
BEAUTY IN CHAOS
FINDING BEAUTY IN CHAOS (180 GR) (LP)
33.3 MUSIC COLLECTIVE

Beauty in Chaos is the brainchild of Michael Ciravolo, guitarist for The Models, Human Drama, and Gene Loves Jezebel. Each track features a special guest musician, drawn from The Mission UK, The Cure, Ministry, Gene Loves Jezebel, Cheap Trick, Van Halen, Offspring, Ice-T, and more! Double 180 gram smoky-colored vinyl gatefold sleeve, limited t ... read more >

Disc Quantity: 2
Release date: 2018-12-14
Item # : 534921
Availability : IN STOCK

Format : LP
[login]
GOOD RIDDANCE
THOUGHTS AND PRAYERS (LP)
FAT WRECK CHORDS

Second album since their reformation in 2012. As a voice of resistance through four presidential administrations,GOOD RIDDANCE seems well-suited for these fraught times-but dont expect a bunch of obvious anti-45 screeds. Though the anxiety and anger of the day is palpable on Thoughts and Prayers, a title taken from the inane platitudes spouted ... read more >

Disc Quantity: 1
Release date: 2019-07-19
Item # : 534649
Availability : IN STOCK

Format : LP
[login]
ZAHN/HATAMI/MCCLURE
YPSILON (LP)
N5MD

The trio have also worked together on numerous collaborative projects between each other as duos, and "Ypsilon" album finds them back together, ever expanding their shared aural ideology into new territories. Their 2016 release, "Veerian," [eilean rec.] focused on free-flowing soundscapes, whereas this new album incorporates more overtly melodi ... read more >

Disc Quantity: 1
Release date: 2019-07-26
Item # : 534088
Availability : 2/3 WEEKS, NOT IN STOCK

Format : LP
[login]
VARIOUS
TRIBUTE TO DEAD MOON (10") (EP)
GHOST HIGHWAY



Disc Quantity: 2
Release date: 2019-07-05
Item # : 534498
Availability : IN STOCK

Format : EP
[login]
SOUTH FILTHY
YOU CAN NAME IT YO'MAMMY IF YOU WANNA (LP)
GHOST HIGHWAY



Disc Quantity: 1
Release date: 2019-07-05
Item # : 534503
Availability : 2/3 WEEKS, NOT IN STOCK

Format : LP
[login]
OCEAN, THE
PRECAMBRIAN (10TH ANN. ED.) (LP)
PELAGIC

Few albums still feel relevant, fresh and contemporary-sounding, 10 years after their original release. THE OCEANs Precambrian, originally released in November 2007, is one such case: the bands musically most mature and versatile album to that date, Precambrian is distinguished by complexyet intimate songwriting, huge orchestrations, subtle ele ... read more >

Disc Quantity: 3
Release date: 2019-07-19
Item # : 510403
Availability : IN STOCK

Format : LP
[login]
OBLIVIAN, JACK -& THE DREAM KILLERS-
LOST WEEKEND (EU) (LP)
GHOST HIGHWAY

Lost Weekend is Jack Oblivian's 8th solo album and is mostly comprised of early versions of Jack's songs and instrumentals as they were recorded in his apartment. Jack talks about how the record came about in a recent interview with Memphis filmmaker, Mike McCarthy:Mike: What is the history of the songs and how do they break down on previous r ... read more >

Disc Quantity: 1
Release date: 2019-07-05
Item # : 534502
Availability : IN STOCK

Format : LP
[login]
NECKING
CUT YOUR TEETH (LP)
MINT

Necking became a band before playing a note of music together. The origin story of the Vancouver-based powerhouse post-punk quartet starts at a party where all four members met for the first time and began boasting untruths about their group's musical accomplishments. Following a series of fake names including Britney Bitch and Four White Guys, ... read more >

Disc Quantity: 1
Release date: 2019-07-05
Item # : 533634
Availability : IN STOCK

Format : LP
[login]
HEWHOCANNOTBENAMED
(EU) THE GOOD THE BAD & THE BRUTAL (L+C)
GHOST HIGHWAY

Limited edition of 100 copies on blue vinyl!He Who Cannot Be Named has been playing punk rock for almost 30 years, most of that time with the legendary "Dwarves". An original member of this San Francisco based combo, he wrote or co wrote many of your favorite tunes from the early Sub Pop albums "Blood Guts and Pussy", and "Thank Heaven For Litt ... read more >

Disc Quantity: 2
Release date: 2019-07-05
Item # : 520946
Availability : IN STOCK

Format : L+C
[login]
JOHANNA, JOHN
SEVEN METAL MOUNTAINS (LP)
FAITH AND INDUSTRY

Seven Metal Mountains is the second album from rural Norfolk (UK) musician John Johanna, a unique artist whose inspiration is drawn from studies in borderless folkways, mystical scripture, psychedelia and gospel blues. The album takes its title from the Ethiopian Churchs Book of Enoch, where seven metal mountains represent the world-empires tha ... read more >

Disc Quantity: 1
Release date: 2019-07-19
Item # : 534600
Availability : IN STOCK

Format : LP
[login]
DUMB
CLUB NITES (LP)
MINT

Dumb are good at plenty of things, but relaxing isn't one of them. The Vancouver four-piece write feverish tunes at a frantic pace, delivering catchy post-punk songs in two-minute blasts of wiry riffs and indignant social critiques. As the title indicates, Club Nites is a collection of narratives drawn from the nightlife ecosystem. Attempting ... read more >

Disc Quantity: 1
Release date: 2019-06-07
Item # : 533209
Availability : IN STOCK

Format : LP
[login]
SABIN, JOSHUA
SUTARTI (LP)
SUBTEXT

On Sutarti Joshua Sabin draws influence from the compositional structures and psychoacoustic properties that exist within early Lithuanian folk music, exploring the emotional potency of the human voice through the manipulation of elements of archival recordings.Obtaining access to the folk music archives of the Lithuanian Academy of Music and T ... read more >

Disc Quantity: 1
Release date: 2019-07-05
Item # : 534218
Availability : IN STOCK

Format : LP
[login]
GUTS
STRAIGHT FROM THE DECKS (LP)
HEAVENLY SWEETNESS

Compilation of funky, tropical tunes from all over the place, following up the well know Beach Digging compilations!Straight From The Decks compiles seventeen tunes that constitute the true essence of Gut's DJ sets.To listen at home, or to remind you of the atmosphere you may have experienced at one of them.

Disc Quantity: 2
Release date: 2019-07-19
Item # : 534165
Availability : IN STOCK

Format : LP
[login]
HOLT, JOHN
3000 VOLTS OF HOLT (LP)
KINGSTON SOUNDS

The 3000 Volts of Holt album was the third in a series of records that launched John Holt into the UK charts in the 1970s.To say that every home had a copy of a 1000 Volts and many 2000 Volts of Holt might be an overstatement but it certainly felt that way, as all good radio stations and parties seemed to have these tracks on permanent rotation ... read more >

Disc Quantity: 1
Release date: 2019-07-19
Item # : 534598
Availability : IN STOCK

Format : LP
[login]
SET AND SETTING
TABULA RASA (LP)
PELAGIC

SET AND SETTING are a young band from St. Petersburg, Florida who merge instrumental rock with a thick metallic edgeand elements of drone and ambient music. The result is a captivating, wordless, genre amalgam", Decibel raved, andBrookly Vegan defined their sound as "metallic chug to trippy psychedelia to soaring post-rock beauty... like Russia ... read more >

Disc Quantity: 1
Release date: 2019-07-12
Item # : 534647
Availability : IN STOCK

Format : LP
[login]
NORTH EAST SKA JAZZ ORCHESTRA
NORTH EAST SKA JAZZ ORCHESTRA (LP)
BRIXTON

Second album from the Italian big band with 9 brand new own-penned tracks further investigating Jamaican sounds from the perspective of a contemporary big band. The outcome is a mixture of sonorities and textures based on the tradition of original ska, soulful discharges and youth

Disc Quantity: 1
Release date: 2019-07-01
Item # : 533996
Availability : IN STOCK

Format : LP
[login]
MAFIA DEL BAILE, LA
EL LOCO RITMO Y BLUES DE LA MAFIA DEL BAILE (L+C)
GUNS OF BRIXTON

Third album from the Basque-German 4-piece band, displaying a mixture of psychobilly, punk-rock, garage and R&B crushed through their own particular rock and roll grinding machine. With amazing covers of "Demoler" from Peruvians Los Saicos and "Fiesta Medieval" from Los Nikis, Special edition with CD with all LP tracks.

Disc Quantity: 2
Release date: 2019-07-01
Item # : 534004
Availability : IN STOCK

Format : L+C
[login]
INDECISION, THE
GIVE IT UP (L+C)
BRIXTON

First album from the brilliant dance-crashing 8- piece young band from Leeds.12 tracks released as LP+CD showcasing a rich and refreshing blend of ska and rocksteady assuming the British tradition. Quoting The London International Ska Festival: "One of the best new UK bands about".

Disc Quantity: 2
Release date: 2019-07-01
Item # : 533993
Availability : IN STOCK

Format : L+C
[login]
II MADRES
II MADRES (LP)
GUNS OF BRIXTON

First vinyl release (45 RPM mini LP) by this band from the Canary Islands formed by formed members of bands like Brutalizzed Kids, Guerrilla Urbana, Sr Agente, La Masacre. 6 track of Hard Core, Punk and Trash Core in the good old fashioned way

Disc Quantity: 1
Release date: 2019-07-01
Item # : 534024
Availability : IN STOCK

Format : LP
[login]
CRAP
NOWHERE TRIP (LP)
GUNS OF BRIXTON

First album release from this new band from Arrasate, co-realeased with German label Contra Records. Forceful sonority tracks sung in English, rough vocals and a sound related with Oi! classic bands Without a doubt a revelation in the punk-oi! scene. Includes a cover of Radio Birdman's "What Gives".

Disc Quantity: 1
Release date: 2019-07-01
Item # : 534025
Availability : IN STOCK

Format : LP
[login]
NEW YORK SKA JAZZ ENSEMBLE
BREAK THRU! (LP)
BRIXTON

The real kings of contemporary ska-jazz invite us to an exciting cocktail of jamaican beats and jazz sounds. Brilliant instrumental tracks that will soon be classics an vocal songs showing their exquisite taste and savoire faire. Includes a posthumous musical tribute to the great Tom Petty.

Disc Quantity: 1
Release date: 2019-07-01
Item # : 533987
Availability : IN STOCK

Format : LP
[login]
TRAVERS, PAT
SWING (LP)
PURPLE PYRAMID

Legendary guitarist Pat Travers gets swinging on a set of big band classics from '40s & '50s on this unique project!Features full band rock arrangements of Louis Prima's "Sing Sing Sing," Duke Elington's "Take The 'A' Train," Glenn Miller's "In The Mood" and many more!

Disc Quantity: 1
Release date: 2019-07-26
Item # : 534080
Availability : IN STOCK

Format : LP
[login]
WORLD/INFERNO FRIENDSHIP SOCIETY
EAST COAST SUPER SOUND PUNK OF TODA (LP)
GERN BLANDSTEN

East Coast Super Sound Punk of Today! was a 2000 compilation album by The World/Inferno Friendship Society. It features all but one of the songs from their first four singles plus one previously unreleased track. Now released for the very first time on vinyl, with 4 bonus tracks!

Disc Quantity: 1
Release date: 2019-07-05
Item # : 534706
Availability : IN STOCK

Format : LP
[login]
VALCARCEL, EDGAR
COMPOSICIONES ELECTRONICAS PARIA LOS ANDES (1967-2006) (LP)
BUH

Edgar Valcarcel is responsible for introducing locally the new languages of the international musical avant-garde, in a meeting with the legacies of Peruvian native music, where the folkloric material was used under very free and abstract conceptions.For first time on vinyl.- Invencion [Invention] (1967) for magnetic tape (5:22) - Zampona sonic ... read more >

Disc Quantity: 1
Release date: 2019-07-05
Item # : 533877
Availability : 2/3 WEEKS, NOT IN STOCK

Format : LP
[login]
BURN IN HELL
A COMEDY OF HORRORS (LP)
BEAST



Disc Quantity: 1
Release date: 2019-07-19
Item # : 526714
Availability : IN STOCK

Format : LP
[login]
KILL DEVIL HILLS
PAST AND FUTURE GHOSTS (LP)
BEAST

The Kill Devil Hills is a multi-award-winning West Australian 5-piece rock band formed in 2003.The diverse textures of the bands sound ranges from mournful heart-heavy ballads to screeching, visceral jungle punk."Past and Future Ghosts" was recorded live in March 2013 at the Fremantle Arts Centre. The album contained songs from their first thre ... read more >

Disc Quantity: 1
Release date: 2019-07-05
Item # : 526627
Availability : IN STOCK

Format : LP
[login]
ST. MORRIS SINNERS
THE VERY BEST OF 2012-2019 (LP)
BEAST

"...deliriously unhinged rock n roll that has been flooring Adelaide audiences... It seems counter-intuitive to say a band is "perfecting" a sound so loose and visceral, but by the beard of Zeus theyre really nailing it..." - Walter Marsh RIPitUP St. Morris Sinners formed in late 2011. They soon made a name for themselves around Adelaide as an ... read more >

Disc Quantity: 1
Release date: 2019-07-19
Item # : 526628
Availability : IN STOCK

Format : LP
[login]
TILLETT, LOUIS -& CHARLIE OWEN-
THE UGLY TRUTH (LP)
BANG!

At last! Originally released only on CD in 1993, here it is this masterpiece from cult Australian artists Louis Tillett and Charlie Owen (The Beasts of Bourbon).Acoustic album with piano and guitar where Louis Tillett prints his most intimate, dark and emotional art in the shape of precious melodies, supported and backed by Charlie Owen.This al ... read more >

Disc Quantity: 1
Release date: 2019-07-07
Item # : 533864
Availability : IN STOCK

Format : LP
[login]
OS SEIS EM PONTO
OS SEIS EM PONTO (LP)
VAMPISOUL

Francis Hime has been a fundamental artist of Brazilian music since the mid-1960s as a pianist, singer, composer, arranger and orchestra director. "Os Seis Em Ponto", released in 1964 on the prestigious RGE label, was his first album, recorded as part of the band of the same name.Himes rhythmic piano swings between bossa and jazz along the enti ... read more >

Disc Quantity: 1
Release date: 2019-07-19
Item # : 534137
Availability : IN STOCK

Format : LP
[login]
LORDS OF THE NEW CHURCH, THE
LOS DIABLOS (LP)
BANG!

For the first time on vinyl it is released THE LORDS OF THE NEW CHURCH "Los Diablos", superb performance recorded in 1984 at Spanish TV Studio for program "La Edad de Oro".The Lords of the New Church were at the peak of their career and so they prove and deliver at this recording where they approach the most rocking and wild face with an astoni ... read more >

Disc Quantity: 1
Release date: 2019-07-26
Item # : 534108
Availability : IN STOCK

Format : LP
[login]
DENEUVE
PUSH PUSH ROCK & ROLL (12")
BLOWPIPE

4 track - 180 grams vinyl - artwork Peter KlashorstIntense, urgent, cinematographic and inescapable as only deNeuve can, so buckle up. From Tox Modell and Tecnoville fame

Disc Quantity: 1
Release date: 2019-07-05
Item # : 534627
Availability : IN STOCK

Format : 12"
[login]
DRAUGHT DODGERS
DRAUGHT DODGERS (LP)
BEAST

Straight out of the swamplands, Melbourne's new rose, the Draught Dodgers have a first LP on Beast Records!Even if you don't know the band you know their members: Jack Davies (Bitter Sweet Kicks) on vocals, Tim Rogers (You Am I) on guitars, Mick Sayers on the bass and Evan Richards (Burn in Hell) on drums.The Draught Dodgers are a super band!

Disc Quantity: 1
Release date: 2019-07-19
Item # : 533544
Availability : IN STOCK

Format : LP
[login]
STEREO TOTAL
AH! QUEL CINEMA! (LP)
TAPETE

An album title with not one, but two exclamation marks, meaning something akin to "what a palaver"as it primes the listener for songs like "Cinemascope". Themes such as personal injuries ("Ich bin cool"), betrayal ("Mes copines"), personality deficiencies brought on by drug abuse ("Methedrine"), rage ("Hass-Satellit"), inflated opinions of ones ... read more >

Disc Quantity: 1
Release date: 2019-07-12
Item # : 526981
Availability : IN STOCK

Format : LP
[login]
BESMIRCHERS, THE
HATE YOUR LIFE (LP)
SLOPE

Tucson's The Besmirchers unleash another slab of punk the way it used to be with plenty of filth and fury. Hate Your Life wants all the bad things in life to happen to you and is ready to tell you all about it while it beats everybody around you senseless. PC punks will be triggered and that's A-OK with these savages, but no we aint talking rac ... read more >

Disc Quantity: 1
Release date: 2019-07-12
Item # : 534640
Availability : IN STOCK

Format : LP
[login]
70 CM3 OF YOUR CHEST
WHEN I WAS A DINOSAUR (LP)
THIS CHARMING MAN

70cm3 of Your Chest is the volumina of blood an average adult heart pumps with one beat. It is also a crushing threepiece outfit from Vilnius, Lithuania (now living in Berlin) which plays heartfelt atmospheric music in the veign of Tidal Sleep, Touche Amore and alikes. This is what they say out themselves: Some of us had emotionally hard times ... read more >

Disc Quantity: 1
Release date: 2019-05-31
Item # : 533771
Availability : IN STOCK

Format : LP
[login]
BILLY LIAR
SOME LEGACY (LP)
RED SCARE

Every label needs a vegan Scotsman, so we went out and nabbed thevery best: Billy Liar. The wee lad is known as a punk troubadour whohas covered a LOT of ground in Europe and America with his acousticguitar, but on Billy's debut album, "Some Legacy", our hero is backedby a loud rock band. Imagine a horde of rowdy punks led by a very,very small ... read more >

Disc Quantity: 1
Release date: 2019-06-21
Item # : 534046
Availability : IN STOCK

Format : LP
[login]
HILLBILLY RAWHIDE
MY NAME IS RATTLESNAKE (LP)
CRAZY LOVE

The 2019 album by famous brasilian Rockers HILLBILLY RAWHIDE, mixing their music with Blue Grass, Psychobilly, Outlaw Country, Honky Tonk and Rock'n'Roll! An amazing band on stage and touring a lot through Brasil and Europe!

Disc Quantity: 1
Release date: 2019-07-05
Item # : 534539
Availability : IN STOCK

Format : LP
[login]
MULLET MONSTER MAFFIA, THE
TO MEGA SURF (LP)
CRAZY LOVE

The brasilian Surf/Punk heroes with a compilation release of their sold out brasilian CD's!Amazing mix of Surf and Punk with Metal and Psychobilly influences!

Disc Quantity: 1
Release date: 2019-07-05
Item # : 534537
Availability : IN STOCK

Format : LP
[login]
HANDFUL OF DUST
COSMOPOLIS (CD)
7HARD

Handful of Dust is an Italian metal band from Tarcento, Udine. Founded in 2000 with the intention of mixing thrash/deathmetal aggressiveness with melodies typical of progressive and melodicmetal, the band's sound has evolved into a more modern and alternative way, introducing new influences to emphasize the melodic effect of emotional parts and ... read more >

Disc Quantity: 1
Release date: 2019-07-26
Item # : 534712
Availability : IN STOCK

Format : CD
[login]
BEAUTY IN CHAOS
FINDING BEAUTY IN CHAOS (CD)
33.3 MUSIC COLLECTIVE

Beauty in Chaos is the brainchild of Michael Ciravolo, guitarist for The Models, Human Drama, and Gene Loves Jezebel. Each track features a special guest musician, drawn from The Mission UK, The Cure, Ministry, Gene Loves Jezebel, Cheap Trick, Van Halen, Offspring, Ice-T, and more! With 16-page booklet including lyrics.

Disc Quantity: 1
Release date: 2018-12-14
Item # : 534920
Availability : IN STOCK

Format : CD
[login]
BEAUTY IN CHAOS
BEAUTY RE-ENVISIONED (CD)
33.3 MUSIC COLLECTIVE

40+ minute remix companion to the Finding Beauty in Chaos album, which is the brainchild of Michael Ciravolo, guitarist for The Models, Human Drama, and Gene Loves Jezebel. Each track features a special guest musician, drawn from The Mission UK, The Cure, Ministry, Gene Loves Jezebel, Cheap Trick, Van Halen, Offspring, Ice-T, and more! With 8- ... read more >

Disc Quantity: 1
Release date: 2019-07-19
Item # : 534918
Availability : IN STOCK

Format : CD
[login]
X-CERTS
FUSSIN' & FIGHTING (CD)
BRISTOL ARCHIVES

Released for the first time on CD. From the very beginning the X-Certs were politically motivated and early gigs were filled with songs detailing the frustrations of the time. The political stance of the songs earned the attentions of The Socialist Workers Party and organisations like Rock Against Racism, who invited the band to play at many f ... read more >

Disc Quantity: 1
Release date: 2019-06-28
Item # : 533632
Availability : IN STOCK

Format : CD
[login]
VARIOUS
SPIRIT OF SKA - 30 YEARS PEARL JUBILEE EDITION (CD)
PORK PIE



Disc Quantity: 1
Release date: 2019-06-25
Item # : 534532
Availability : IN STOCK

Format : CD
[login]
DIAMORTE
THE RED OPERA (CD)
DARK STAR

DiAmorte has captured the imagination of audiences with fully staged cinematic choreography, lighting, and an extensive stage production that has seamlessly blended with a one of a kind orchestral savagery that makes each and every show a must-see for all walks of life, from the classic musical theater goers to heavy metal enthusiasts alike, Di ... read more >

Disc Quantity: 1
Release date: 2019-07-12
Item # : 534294
Availability : IN STOCK

Format : CD
[login]
CRAP
NOWHERE TRIP (CD)
GUNS OF BRIXTON

First album release from this new band from Arrasate, co-realeased with German label Contra Records. Forceful sonority tracks sung in English, rough vocals and a sound related with Oi! classic bands Without a doubt a revelation in the punk-oi! scene. CD version includes the four tracks from the band's debut EP

Disc Quantity: 1
Release date: 2019-07-01
Item # : 534026
Availability : IN STOCK

Format : CD
[login]
SENIOR ALLSTARS, THE/AMMOYE
SOUL FROM DUBTOWN-DARKER THAN BLUE (CD)
ECHO BEACH

In spring 2014, when the Senior Allstars were asked by the Hamburg-based dub label Echo Beach to record their interpretation of an existing release (the original was released in 2001), everyone involved assumed that the results would be good. What absolutely no one expected was that the album would be so incredibly "conspirational" and simply b ... read more >

Disc Quantity: 1
Release date: 2019-07-12
Item # : 534136
Availability : 2/3 WEEKS, NOT IN STOCK

Format : CD
[login]
BESMIRCHERS, THE
HATE YOUR LIFE (CD)
SLOPE

Tucson's The Besmirchers unleash another slab of punk the way it used to be with plenty of filth and fury. Hate Your Life wants all the bad things in life to happen to you and is ready to tell you all about it while it beats everybody around you senseless. PC punks will be triggered and that's A-OK with these savages, but no we aint talking rac ... read more >

Disc Quantity: 1
Release date: 2019-07-12
Item # : 534639
Availability : 2/3 WEEKS, NOT IN STOCK

Format : CD
[login]
ARIES
JURAMENTO MANTARRAYA (CD)
LA CASTANYA REC

Across Juramento Mantarraya, Isabel Fernandez and co-producer Jose Vazquez creates an orchestra and an exciting mixture of soul and free-jazz rhythms, melodies from the girl groups of the 60s, sunshine pop, spanish folk and experimental electronics. Combining samplers, synths, guitars, her precious voice and the sounds of the Galician Coast, w ... read more >

Disc Quantity: 1
Release date: 2019-05-31
Item # : 533695
Availability : IN STOCK

Format : CD
[login]
ISASA
INSILIO (CD)
LA CASTANYA REC

American Primitive, Folk, Instrumental, Guitar.This album is full of unanticipaded pleasures. Many of the songs have a very precise and lovely way of suggesting the future rather than the past. If you have an interest in new guitar music youll surely be gob-smacked by Insilio. Beautiful stuff. - Byron Coley RELATED TO: John Fahey, Jack Rose, Gl ... read more >

Disc Quantity: 1
Release date: 2019-05-31
Item # : 533784
Availability : IN STOCK

Format : CD
[login]
KANENOBU, SACHIKO
MISORA (CD)
LIGHT I/T ATTIC

Born and raised in Osaka in a large, music-loving family, Kanenobu picked up the guitar as a teen just as the "college folk" boom swept through university campuses in the Kansai area in the mid-60s. The Pete Seeger and American folk-leaning scene didnt appeal much to her, however, and instead gravitated towards the British sounds of Donovan and ... read more >

Disc Quantity: 1
Release date: 2019-07-12
Item # : 533452
Availability : IN STOCK

Format : CD
[login]
MUMY, BILLY
LOCKFORD (CD)
GLOBAL RECORDING

Lockford, the first solo release from Bill Mumy in almost three years, is a collection of original songs that look back lovingly on an American era long gone. With Rockabilly and classic rock n roll grooves as well as acoustic guitars, twangy Telecasters and jangly Rickenbacker 12 strings, Lockford takes you through a retrospective journey ful ... read more >

Disc Quantity: 1
Release date: 2019-06-20
Item # : 534211
Availability : IN STOCK

Format : CD
[login]
LIGHTBULB VAPORIZER
THREE (CD)
ADHOKSAJA ENT.

Lightbulb Vaporizer decided to get heavier and more focused on their next effort THREE. Coming together last November in the beautiful city of Port Alberni, British Columbia. The band had just 6 days to record this monster psychedelic crunch drenched record THREE. The band went in high with renewed vigor and hazy expectations. Lightbulb Va ... read more >

Disc Quantity: 1
Release date: 2019-06-20
Item # : 534210
Availability : IN STOCK

Format : CD
[login]
GIVE YOU NOTHING
GIVE YOU NOTHING (CD)
SNUBBED

Give You Nothing is a high-energy punk band from Santa Cruz California. This album will remind you why you fell in love with California punk rock. These guys are widely respected and deeply rooted in the California punk scene, proven by a guest vocal appearance from Good Riddance front-man Russ Rankin. The musicianship is impeccable, the riffs ... read more >

Disc Quantity: 1
Release date: 2019-06-07
Item # : 533739
Availability : IN STOCK

Format : CD
[login]
ELECTRIC FAMILY
TENDER (C+D)
SIREENA

"Tender" from 1999, the second and most successful album of the ELECTRIC FAMILY, is being re-released. The 20 Years Anniversary Set also includes the DVD "The Making Of Tender".

Disc Quantity: 2
Release date: 2019-06-21
Item # : 534479
Availability : IN STOCK

Format : C+D
[login]
N.I.A. PUNX
1989-2019 (CD)
AREA PIRATA

The digipack CD contains everything the band has released so far over the years, from the demo to the album, along with their various participations in compilations, also including three previously unreleased tracks.Old photos add value to this anthology that aims at highlighting a band that wrote some real Punk anthems in the years (late 80s a ... read more >

Disc Quantity: 1
Release date: 2019-07-05
Item # : 534115
Availability : IN STOCK

Format : CD
[login]
BELLA TECHNIKA
SECTION (CD)
PDV

Bella Technika is a band from Belgrade, founded in 2016 by Bambi and Miki, after the demise of Darkwood Dub - one of the most influential bands from Serbia in which they played for more than 20 years.Their debut album is inspired by a fusion of diverse influences such as early electronic and dance music combined with psychedelic rock, pop, and ... read more >

Disc Quantity: 1
Release date: 2019-06-14
Item # : 533932
Availability : IN STOCK

Format : CD
[login]
THOMPSON, LINVAL
I LOVE MAIJUANA (CD)
BACO

The career of Jamaican reggae/dub musician, Linval Thompson, began around the age of 20. He has collaborated with many great of the Jamaican music recording artists. I Love Marijuana is his first LP self-produced in 1978 and presents some of hiswell-known pieces, such as the title song, the awesome"Dread are the Controller" and "Just Another Gi ... read more >

Disc Quantity: 1
Release date: 2019-06-07
Item # : 533827
Availability : IN STOCK

Format : CD
[login]
VICEROYS, THE
WE MUST UNITE (CD)
BACO

"We must unite" was the second album of the Viceroys. The majority of the riddims on the "Big" album are representedShip 'by Freddie Mc Gregor, concocted by the awesome Linval Thompson. So, Freddie's "Do not play the fool" becomes "Come closer my love" and announces the color with a precise and heavy rock style at a time. Recorded at Channel On ... read more >

Disc Quantity: 1
Release date: 2019-06-07
Item # : 533830
Availability : IN STOCK

Format : CD
[login]
YELAS
DESERTED (CD)
BACO

After the album Ifili (2003) and the album Sliyid (2009) The artist YELAS is back for his 3rd album DESERTED. This new opus is composed of 16 tracks mixing 6 songs performed in Berber, 4 instrumental musics, followed by 6 live bonus titles recorded during last concerts of the artist.This album rich in acoustic, classical and folk guitars someti ... read more >

Disc Quantity: 1
Release date: 2019-06-07
Item # : 533832
Availability : IN STOCK

Format : CD
[login]
ROYALS, THE
GISH ABBAI (CD)
TAMOKI WAMBESI

First release of this album from the vaults of Tamoki-Wambesi-Dove, Royals legend Roy Cousins' Liverpool based imprint. Recordings all done in Kingston - Channel One, Randy's and Dynamic Sounds - between 1970 and 1981, with the cream of Jamaican's session men. Including : Sly & Robbie, China Smith, Sticky Thompson, Jah Bunny, Pablove Black, Sku ... read more >

Disc Quantity: 1
Release date: 2019-06-22
Item # : 533882
Availability : IN STOCK

Format : CD
[login]
VARIOUS (FEDERAL RECORDS)
SKA FROM THE VAULTS OF ... (CD)
KINGSTON SOUNDS

SKA was the name given to the music that came out of Jamaica between 1961-1966. Based on the American R&B and Doo-wop records that the Sound Systems in Kingston Town used to play. However, the American records style started to mellow out, while the Jamaicans preferred a more upbeat sound. So the Sound System bosses became record producers to ca ... read more >

Disc Quantity: 1
Release date: 2019-06-14
Item # : 526766
Availability : IN STOCK

Format : CD
[login]
VARIOUS
SACRED ENTERTAINMENT: REAK, CEREMONIAL HORSE TRANCE (LP)
DISCREPANT

Kasenian rak is a genre of performative art from the Priangan area of west Java, organizedduring hajatans (life-cycle celebrations) and nowadays primarily held during weddings andcircumcisions. The style, known as a seni lungsuran, is part of the greater family of Javanesehorse dances, originally known in their most famous forms of jathilan and ... read more >

Disc Quantity: 1
Release date: 2019-05-24
Item # : 533545
Availability : IN STOCK

Format : LP
[login]
VARIOUS
LA DANZA DEL AQUA (LP)
DISCREPANT

"La Danza del Agua" (The Dance of Water) is an eclectic musical journey through Latin American experimentalism - a sort of unofficial companion to the Anthologies of Atypical Portuguese Music volumes but focussing on South American music themes instead. Originally released as two volumes on digital and tape versions on Papaki Records (2017, Arg ... read more >

Disc Quantity: 1
Release date: 2019-06-14
Item # : 533783
Availability : IN STOCK

Format : LP
[login]
WILLEMS, KAREN -& JEAN D.L.-
TWEE LINDENBOMEN (CD)
AURORA BORAELIS

The album covers 8 diverse tracks of improvisational interplay between Willems drums, free percussion with vocalisation, and D.L.s palette of guitar work and tape manipulation. Twee Lindebomen captures the duo at the height of their flow, seamlessly working together to create a highly expressive and emotive album. Twee Lindebomen will be releas ... read more >

Disc Quantity: 1
Release date: 2019-05-24
Item # : 533697
Availability : IN STOCK

Format : CD
[login]
EMBRACE OF DISHARMONEY
DE RERVM NATVRA (CD)
MYKINGDOMMUSIC

It was 2014 when EMBRACE OF DISHARMONYreleased their debut album "Humananke". Five years havepassed and the band is ready to tread again the scenes withthe successor of that lucky album that launched them in themusic scene. "De Rervm Natvra" is a fascinating journey into aunique musical universe. It stands out thanks to its originallanguage fea ... read more >

Disc Quantity: 1
Release date: 2019-06-07
Item # : 533794
Availability : IN STOCK

Format : CD
[login]
LAVEY, ANTON
SATAN TAKES A HOLIDAY (CD)
CLEOPATRA

A delightful romp through several pipe organ classics courtesy of black arts loving, Beelzebub worshipping founder of the Church Of Satan, Anton LaVey! Includes vocal and instrumental favorites all performed by LaVey who was an accomplished organist thanks to a Robert Johnson-like deal with the devil in which LaVey exchanged his soul for a sho ... read more >

Disc Quantity: 1
Release date: 2019-07-06
Item # : 526821
Availability : IN STOCK

Format : CD
[login]
RANCID
ALL THE MOON STOMPERS (CD)
CHASE THE ACE

A superb 19 track round up of all of U.S. punk band Rancid's ska tracks. Kicks off with 'Time Bomb' (U.S. no 8) and other tracks from their album ...And Out Come The Wolves which went gold within 5 months. This compilation, conceived and curated by Daryl Smith from U.K. punk legends Cock Sparrer, includes rarities such as B-sides and non-album ... read more >

Disc Quantity: 1
Release date: 2019-06-14
Item # : 534044
Availability : IN STOCK

Format : CD
[login]
UK SUBS
ZIEZO (UK) (CD)
UK SUBS

The final studio album by UK punk legends U.K. Subs makes them the only band ever to have released albums with a title starting with each of the 26 letters of the alphabet! Starting with Another Kind of Blues in 1979 its taken 40 years for Charlie Harper and his ever-changing line-up to make it all the way to Z with Ziezo, initially released in ... read more >

Disc Quantity: 1
Release date: 2019-06-14
Item # : 534043
Availability : IN STOCK

Format : CD
[login]
PROEM
UNTIL HERE FOR YEARS (CD)
N5MD

Until Here For Years is the 11th studio album from Proem, and the first since 2010's Enough Conflict that is in the more experimental electronica style Richard Bailey is most known for.

Disc Quantity: 1
Release date: 2019-04-19
Item # : 525098
Availability : IN STOCK

Format : CD
[login]
LES BOF!
VOILA! (CD)
DIRTY WATER

RIYL - The Seeds, The Chocolate Watchband, The Sonics. Les BOF! are Scotland's answer to the perennial question that quite possibly no-one ever asked. 60s French y-y garage, served up with panache by venerable Scottish fuzz beat Rock n' Roll emissaries. Their sound brings with it a certain_ 'je ne sais quoi' - a fusion if you will, of unique, r ... read more >

Disc Quantity: 1
Release date: 2019-06-28
Item # : 533582
Availability : IN STOCK

Format : CD
[login]
DALI'S LLAMA
MERCURY SEA (CD)
DALI'S LLAMA

Mercury Sea is the 14th album from these California desert rock icons. It's not your average stoner/desert rock slab. The songs are thought provoking, being as there is not one tune on this album about wizards or witches. Imagine an album that combines the sounds of, let's say: Sonic Youth, Black Sabbath, 60's garage rock, Fuzz, Dinosaur Jr., M ... read more >

Disc Quantity: 1
Release date: 2019-04-26
Item # : 533861
Availability : IN STOCK

Format : CD
[login]
AGENT BLA
MORNING THOUGHTS (CD)
THROUGH LOVE

Bitter-sweet, dark Indie Pop, showcasing a definite The Smithsand My Bloody Valentine influenceAnd, yes, the band memberssure enough are fans of Slowdive and Joy Division as well.Similar tro Drangsal, the Gothenburg/Sweden band lives andbreathes their influences, taking the best of Dream Pop, Gothand Indie to create their very own sound.

Disc Quantity: 1
Release date: 2019-06-07
Item # : 533868
Availability : IN STOCK

Format : CD
[login]
PINK FLOYD
TRANSMISSIONS 1967-1968 (CD)
AUDIO VAULTS

6-panel digifile CD. Pink Floyd broadcasts from 1967 and 1968

Disc Quantity: 2
Release date: 2019-06-07
Item # : 526716
Availability : IN STOCK

Format : CD
[login]
VARIOUS (NOISESHAPER)
KING SIZE DUB SPECIAL (CD)
ECHO BEACH

The sound company operating under the projectname "Noiseshaper" is poised to release theKING SIZE DUB - special - album into recordshops worldwide.The band received great acclaim for their firstalbums, which were released on the legendaryand infamous Rockers Hifi label DifferentDrummer. They later became celebrated fortheir musical contribution ... read more >

Disc Quantity: 1
Release date: 2019-05-31
Item # : 527072
Availability : 2/3 WEEKS, NOT IN STOCK

Format : CD
[login]
KITTY KAT FAN CLUB
DREAMY LITTLE YOU (CD)
ASIAN MAN

Kitty Kat Fan Club was started by Mike Park in his hometown of San Jose, Ca.. The idea was simply to put togethera band of local friends whom could get together a few times a month, write songs and have fun hanging out. Therealization for Park was that he had not been in a band with members from the same town since his days inSkankin'Pickle (19 ... read more >

Disc Quantity: 1
Release date: 2019-06-07
Item # : 533648
Availability : IN STOCK

Format : CD
[login]
FORNICATORS, THE
WITH RIGHT TO BARE LIMBS (PLUS BONU (CD)
MYSTIC

Oi! Ska, UK street punk sound, heavily influenced by Rancid, Dropkick Murphys and The Clash, direct from Sweden.Combines their first demo album plus 4 bonus tracks ("The Lost Tapes").

Disc Quantity: 1
Release date: 2019-05-19
Item # : 533514
Availability : IN STOCK

Format : CD
[login]
WARRIORS, THE
THESE STREETS ARE OURS (CD)
STEP ONE

Brand new 12 track studio album from Oi!/Punk legends The Warriors.

Disc Quantity: 1
Release date: 2019-03-22
Item # : 524797
Availability : IN STOCK

Format : CD
[login]
MONO IN STEREO
CAN'T STOP THE BLEEDING (CD)
RUM BAR

Equal parts anthems, ballads, and straight-ahead rockers, pulling from a lifetime of musical influences that come together in a fully identifiable way.Demonstrating that loud guitars and big hooks still have a place in "mature" rock n roll, Mono In Stereo piled into the basement. literally. With a case of cold ones,notebook pages sprawled out w ... read more >

Disc Quantity: 1
Release date: 2019-06-21
Item # : 533388
Availability : IN STOCK

Format : CD
[login]
ELEVATORS, THE
A SIDES B SIDES (CD)
PAISLEY ARCHIVE

This could be the BEST Power Pop Album You have EVER HEARD!!!All tracks recorded between 1978 and 1982 and features 16 Tracks of Glorious, 3 Minute, Straightforward, No Nonsense, Pop Songs with more Energy than an Offshore Wind Farm! 14 of Tracks have never been released before!!"Your Is are too Close Together" was previously released as a Sing ... read more >

Disc Quantity: 1
Release date: 2019-04-26
Item # : 526763
Availability : IN STOCK

Format : CD
[login]
TEL
LOWLIFE (CD)
AURAL

Lowlife is the debut album from SludgeDoomsters TEL: five songs that bridge the gapsbetween the spacious doom of Yob, the rawsludge of Acid Bath, the progressive tendenciesof Mastodon, and the sorrowful atmosphere ofKatatonia. Produced by Garrett Morris (theguitarist of Windhand, who has also recorded forthe likes of Cough, Bat, and Electric Wi ... read more >

Disc Quantity: 1
Release date: 2019-03-29
Item # : 526218
Availability : IN STOCK

Format : CD
[login]
VORTEX
THEM WITCHES (CD) NEW
GATES OF HELL

Groundbreaking Dutch cult metallers celebrate 40th anniversary with ten songs of hard-hitting, anthemic metal!Dutch heavy metal originators Vortex has scratched and clawed their way through the underground, emerging with Them Witches, a collection of songs unearthed from 1987, brought to life in time for the bands 40th anniversary.One of the fi ... read more >

Disc Quantity: 1
Release date: 2019-09-20
Item # : 535208
Availability : 2/3 WEEKS, NOT IN STOCK

Format : CD
[login]
TAKE, THE
THE TAKE (CD) NEW
DEMONS RUN AMOK

Famed NYHC drummer Will Shepler (formerly of Agnostic Front, Madball) and Sick Of It All bassist Craig Setari (also formerlyAgnostic Front) had an idea for a hardcore power trio. Will called longtime friend, guitarist/vocalist Scott Roberts (formerly ofBiohazard, The Spudmonsters, Bloodclot!, Cro-Mags) who had just left Biohazard only weeks bef ... read more >

Disc Quantity: 1
Release date: 2019-08-02
Item # : 534141
Availability : 2/3 WEEKS, NOT IN STOCK

Format : CD
[login]
SUUMHOW
SECUUND (CD) NEW
N5MD

Sophmore album from Belgian IDM duo Suumhow For Fans of: Autechre, Gridlock, Richard Devine This album is follow-up to last year's debut offering from Suumhow called Crash_Reports finds the pair doubling down on their blisteringly crunchy beat work and warm, humanistic melodies. While the beat-work on the album's opening track can lean toward t ... read more >

Disc Quantity: 1
Release date: 2019-09-20
Item # : 535218
Availability : 2/3 WEEKS, NOT IN STOCK

Format : CD
[login]
NEPTUNE POWER FEDERATION
MEMOIRS OF A RAT QUEEN (CD) NEW
CRUZ DEL SUR

Infectious space rock and metal from Australia, delivered by the one and only Imperial Priestess.Bow to the Imperial Priestess! On Memoirs of a Rat Queen, Australian psychedelic rock and roll occultists TheNeptune Power Federation have arrived to take you on a sonic journey like no other.She came from outer space, a celestial being with superna ... read more >

Disc Quantity: 1
Release date: 2019-09-27
Item # : 535211
Availability : 2/3 WEEKS, NOT IN STOCK

Format : CD
[login]
HIDEAWAY
HIDEAWAY (CD) NEW
LIONS PRIDE

HIDEAWAY was formed in 2010 in Athens, Greece by the guitarist Dinos Georgiou (ex- Metallist) and keyboardist Peter Papadimatos. Later on, Harris Georgiou joined the band taking the place behind the drumkit. Over the next years, the band worked on their songs and at the same time they were in search for the rest of the band members.This task ve ... read more >

Disc Quantity: 1
Release date: 2019-09-30
Item # : 535213
Availability : 2/3 WEEKS, NOT IN STOCK

Format : CD
[login]
CAPTAIN BEEFHEART AND HIS MAGIC BAND
MAGNETICISM II (CD) NEW
VIPER

Magneticism II features some of the finest live performances by Captain Beefheart & his Magic Bands, many being previously unreleased rarities. Led by California's enigmatic singer/songwriter: Don Van Vliet (aka Captain Beefheart), his various Magic Bands were faithful in their pursuit to realise his musical visions. live they always shone and ... read more >

Disc Quantity: 1
Release date: 2019-09-27
Item # : 535202
Availability : 2/3 WEEKS, NOT IN STOCK

Format : CD
[login]
MEAN JEANS, THE
GIGANTIC SIKE (CD) NEW
FAT WRECK CHORDS

Gigantic Sike is MEAN JEANS fifth full-length and falls into the same category as their prior albums -three-chord, heavily Ramones-influenced party punk, but with a bit of a twist. While the songs are fun andfast, there is a darker story being told of the bleak existence of a party boy. Each of the 11 tracks have anelement of sadness and cynici ... read more >

Disc Quantity: 1
Release date: 2019-08-30
Item # : 535193
Availability : 2/3 WEEKS, NOT IN STOCK

Format : CD
[login]
JUDGE DREAD
RUDE BOY (CD)
CLEOPATRA

Prime collection of hits and favorites from legendary British reggae/ska artist, and the first white artist to have a reggae hit in Jamaica, Judge Dread!This collection of vintage 1981 studio recordings includes the most notrious songs from JD's epic career such as "Big Six," "Up With The Cock," "Big Seven," and his fantastic cover of Serge Gai ... read more >

Disc Quantity: 1
Release date: 2019-09-20
Item # : 535177
Availability : 2/3 WEEKS, NOT IN STOCK

Format : CD
[login]
ATARIS, THE
HANG YOUR HEAD IN HOPE-ACOUSTIC SESSIONS (CD)
KUNG FU

Ataris' frontman and main songwriter Kristopher Roe takes a reflective trip through the band's 20+ year career, transforming 17 of his power punk highlights into acoustic masterpieces!Recorded and mixed by Bob Hoag at Flying Blanket Studio, this never before released collection includes acoustic renditions of several tracks from the band's land ... read more >

Disc Quantity: 1
Release date: 2019-09-20
Item # : 535180
Availability : 2/3 WEEKS, NOT IN STOCK

Format : CD
[login]
HUSSY, THE
LOOMING (CD)
DIRTNAP

At the end of 2018 The Hussy started tracking their new LP, Looming. Their last album saw the band move into a more focused direction with earnest mid-fi production and added arrangements, while still keeping true to the bands knack for writing consistently catchy pop morsels. This album takes the band in a decidedly dismal and defiantly dark d ... read more >

Disc Quantity: 1
Release date: 2019-09-27
Item # : 535138
Availability : 2/3 WEEKS, NOT IN STOCK

Format : CD
[login]
BAD, THE
DIAMOND AGE (CD)
THE BAD

The Bad is a Swiss-based concept band of three people, frontwoman Julia Jones from Latvia, frontman Eric Noorman from Amsterdam, and a mysterious drummer under the name of Zed D. While Julia and Eric rock an energetic live show, the drummer never appears live, only seen as a projection on a screen. Their music is a wild mixture of grunge, alter ... read more >

Disc Quantity: 1
Release date: 2019-09-20
Item # : 535174
Availability : 2/3 WEEKS, NOT IN STOCK

Format : CD
[login]
VARIOUS (JUDAS PRIEST TRIBUTE )
HELL BENT FOREVER (CD)
DEADLINE

Revamped version of this 2008 all-star tribute album featuring the likes of Vince Neil (of Motley Crue), Sepultura, Motorhead, Sepultura, Warrant, L.A. Guns, Fozzy (featuring Chris Jericho) and many more!Features stellar covers of Priests best loved songs such as "Breaking The Law," "Hell Bent For Leather," "Turbo Lover," "Youve Got Another Thi ... read more >

Disc Quantity: 1
Release date: 2019-09-13
Item # : 535019
Availability : 2/3 WEEKS, NOT IN STOCK

Format : CD
[login]
VARIOUS
SOME-A-HOLLA SOME-A-BRAWL (CD)
KINGSTON SOUNDS

Orange Street, Kingston, Jamaica the epicentre of the Reggae world. Where all the record shops, studios, pressing plants were based. The new cut 45s would be taken to the shops after a testing on various Sound Systems around the people and passed to the record shop proprietors to sell. Bunny Lee as a former record plugger and now a leading prod ... read more >

Disc Quantity: 1
Release date: 2019-09-20
Item # : 535027
Availability : 2/3 WEEKS, NOT IN STOCK

Format : CD
[login]
TEN FOOT POLE
ESCALATING QUICKLY (CD)
MORNING WOOD

"Escalating Quickly" - Ten Foot Poles new album and first featuring all new songs since 2004!"If I never do a record after this I would want people to remember me by this record." - Ryan Greene (producer for NOFX, No Use For A Name, Lagwagon)Vocals and rhythm guitars: Dennis JagardGuitars and backing vocals: Scott HallquistBass guitar: "Lil" Jo ... read more >

Disc Quantity: 1
Release date: 2019-07-26
Item # : 535037
Availability : 2/3 WEEKS, NOT IN STOCK

Format : CD
[login]
MONOCHROME SET, THE
FABULA MENDAX (CD)
TAPETE

"Fabula Mendax" is based on manuscripts written in the 15th Century by Armande de Pange, a companion of Jehanne dArc (Joan of Arc).Follow Armande as she flees her unhinged family, only to be caught up in the chaos of The Hundred Years War. She encounters and trails the enigmatic Joan, later becoming a part of her expanding group of followers. A ... read more >

Disc Quantity: 1
Release date: 2019-09-27
Item # : 534988
Availability : 2/3 WEEKS, NOT IN STOCK

Format : CD
[login]
KEIFER, TOM
RISE (CD)
CLEOPATRA

Former Cinderella frontman and powerhouse vocalist, Tom Keifer, ascends to new heights on his second solo album, Rise!This collection of 11 brand new songs rock with a fury and passion that is sure to make critics and fans take notice!Two brand new concept videos for the standout single "The Death Of Me" and the uplifing title track "Rise" pro ... read more >

Disc Quantity: 1
Release date: 2019-09-13
Item # : 535025
Availability : 2/3 WEEKS, NOT IN STOCK

Format : CD
[login]
DRUNKTANK
RETURN OF THE INFAMOUS FOUR (CD)
MORNING WOOD

Damaging your ears and drinking your beers since 2003! The notorious Dutch collection of troublemakers operating under the name of Drunktank have returned with their long-awaited second full-length "Return Of The Infamous Four". Expect one of the greatest combinations of 90s skatepunk and 80s metal youve heard so far!

Disc Quantity: 1
Release date: 2019-07-26
Item # : 535044
Availability : 2/3 WEEKS, NOT IN STOCK

Format : CD
[login]
COMET GAIN
FIRERAISERS FOREVER! (CD)
TAPETE

The last LP was a gentler, inner, melancholic hug at 2 am and perhaps we wouldve continued to go down a sweeter road but the state of the world has meant we were compelled to turn the fuzz up and make something more brutal and instant. In defiance to our last LP - now its late night sadness turns to the angry morning. First take beats ethics. T ... read more >

Disc Quantity: 1
Release date: 2019-10-11
Item # : 535023
Availability : 2/3 WEEKS, NOT IN STOCK

Format : CD
[login]
WOLVES LIKE US
BRITTLE BONES (CD)
PELAGIC

FOR FANS OF: The Afghan Whigs, Quicksand, Hot Water Music, Planes Mistaken For Stars, Junius, Drive Like Jehu.

Disc Quantity: 1
Release date: 2019-10-25
Item # : 535021
Availability : 2/3 WEEKS, NOT IN STOCK

Format : CD
[login]
BRUTALISTS, THE
WE ARE NOT HERE TO HELP (CD)
CLEOPATRA

The sophomore album from L.A.'s premiere garage rock quintet featuring members of L.A. Guns and The Quireboys, The Brutalists!The Brutalists' music is a collective of their influences - leering blues and pub rock and R&B, and the synthesized dance ennui of post-punk seasoned with bits of ska and reggae!This new album features the singles "Take ... read more >

Disc Quantity: 1
Release date: 2019-09-09
Item # : 535016
Availability : 2/3 WEEKS, NOT IN STOCK

Format : CD
[login]
WILLIAMS, HANNAH -& THE AFFIRMATIONS-
50 FOOT WOMAN (CD)
RECORD KICKS

Williams turned heads worldwide when the hip-hop superstar sampled her heart-stopping vocals on 'Late Nights & Heartbreak' for the title track, 4.44 on his 2017 album. Now Hannah and her exemplary, Bristol-based band the Affirmations deliver a definitive career statement with the drop-dead soulful new album 50 Foot Woman. The album captures all ... read more >

Disc Quantity: 1
Release date: 2019-10-18
Item # : 534985
Availability : 2/3 WEEKS, NOT IN STOCK

Format : CD
[login]
DOUGHBOYS
FRONT STREET REBELS (CD)
RAM

The Doughboys proudly present Front Street Rebels, twelve brilliant new tracks from the band whose career spans all the decades of rocknroll. Masterful songwriting, playing and production mark this as their crowning achievement - rockin tracks which remain true to their garage/blues/rock roots. Since the band re-formed in 2000, after having r ... read more >

Disc Quantity: 1
Release date: 2017-09-22
Item # : 507339
Availability : 2/3 WEEKS, NOT IN STOCK

Format : CD
[login]
ASTROSAUR
OBSCUROSCOPE (CD)
PELAGIC

ASTROSAUR's virtuous necro-nautic universe consists of equal parts instrumental rock and post-metal, studded with lavish prog-, jazzmathrock-and black metal ornaments.FOR FANS OF Radiohead, Ulver, Kongh, Trans Am, Elder, Mastodon, Leprous, Hedvig Mollestad Trio, Bushmans Revenge, El Doom & The Born Electric, Jaga Jazzist, Enslaved.

Disc Quantity: 1
Release date: 2019-09-27
Item # : 534982
Availability : 2/3 WEEKS, NOT IN STOCK

Format : CD
[login]
STRUNG OUT
SONGS OF ARMOR AND DEVOTION (CD)
FAT WRECK CHORDS

For anyone who has listened to punk rock over the past couple decades, STRUNG OUT needs no introduction. Their signature brand of intense, frenetic, metal-influenced punk has elevated them to elite status and played a significant role in redefining the genre. From their FAT debut Another Day in Paradise to 2015s Transmission.Alpha.Delta, and 20 ... read more >

Disc Quantity: 1
Release date: 2019-08-09
Item # : 534902
Availability : 2/3 WEEKS, NOT IN STOCK

Format : CD
[login]
HAZLEWOOD, LEE
400 MILES FROM L.A. 1955-56 (CD)
LIGHT I/T ATTIC

Tracks mastered from original Viv Records analog tapesFeaturing many previously unreleased compositions and an early draft of Trouble Is A Lonesome TownLiner notes by Hunter Lea with an interview from John DixonIncludes archival photos and ephemeraPhoenix, Arizona 1955... a twenty-five year old disc jockey and fledgling songwriter, Lee Hazlewoo ... read more >

Disc Quantity: 1
Release date: 2019-09-13
Item # : 534887
Availability : 2/3 WEEKS, NOT IN STOCK

Format : CD
[login]
GALANT TROOPERS
#1 (CD)
JARRING EFFECTS

After RROBIN and Rhino, Galant Records keeps on exploring the huge areas of beat making, in plunging into hip-hop with the previously unseen duo Kuna Maze and Vax1, forming Galant Troopers.Even though french media laugh at defining french rap as "the new pop", in Galant Records we prefer to keep on observing this constantly moving genre and giv ... read more >

Disc Quantity: 1
Release date: 2019-11-15
Item # : 534828
Availability : 2/3 WEEKS, NOT IN STOCK

Format : CD
[login]
VARIOUS
JUMPING WITH MR LEE (CD)
KINGSTON SOUNDS

The period of 1967 - 1968 when Rocksteady was in full flow, would also be a turning point for Bunny Striker Lee, when he became a producer in his own right. Many of the great tunes during this eventful year came out of his stable and initially saw the light of day on his own imprint label Lees. This album has been assembled from some of those f ... read more >

Disc Quantity: 1
Release date: 2019-07-26
Item # : 534817
Availability : 2/3 WEEKS, NOT IN STOCK

Format : CD
[login]
RAWSIDE
YOUR LIFE GETS CRUSHED (CD)
AGGRESSIVE PUNK

For Fans Of: Exploited, Fahnenflucht, Slayer, Napalm Death, Lamb of God, Pro Pain, VorkriegsjugendTen years after their last album "Widerstand" the Coburger Hardcore-Punks are back with a new record. And this one is a blast!

Disc Quantity: 1
Release date: 2019-07-26
Item # : 534774
Availability : 2/3 WEEKS, NOT IN STOCK

Format : CD
[login]
METEORS, THE
MENTAL INSTRUMENTALS II (CD)
MUTANT ROCK

Due to the 40th Anniversary the 2nd part of the All-instrumental album, Mental Instrumentals 2 - When Guitars Attack" from the original Psychobilly band THE METEORS is coming along. A lethal overdose of Paul Fenech's spine-bending Psychobilly guitar backed by THE METEORS' pulsating Voodoo-Billy beat. 16 Stompin pure Psychobilly sounds made of p ... read more >

Disc Quantity: 1
Release date: 2019-07-26
Item # : 534776
Availability : 2/3 WEEKS, NOT IN STOCK

Format : CD
[login]
VARIOUS
TRIBUTE TO PINK FLOYD (C+D)
PURLPLE PYRAMID

A stellar multi-media tribute to the music of Pink Floyd as performed by dozens of virtuoso musicians!Quite possibly the largest gathering of musical talent ever featured on a tribute album including Tommy Shaw (Styx), Steve Lukather (Toto), Tony Levin (Peter Gabriel), Glenn Hughes (Deep Purple), Doug Pinnick (Kings X), Chris Squire (Yes) and m ... read more >

Disc Quantity: 2
Release date: 2019-08-30
Item # : 534734
Availability : 2/3 WEEKS, NOT IN STOCK

Format : C+D
[login]
ORDO ROSARIUS EQUILIBRIO
MENAGE A QUATRE (CD)
OUT OF LINE

The place where Life and Death come together, where the fire of sensualism rises to the skies, where the orgy of the unregretted sin becomes the celebration of doom is the place where Ordo Rosarius Equilibrio gain their inspiration. Menage A Quatre" unifies light and loopy mood with the dark and sinister to pure Apocalyptic Pop seing a promise ... read more >

Disc Quantity: 1
Release date: 2019-07-19
Item # : 534713
Availability : 2/3 WEEKS, NOT IN STOCK

Format : CD
[login]
LORD OF THE LOST
TILL DEATH DO US PART (CD)
OUT OF LINE

Hamburg has always been a special place for international music. Bands such as The Beatles, Jimmy Hendrix and Black Sabbath entered the stage of the Star Club to gain stardom, and the sea breeze brought sounds from all over the world to the harbour city. An inspiring ambience for a guy from St. Pauli like Chris Harms, who found Lord Of The Lost ... read more >

Disc Quantity: 1
Release date: 2019-08-09
Item # : 534715
Availability : 2/3 WEEKS, NOT IN STOCK

Format : CD
[login]
A-SUN AMISSA
FOR BURDENED AND BRIGHT LIGHT (CD)
CONSOULING SOUNDS

This new work builds on the foundations of previous record Ceremony in the Stillness (2018), incorporating some of the heavier, distorted, guitar oriented themes but this time fuses them with broken, crumbling electronic beats and primal drone movements. The result is two long-form pieces of work that take time to unfold and multiple listens to ... read more >

Disc Quantity: 1
Release date: 2019-09-13
Item # : 534742
Availability : 2/3 WEEKS, NOT IN STOCK

Format : CD
[login]
ZAMORANO, JUANJO
ANIMALES VIVOS (CD)
FOLC

The Asturian singer-songwriter launches his second solo album, this time entirely in Spanish. Recorded between 2018 and 2019, the album is produced, recorded, mixed and mastered by Los Deltonos leader Hendrik Rover at his studio Guitar TownRecordings in Muriedas, Cantabria. Zamorano has on this occasion the invaluable help of the magnificent mu ... read more >

Disc Quantity: 1
Release date: 2019-07-19
Item # : 534673
Availability : 2/3 WEEKS, NOT IN STOCK

Format : CD
[login]
RITUALISTS, THE
PAINTED PEOPLE (CD)
OUT OF LINE

Aetheric guitars, dreamy sounds and a voice from a different world - The Ritualists let a music rise again that seemed to be forgotten. Names such as David Bowie, Velvet Underground, Duran Duran or Suede plop up in the mind, artists, that broke down frontiers and pushing expression and performance into complete new heights through absolute devo ... read more >

Disc Quantity: 1
Release date: 2019-08-02
Item # : 534707
Availability : 2/3 WEEKS, NOT IN STOCK

Format : CD
[login]
KARLON
GRIGA (CD)
RASTILHO

Karlon Krioulo has released a new album. "Griga" upgrades Passaporti and is packed with talented guests: Bdjoy, Carlao,Neuro MC, Sonny Rap, Helio Batalha, Dino DSantiago, AC Firmino, Toni Rex, Sagaz, Mista Badia, Primero G, MariaTavares, Charlie Beats, Prod Therapia, Ildo Lobo, Orlando Pantera, DJ X-Acto, Ary@Blasted Mechanism (bassline in thes ... read more >

Disc Quantity: 1
Release date: 2019-08-30
Item # : 534711
Availability : 2/3 WEEKS, NOT IN STOCK

Format : CD
[login]
WE ARE KIN
BRUISED SKY (CD)
BAD ELEPHANT MUSIC

'Bruised Sky' sees We are Kin move away from the universe of their preceding albums with a record that is the first true collaboration for the whole band. As keyboard player Daniel Zambas explains: "Bruised Sky is a stand-alone, no story line album. Its very much a band effort, subconsciously reflective and introspective".FFO: Genesis, Gentle G ... read more >

Disc Quantity: 1
Release date: 2019-07-12
Item # : 534670
Availability : 2/3 WEEKS, NOT IN STOCK

Format : CD
[login]
TORNADO, TOMMY -& THE CLERKS-
BACK ON TRACK (CD)
TOMMY TORNADO

3rd relase of Tommy Tornado, roots reggae dub,... Together with the german band The Clerks , mixed by Dubcreator.

Disc Quantity: 1
Release date: 2019-10-04
Item # : 534606
Availability : 2/3 WEEKS, NOT IN STOCK

Format : CD
[login]
GYZE
ASIAN CHAOS (CD)
OUT OF LINE

A beam of light appears in the land of the rising sun - a band rises to carry Heavy Metal from Japan around the world and bring it to new strenght. From High Speed Riffs, neck breacking guitar rollercoasters and the traditional music from their native country GYZE create a sound yet unknown in the West.You imagine yourself between the guitar h ... read more >

Disc Quantity: 1
Release date: 2019-07-19
Item # : 534636
Availability : 2/3 WEEKS, NOT IN STOCK

Format : CD
[login]
CAPPS, GARRETT T.
ALL RIGHT, ALL NIGHT (CD)
SHOTGUN HOUSE

With All Right, All Night, Garrett T. Capps has no intention of taking it slower. He will also continue unabated afterwards. 'All Right, All Night' is number two of the 'In the Shadows Trilogy'. It's a danceable country record. On the album a fierce Americana sound is interwoven with lush soundscapes and that prevailing space-country sound that ... read more >

Disc Quantity: 1
Release date: 2019-08-30
Item # : 534551
Availability : 2/3 WEEKS, NOT IN STOCK

Format : CD
[login]
SHAKING SENSATIONS, THE
HOW ARE WE TO FIGHT THE BLIGHT? (CD)
PELAGIC

THE SHAKING SENSATIONS have expanded the classic post-rock constellation by addition of a second drummer, allowing the band to develop a unique approach to the rhythm section and a fresh and unconventional take on instrumental rock music. During 4 extensive European tours, the band have shared thestage with acts such as Caspian, And So I Watche ... read more >

Disc Quantity: 1
Release date: 2019-10-04
Item # : 534468
Availability : 2/3 WEEKS, NOT IN STOCK

Format : CD
[login]
HOCICO
ARTIFICIAL EXTINCTION (CD) NEW
OUT OF LINE

Since the debut "Odio Bajo El Alma" Hocico stand for destruction, for darkness and pure aggression. Their kind of industrial has always been dirtier and more venomous, without particulate filter, music, that can only be created by Mexican Devils. "Artificial Extinction" is the highlight in this evolution: The unique Hocico sound is evolved to ... read more >

Disc Quantity: 1
Release date: 2019-07-26
Item # : 534465
Availability : 2/3 WEEKS, NOT IN STOCK

Format : CD
[login]
GIFT, THE
ANTENNA (CD)
BAD ELEPHANT MUSIC

The Gift originally formed in 2003 when Mike Morton (writer, vocalist and multi-instrumentalist) hooked up with Leroy James (guitarist, writer and producer). Their debut album, Awake and Dreaming was released in 2006) to great reviews.After the success of the debut, The Gift went on hiatus until 2014s Land of Shadows appeared when a rejuvenate ... read more >

Disc Quantity: 1
Release date: 2019-06-28
Item # : 534472
Availability : 2/3 WEEKS, NOT IN STOCK

Format : CD
[login]
VANDALS
HOLLYWOOD POTATO CHIP (CD)
KUNG FU

The infamous 2004 album by playful punk anarchists The Vandals!This, the band's 10th studio album, included a logo that parodied Variety magazine which resulted in a protracted legal battle that saw Vandals bassist Joe Escalante heroically taking on the Goliath legal team at Variety...and winning!Musical highlights include a killer cover of Que ... read more >

Disc Quantity: 1
Release date: 2019-08-16
Item # : 534321
Availability : 2/3 WEEKS, NOT IN STOCK

Format : CD
[login]
T.S.O.L.
TRUE SOUNDS OF LIBERTY (CD)
CLEOPATRA

A deluxe mini-LP CD gatefold reissue of this definitive anthology featuring the biggest and baddest tracks from gloomy punk rock legends, T.S.O.L.!Features all three original members playing newly recorded, sonically updated versions of their biggest hits including "Abolish Government," "World War III," "Code Blue," "The Sounds Of Laughter" an ... read more >

Disc Quantity: 1
Release date: 2019-08-09
Item # : 534308
Availability : 2/3 WEEKS, NOT IN STOCK

Format : CD
[login]
LINE SPECTRUM
BRUMA (CD)
GLACIAL MOVEMENTS

Line Spectrum is the new project by Oleg Puzan from Ukraine, who also released some excellent works on the Cryo Chamber label as Dronny Darko. Line Spectrum is a sound art project that is created to expand sonic boundaries through sound manipulations, often in a form of severe minimalism using a vast palette of microscopic sounds forming an imm ... read more >

Disc Quantity: 1
Release date: 2019-07-05
Item # : 534298
Availability : 2/3 WEEKS, NOT IN STOCK

Format : CD
[login]
HAWKESTREL
THE FUTURE IS US (CD)
PURPLE PYRAMID

DO NOT PANIC, Hawkwind fans! This incredible project brings together a host of former members and associates of the Hawkwind family including longtime bassist Alan Davey, co-founder Nik Turner, original bassist Lemmy Kilmister, drummer Ginger Baker, violinist Simon House, original guitarist Huw Lloyd-Langton, Paul Rudolph and many more!Features ... read more >

Disc Quantity: 1
Release date: 2019-08-09
Item # : 534299
Availability : 2/3 WEEKS, NOT IN STOCK

Format : CD
[login]
ITSOKTOCRY
POSHBOY (CD)
CLEOPATRA

One of the leading artistic figures of the underground alternative rap movement, ITSOKTOCRY, proudly presents his newest album now available on both CD and vinyl!Includes the viral single "Viagra," which has racked up over 3 million total streams plus the wildly popular singles "Jirachi," "Lil Lock Pick," and "Bi-Polar Freestyle!"Videos from th ... read more >

Disc Quantity: 1
Release date: 2019-08-16
Item # : 534311
Availability : 2/3 WEEKS, NOT IN STOCK

Format : CD
[login]
LEAETHER STRIP
AEPPRECIATION (CD)
CLEOPATRA

The first ever US pressing of this superb covers album from German industrial master, Claus Larsen a/k/a Lether Strip!Includes hypnotic versions of songs by David Bowie, Depeche Mode, PJ Harvey, Soft Cell, The Normal and more!Available on both CD and limited edition RED vinyl (only 300 made)!

Disc Quantity: 1
Release date: 2019-08-16
Item # : 534318
Availability : 2/3 WEEKS, NOT IN STOCK

Format : CD
[login]
FLESHWORLD
THE ESSENCE HAS CHANGED, BUT THE DETAILS REMAIN (CD)
THIS CHARMING MAN

A five-piece band from Krakow, Poland, revolving around the concepts of uncertainty and change, beauty found in decay, and the indescribable emotions. Unpleasant, noisy, and melodic sludgy post-hardcore, evoking nostalgia, regret, and uneasiness. 2019 will see the release of their new album, "The Essence Has Changed, but the Details Remain" th ... read more >

Disc Quantity: 1
Release date: 2019-10-15
Item # : 534240
Availability : 2/3 WEEKS, NOT IN STOCK

Format : CD
[login]
FREELOADER
THE PATH OF RESISTANCE (CD)
RUM BAR

Freeloader is a young rock band from the Florida panhandle whose twin-guitar attack is reminiscent of some of the finest hard-rock bands of the 70s. Their relentless touring schedule has made them intimately familiar with the roadhouses, truck stops and Waffle Houses of the South. They are scraggly van-sleepers who rarely do their laundry, but ... read more >

Disc Quantity: 1
Release date: 2019-07-26
Item # : 534277
Availability : 2/3 WEEKS, NOT IN STOCK

Format : CD
[login]
DIANNO, PAUL
TALES FROM THE BEAST (CD)
CLEOPATRA

A ferocious collection of unholy career highlights from Paul "The Beast" Dianno, original Iron Maiden vocalist and a pivotal figure in the New Wave Of British Heave Metal movement!Includes Dianno revisiting some Maiden classics from their first two albums including "Iron Miaden," "Phantom Of The Opera," and "Killers" PLUS cover versions of Mega ... read more >

Disc Quantity: 1
Release date: 2019-08-09
Item # : 534309
Availability : 2/3 WEEKS, NOT IN STOCK

Format : CD
[login]
MOTOR!K
MOTOR!K (CD)
OUT OF LINE

Dirk Ivens (Guitars / FX) is a man who wrote history. Since 1980 he is an influencial force in EBM and Industrial being part of bands such as Absolute Body Control, The Klinik and Dive building a monument that brilliance will survive his time. Now he joined force with two likeminded souls, Joeri Dobbeleir ( Guitars / Synths) from The Whereabout ... read more >

Disc Quantity: 1
Release date: 2019-06-21
Item # : 534189
Availability : 2/3 WEEKS, NOT IN STOCK

Format : CD
[login]
REALITY SUITE
AWAKEN (CD)
LION'S PRIDE

Reality Suite is a bit of a New Jersey super-group. Their fusion of modern and classic rock is a fairly compelling mix since they really dont sound like any other indie band I can think of," declared Jim Testa - founder of Jersey Beat fanzine and contributing writer to Rolling Stone magazine.Formed in 2009 in North Haledon, New Jersey by three ... read more >

Disc Quantity: 1
Release date: 2019-06-28
Item # : 534268
Availability : 2/3 WEEKS, NOT IN STOCK

Format : CD
[login]
SCHNITZLER, CONRAD
CONDITIONS OF THE GAS GIANT (CD)
BUREAU B

Imagine if you could listen to the nervous whirling of methane and helium, thats what this album sounds like - at least in the mind of experimentalist Conrad Schnitzler. The Berlin artist first released these recordings on a small American cassette label. An uncommonly rhythmical vortex, we would suggest. Now available for the very first time ... read more >

Disc Quantity: 1
Release date: 2019-08-16
Item # : 534162
Availability : 2/3 WEEKS, NOT IN STOCK

Format : CD
[login]
RAVAN, GENYA
ICON (CD)
RUM BAR

Few performers in the music industry today can claim the longevity and respect earned by Genya Ravan. Always a pioneer, Genya formed Goldie and the Gingerbreadsin the early sixties, touring behind a string of European hits with the Stones, Kinks, Yardbirds and Hollies as the first All Female Rock and Roll band.Later she resurfaced back in the U ... read more >

Disc Quantity: 1
Release date: 2019-07-26
Item # : 534113
Availability : 2/3 WEEKS, NOT IN STOCK

Format : CD
[login]
VILE A SIN
BLOOD FIEND (CD)
CLEOPATRA

Lovers of metal and horror will rejoice at the release of the long awaited debut album by L.A.'s premiere horrormetal band, Vile A Sin!The band's terrifying video for "Crimson Lust" has already struck a chord with fans who will be heavily anticipating this release!New video for "Carnival Of Souls" coming soon!

Disc Quantity: 1
Release date: 2019-07-27
Item # : 534084
Availability : 2/3 WEEKS, NOT IN STOCK

Format : CD
[login]
HIGH SUNN
COFFIN EYES (CD)
CLEOPATRA

Bay Area multi-instrumentalist/vocalist/songwriter Justin Cheromiah releases his latest album of melodic guitar-oriented indie rock!"If you combined the coming of age Studio Ghibli film, 'Whisper of the Heart,' and meshed it with references to bubble tea, and added some lyrics and guitar instrumentals, it would equate to a High Sunn song." - Mi ... read more >

Disc Quantity: 1
Release date: 2019-07-27
Item # : 534083
Availability : 2/3 WEEKS, NOT IN STOCK

Format : CD
[login]
SUNZ OF MAN
REBIRTH (CD)
X-RAY

The dramatic return of the first official Wu-Tang Clan affiliated group that launched the careers of SOM founders Prodigal Sunn and Killah Priest along with longtime members Heaven Razah (formerly Hell Razah) and 60 Second Assassin! Features guest appearances by Wu-associate Cappadonna as well as underground superstars Planet Asia, LA The Darkm ... read more >

Disc Quantity: 1
Release date: 2019-08-02
Item # : 534130
Availability : 2/3 WEEKS, NOT IN STOCK

Format : CD
[login]
BERLIN
TRANSCENDANCE (CD)
CLEOPATRA

The reunited '80s new wave superstars, Berlin, return with a bold new album of superb, highly danceable, and powerful new music - Transcendance!Vocalist Terri Nunn rejoins co-founders John Crawford and David Diamond for what promises to be one of the most talked about releases of the year!Billboard.com has already premiered one of the tracks an ... read more >

Disc Quantity: 1
Release date: 2019-08-02
Item # : 534132
Availability : 2/3 WEEKS, NOT IN STOCK

Format : CD
[login]
VANDALS
INTERNET DATING SUPERSTUDS (CD)
KUNG FU

The 2002 album from the anarchic pranksters of punk rock, The Vandals!This is the 9th studio album from The Vandals and they use it as an opportunity to launch a full out (and hilarious) assault on internet culture!

Disc Quantity: 1
Release date: 2019-07-12
Item # : 533950
Availability : 2/3 WEEKS, NOT IN STOCK

Format : CD
[login]
ADAMS, ARTHUR
HERE TO MAKE YOU FEEL GOOD (CD)
CLEOPATRA

Blues legend Arthur Adams brings his best on this fantastic new album of soulful blues guaranteed to make you FEEL GOOD!Standout tracks including "Tear The House Down," "Sweet Spot" and others have already garnered radio airplay courtesy of popular KJazz DJ Gary "The Wagman" Wagner!Arthur's credits as a session guitarist and live musician are s ... read more >

Disc Quantity: 2
Release date: 2019-07-19
Item # : 533894
Availability : 2/3 WEEKS, NOT IN STOCK

Format : CD
[login]
PHEEYOWNAH
SILVER (CD)
LABRADOR

Swedish/Ugandan singer-songwriter, multi-instrumentalist & dancer Pheeyownah releases her bewitching debut R&B album SILVER via Labrador Records. She recently shared singles "Scent/Sweat" from it via LADYGUNN and "Gold" via Popdust.With atmospheric R&B harmonies and poetic lyrics in the realm of Bjork, SZA, FKA Twigs and Flume, Pheeyownah explo ... read more >

Disc Quantity: 1
Release date: 2019-05-17
Item # : 533578
Availability : 2/3 WEEKS, NOT IN STOCK

Format : CD
[login]
GREAT WHITE
GREAT ZEPPELIN (LED ZEPPELIN TRIBUTE) (CD)
DEADLINE

Superb reissue of this highly celebrated salute to Led Zeppelin by Great White recorded live in 1996!Jack Russell & Co. rock their way through 14 of Zep's biggest and best-loved tunes including "Ramble On," "Immigrant Song," "No Quarter" and a powerhouse version of "Stairway To Heaven!"Available on CD in a digipak and on vinyl in limited editi ... read more >

Disc Quantity: 1
Release date: 2019-06-28
Item # : 533510
Availability : 2/3 WEEKS, NOT IN STOCK

Format : CD
[login]
K.O.G. AND THE ZONGO BRIGADE
WAHALA WAHALA (CD)
HEAVENLY SWEETNESS

This album brings to light the strength and endurance of us as HUMANS. A personal journey and documentation of most of the obstacles we have faced as we have moved from 2 different worlds and how we have overcome these struggles through the freedomof art and music through a firm connection with our roots and culture. It's music from our soul te ... read more >

Disc Quantity: 1
Release date: 2019-05-17
Item # : 526818
Availability : 2/3 WEEKS, NOT IN STOCK

Format : CD
[login]
ROCKET, JOHNNY
COME A LITTLE CLOSER (CD)
WOLVERINE

Imagine the scene, Johnny and BB meet Lemmy and Slash in a sleazy downtown honky-tonk dive bar, get drunk and start a band. The name, "Johnny Rocket". A guitar driven rock 'n' roll band, with the rawness of punk, sentiment of the blues and the honesty of country music. Over the next 13 years, Johnny Rocket have developed and moved with the time ... read more >

Disc Quantity: 1
Release date: 2019-03-29
Item # : 526363
Availability : 2/3 WEEKS, NOT IN STOCK

Format : CD
[login]
SCANERS, THE
II (CD)
DIRTY WATER

Their second album, put simply, II, is a breakthrough moment, when the crawling Lo Spider once again takes control of this paranoiac, extra-terrestrial-abducted and abducting quartet and bounces the finished 12 doses into the hands of garage master Jim Diamond for mastering. The result? Another bombastic, swirling garage acid trip through the s ... read more >

Disc Quantity: 1
Release date: 2019-03-29
Item # : 525028
Availability : 2/3 WEEKS, NOT IN STOCK

Format : CD
[login]
VORTEX
THEM WITCHES (LP) NEW
GATES OF HELL

Groundbreaking Dutch cult metallers celebrate 40th anniversary with ten songs of hard-hitting, anthemic metal!Dutch heavy metal originators Vortex has scratched and clawed their way through the underground, emerging with Them Witches, a collection of songs unearthed from 1987, brought to life in time for the bands 40th anniversary.One of the fi ... read more >

Disc Quantity: 1
Release date: 2019-09-20
Item # : 535207
Availability : 2/3 WEEKS, NOT IN STOCK

Format : LP
[login]
TAKE, THE
THE TAKE (LP) NEW
DEMONS RUN AMOK

Famed NYHC drummer Will Shepler (formerly of Agnostic Front, Madball) and Sick Of It All bassist Craig Setari (also formerlyAgnostic Front) had an idea for a hardcore power trio. Will called longtime friend, guitarist/vocalist Scott Roberts (formerly ofBiohazard, The Spudmonsters, Bloodclot!, Cro-Mags) who had just left Biohazard only weeks bef ... read more >

Disc Quantity: 1
Release date: 2019-08-02
Item # : 534142
Availability : 2/3 WEEKS, NOT IN STOCK

Format : LP
[login]
SUUMHOW
SECUUND (LP) NEW
N5MD

Sophmore album from Belgian IDM duo Suumhow 180gm sea blue vinyl limited to 250 units worldwide For Fans of: Autechre, Gridlock, Richard Devine This album is follow-up to last year's debut offering from Suumhow called Crash_Reports finds the pair doubling down on their blisteringly crunchy beat work and warm, humanistic melodies. While the beat ... read more >

Disc Quantity: 1
Release date: 2019-09-20
Item # : 535219
Availability : 2/3 WEEKS, NOT IN STOCK

Format : LP
[login]
RHINO
THE LEOPARDS DILEMMA (12") NEW
JARRING EFFECTS

RHINO's new EP "The Leopard Dilemma" sees the British born, French based producer returning more closely to his Hip Hop roots. Bluessamples mix seamlessly with boom bap drums, heavy bass lines and touches of both electronic and trap music blur the lines bet ween oldand new school beats. This creates the setting for some of the best M C's around ... read more >

Disc Quantity: 1
Release date: 2019-10-18
Item # : 535238
Availability : 2/3 WEEKS, NOT IN STOCK

Format : 12"
[login]
NEPTUNE POWER FEDERATION
MEMOIRS OF A RAT QUEEN (LP) NEW
CRUZ DEL SUR

Infectious space rock and metal from Australia, delivered by the one and only Imperial Priestess.Bow to the Imperial Priestess! On Memoirs of a Rat Queen, Australian psychedelic rock and roll occultists TheNeptune Power Federation have arrived to take you on a sonic journey like no other.She came from outer space, a celestial being with superna ... read more >

Disc Quantity: 1
Release date: 2019-09-27
Item # : 535212
Availability : 2/3 WEEKS, NOT IN STOCK

Format : LP
[login]
NEPTUNE POWER FEDERATION
NEATH A SHIN EI SUN (LP) NEW
CRUZ DEL SUR

An epic mashup of classic rock influences and occult madness.Australian occult hard rockers breakthrough album blends classic hard rock, psychedelic jams and soaring harmoniesto create a truly unique sonic trip.VINYL CONFIGURATION:Gatefold Edition, Insert, Download Code.

Disc Quantity: 1
Release date: 2019-09-27
Item # : 535210
Availability : 2/3 WEEKS, NOT IN STOCK

Format : LP
[login]
NEPTUNE POWER FEDERATION
LUCIFER'S UNIVERSE (LP) NEW
CRUZ DEL SUR

Wild time travelling space metal concept album from Australian rockers.New vocalist Screaming Loz Sutch completely reinvents this Australian retro metal act as her bewitching presencetakes the band into uncharted psychedelic territory.VINYL CONFIGURATION:First time on Vinyl, Gatefold Edition, Insert, Download Code.

Disc Quantity: 1
Release date: 2019-09-27
Item # : 535209
Availability : 2/3 WEEKS, NOT IN STOCK

Format : LP
[login]
GONZO
RUIDO(S) (LP) NEW
DISCREPANT

Sometimes you know its coming, sometimes its unexpected, but the time to hang your boots will always come. Its better when you have total control, even better if you end up on a high (or on a low). After seven years of sonic interferences, calibrating the soundscape of field recordings and helping to recreate the old sounds of today, Gonzo is r ... read more >

Disc Quantity: 1
Release date: 2019-08-30
Item # : 535205
Availability : 2/3 WEEKS, NOT IN STOCK

Format : LP
[login]
CAPTAIN BEEFHEART AND HIS MAGIC BAND
MAGNETICISM II (LP) NEW
VIPER

Magneticism II features some of the finest live performances by Captain Beefheart & his Magic Bands, many being previously unreleased rarities. Led by California's enigmatic singer/songwriter: Don Van Vliet (aka Captain Beefheart), his various Magic Bands were faithful in their pursuit to realise his musical visions. live they always shone and ... read more >

Disc Quantity: 1
Release date: 2019-09-27
Item # : 535203
Availability : 2/3 WEEKS, NOT IN STOCK

Format : LP
[login]
ALEXANDER, ROSS
HIGH ATLAS TO THE SAHARA DESERT (LP) NEW
DISCREPANT

Ross Alexander first came to our attention with Memorias Vol.1 - Bugandan Sacred Places, released back in 2017 on Sucata Tapes, it featured a mind altering mix of recorded sounds from a series of visited sites considered sacred within the Bugandan kingdom and session recordings with Ugandan musicians Albert Sempeke and the Nilotika Collective l ... read more >

Disc Quantity: 1
Release date: 2019-09-06
Item # : 535204
Availability : 2/3 WEEKS, NOT IN STOCK

Format : LP
[login]
VARIOUS
STRAIN CRACK & BREAK (LP)
FINDERS KEEPERS

After years of mythology, misinterpretation and procrastination Nurse With Wounds Steven Stapleton finally chooses Finders Keepers Records as the ideal collaborators to release "the right tracks" from his uber-legendary psych/prog/punk peculiarity shopping list known as The Nurse With Wound List, commencing with a French specific Volume One of ... read more >

Disc Quantity: 2
Release date: 2019-09-06
Item # : 535150
Availability : 2/3 WEEKS, NOT IN STOCK

Format : LP
[login]
TERROR
LIVING BY THE CODE (RED WHITE) (LP)
RASTILHO

LP12" Half-Half (Red/White) w/4-page booklet LP 45RPM - limited to 200 copiesThe fifth studio album by Los Angeles hardcore punk band Terror. It was released in 2013 on Victory Records.For over the last decade, Los Angeles, CA hardcore outfit Terror has acquired a fiercely loyal following not only through their multiple recorded outputs but als ... read more >

Disc Quantity: 1
Release date: 2019-10-25
Item # : 535071
Availability : 2/3 WEEKS, NOT IN STOCK

Format : LP
[login]
TERROR
LIVING BY THE CODE (BLACK) (LP)
RASTILHO

LP12" Black w/4-page bookley LP 45RPM - limited to 300 copiesThe fifth studio album by Los Angeles hardcore punk band Terror. It was released in 2013 on Victory Records.For over the last decade, Los Angeles, CA hardcore outfit Terror has acquired a fiercely loyal following not only through their multiple recorded outputs but also through their ... read more >

Disc Quantity: 1
Release date: 2019-10-25
Item # : 535070
Availability : 2/3 WEEKS, NOT IN STOCK

Format : LP
[login]
SICK OF IT ALL
WHEN THE SMOKE CLEARS (GOLD) (EP)
RASTILHO

LP10" Gold w/inner sleeve LP 45RPM - limited to 200 copiesWhen the Smoke Clears is an EP by the American hardcore punk band SICK OF IT ALL. It was released on 4 November2016 by Century Media Records. . In order to celebrate this special occasion SICK OF IT ALL released "When The SmokeClears". The band didnt just record five brand new tracks in ... read more >

Disc Quantity: 1
Release date: 2019-10-25
Item # : 535073
Availability : 2/3 WEEKS, NOT IN STOCK

Format : EP
[login]
SICK OF IT ALL
WHEN THE SMOKE CLEARS (BLACK) (EP)
RASTILHO

LP10" Black w/inner sleeve LP 45RPM - limited to 300 copiesWhen the Smoke Clears is an EP by the American hardcore punk band SICK OF IT ALL. It was released on 4 November 2016 by Century Media Records. . In order to celebrate this special occasion SICK OF IT ALL released "When The Smoke Clears". The band didnt just record five brand new tracks ... read more >

Disc Quantity: 1
Release date: 2019-10-25
Item # : 535072
Availability : 2/3 WEEKS, NOT IN STOCK

Format : EP
[login]
MEAN JEANS, THE
GIGANTIC SIKE (LP) NEW
FAT WRECK CHORDS

Gigantic Sike is MEAN JEANS fifth full-length and falls into the same category as their prior albums -three-chord, heavily Ramones-influenced party punk, but with a bit of a twist. While the songs are fun andfast, there is a darker story being told of the bleak existence of a party boy. Each of the 11 tracks have anelement of sadness and cynici ... read more >

Disc Quantity: 1
Release date: 2019-08-30
Item # : 535194
Availability : 2/3 WEEKS, NOT IN STOCK

Format : LP
[login]
HAND & LEG
LUST IN PEACE (LP)
BLACK GLADIATOR

The Kritikal Beatdown continues as Black Gladiator and Slovenly Recordings present the second album from Athens via Crete dynamik duo HAND & LEG. The new LP is called "Lust In Peace" and it advances the post-punk infused concoction of blazing garage and art-driven destructo-rock as established on their grinding debut. Murky shades of sexual neg ... read more >

Disc Quantity: 1
Release date: 2019-09-06
Item # : 534592
Availability : IN STOCK

Format : LP
[login]
CR DICKS
DICK MOVES (LP)
SLOVENLY

Mr. Andy Caffrey (The Horrors, Autodramatics) delivered a noisy-assed garage-punk disaster basted in crunk and hip-hop. Sounds terrible, right? Yeah, well, this is what Black Gladiators been lusting after since its inception (see also: OBNOX, THE LO-FI JERKHEADS, ELECTRIC CRUSH, CELLULITE), and motherFUCK if aint aint the bozack. So we snatched ... read more >

Disc Quantity: 1
Release date: 2019-09-06
Item # : 535077
Availability : 2/3 WEEKS, NOT IN STOCK

Format : LP
[login]
COCK SPARRER
BACK IN SF 2009 (LP)
PIRATES PRESS

Pressed on limited edition beer coloredvinyl.Recorded at Pirates Press 5th Anniversary Party in November of 2009 in San Francisco, this is really a party on vinyl! It allows people who were at the shows an opportunity to buythe best souvenir we could imagine, and for those who werent there, the opportunity to relish in jealousy of their friends ... read more >

Disc Quantity: 2
Release date: 2019-09-13
Item # : 535188
Availability : 2/3 WEEKS, NOT IN STOCK

Format : LP
[login]
HUSSY, THE
LOOMING (LP)
DIRTNAP

At the end of 2018 The Hussy started tracking their new LP, Looming. Their last album saw the band move into a more focused direction with earnest mid-fi production and added arrangements, while still keeping true to the bands knack for writing consistently catchy pop morsels. This album takes the band in a decidedly dismal and defiantly dark d ... read more >

Disc Quantity: 1
Release date: 2019-09-27
Item # : 535139
Availability : 2/3 WEEKS, NOT IN STOCK

Format : LP
[login]
VIBRACATHEDRAL ORCHESTRA
SQUEEZE THE LIDS THROUGH COMING WINDOW (LP)
OAKEN PALACE

A piercing hum awakens alien skreeks and insect antennae and fluttering seedpod drifts and curled leaf wails. reedy twirlings dance above organic-machine wheeling thuds. hopping whistles accompany descending klangs, producing a rushing stasis, a clattering bliss, a reverential noise. Vibracathedral Orchestras trademark levitation drone returns ... read more >

Disc Quantity: 1
Release date: 2019-09-01
Item # : 535133
Availability : 2/3 WEEKS, NOT IN STOCK

Format : LP
[login]
VARIOUS
SOME-A-HOLLA SOME-A-BRAWL (LP)
KINGSTON SOUNDS

Orange Street, Kingston, Jamaica the epicentre of the Reggae world. Where all the record shops, studios, pressing plants were based. The new cut 45s would be taken to the shops after a testing on various Sound Systems around the people and passed to the record shop proprietors to sell. Bunny Lee as a former record plugger and now a leading prod ... read more >

Disc Quantity: 1
Release date: 2019-09-20
Item # : 535028
Availability : 2/3 WEEKS, NOT IN STOCK

Format : LP
[login]
TEN FOOT POLE
ESCALATING QUICKLY (LP)
MORNING WOOD

"Escalating Quickly" - Ten Foot Poles new album and first featuring all new songs since 2004!"If I never do a record after this I would want people to remember me by this record." - Ryan Greene (producer for NOFX, No Use For A Name, Lagwagon)Vocals and rhythm guitars: Dennis JagardGuitars and backing vocals: Scott HallquistBass guitar: "Lil" Jo ... read more >

Disc Quantity: 1
Release date: 2019-07-26
Item # : 535038
Availability : 2/3 WEEKS, NOT IN STOCK

Format : LP
[login]
REYNOLDS, ANTHONY
A PAINTER'S LIFE (LP)
ROCKET GIRL

Anthony Reynolds was born in South Wales in the early seventies. Between 1993 and 2004 he was founding member of the groups Jack and Jacques, releasing five albums. Since 2004 he has released various albums and also worked as a writer, publishing four biographies which have been translated into 14 languages and two volumes of poetry which haven ... read more >

Disc Quantity: 1
Release date: 2019-08-23
Item # : 535029
Availability : 2/3 WEEKS, NOT IN STOCK

Format : LP
[login]
MONOCHROME SET, THE
FABULA MENDAX (LP)
TAPETE

"Fabula Mendax" is based on manuscripts written in the 15th Century by Armande de Pange, a companion of Jehanne dArc (Joan of Arc).Follow Armande as she flees her unhinged family, only to be caught up in the chaos of The Hundred Years War. She encounters and trails the enigmatic Joan, later becoming a part of her expanding group of followers. A ... read more >

Disc Quantity: 1
Release date: 2019-09-27
Item # : 534989
Availability : 2/3 WEEKS, NOT IN STOCK

Format : LP
[login]
DRUNKTANK
RETURN OF THE INFAMOUS FOUR (LP)
MORNING WOOD

Damaging your ears and drinking your beers since 2003! The notorious Dutch collection of troublemakers operating under the name of Drunktank have returned with their long-awaited second full-length "Return Of The Infamous Four". Expect one of the greatest combinations of 90s skatepunk and 80s metal youve heard so far!

Disc Quantity: 1
Release date: 2019-07-26
Item # : 535045
Availability : 2/3 WEEKS, NOT IN STOCK

Format : LP
[login]
COMET GAIN
FIRERAISERS FOREVER! (LP)
TAPETE

The last LP was a gentler, inner, melancholic hug at 2 am and perhaps we wouldve continued to go down a sweeter road but the state of the world has meant we were compelled to turn the fuzz up and make something more brutal and instant. In defiance to our last LP - now its late night sadness turns to the angry morning. First take beats ethics. T ... read more >

Disc Quantity: 1
Release date: 2019-10-11
Item # : 535024
Availability : 2/3 WEEKS, NOT IN STOCK

Format : LP
[login]
WOLVES LIKE US
BRITTLE BONES (LP)
PELAGIC

FOR FANS OF: The Afghan Whigs, Quicksand, Hot Water Music, Planes Mistaken For Stars, Junius, Drive Like Jehu.

Disc Quantity: 1
Release date: 2019-10-25
Item # : 535022
Availability : 2/3 WEEKS, NOT IN STOCK

Format : LP
[login]
WILLIAMS, HANNAH -& THE AFFIRMATIONS-
50 FOOT WOMAN (LP)
RECORD KICKS

Williams turned heads worldwide when the hip-hop superstar sampled her heart-stopping vocals on 'Late Nights & Heartbreak' for the title track, 4.44 on his 2017 album. Now Hannah and her exemplary, Bristol-based band the Affirmations deliver a definitive career statement with the drop-dead soulful new album 50 Foot Woman. The album captures all ... read more >

Disc Quantity: 1
Release date: 2019-10-18
Item # : 534986
Availability : 2/3 WEEKS, NOT IN STOCK

Format : LP
[login]
STRUNG OUT
SONGS OF ARMOR AND DEVOTION (LP)
FAT WRECK CHORDS

Vinyl includes free digital download of the full album and features a special foil cover.For anyone who has listened to punk rock over the past couple decades, STRUNG OUT needs no introduction. Their signature brand of intense, frenetic, metal-influenced punk has elevated them to elite status and played a significant role in redefining the genr ... read more >

Disc Quantity: 1
Release date: 2019-08-09
Item # : 534903
Availability : 2/3 WEEKS, NOT IN STOCK

Format : LP
[login]
STARR, BRION
GLOBAL IDENTITY (LP)
TAXI GAUCHE

Brion Starr is a singer, artist and actor based in New York City, though this debut album was recorded over three months North Londons Konk Studios (home of childhood musical heroes The Kinks). This followed a year and a half touring with The Noh Starrs after releasing their eponymous album via Modern Sky in 2017.Along with former bandmates Rob ... read more >

Disc Quantity: 1
Release date: 2019-07-26
Item # : 534928
Availability : 2/3 WEEKS, NOT IN STOCK

Format : LP
[login]
ASTROSAUR
OBSCUROSCOPE (LP)
PELAGIC

ASTROSAUR's virtuous necro-nautic universe consists of equal parts instrumental rock and post-metal, studded with lavish prog-, jazzmathrock-and black metal ornaments.FOR FANS OF Radiohead, Ulver, Kongh, Trans Am, Elder, Mastodon, Leprous, Hedvig Mollestad Trio, Bushmans Revenge, El Doom & The Born Electric, Jaga Jazzist, Enslaved.

Disc Quantity: 1
Release date: 2019-09-27
Item # : 534983
Availability : 2/3 WEEKS, NOT IN STOCK

Format : LP
[login]
HAZLEWOOD, LEE
400 MILES FROM L.A. 1955-56 (LP)
LIGHT I/T ATTIC

2xLP pressed at RTI & housed in a deluxe Stoughton "tip-on" jacketTracks mastered from original Viv Records analog tapesFeaturing many previously unreleased compositions and an early draft of Trouble Is A Lonesome TownLiner notes by Hunter Lea with an interview from John DixonIncludes archival photos and ephemeraPhoenix, Arizona 1955... a twent ... read more >

Disc Quantity: 2
Release date: 2019-09-13
Item # : 534888
Availability : 2/3 WEEKS, NOT IN STOCK

Format : LP
[login]
KAYNATAN, GOKCEN
CEHENNEM (LP)
CACOPHONIC

A first-ever collection of the highly sought after and largely previously unheard EMS Synthi AKS recordings of the one of Turkish pop and rocks best kept secrets !

Disc Quantity: 1
Release date: 2019-08-16
Item # : 534850
Availability : 2/3 WEEKS, NOT IN STOCK

Format : LP
[login]
VARIOUS
ESA PRESENTS AMANDLA: MUSIC TO THE PEOPLE (LP)
SOUNDWAY

Esa's compilation Amandla: Music To The People holds diverse dancefloor tracks from over the world. The first compilation in 2019 for Soundway and a comprehensive picture that connects the dots of Esas musical journey.Growing up in Cape Town, South Africa, during the last days of Apartheid, Esa recalls the immense power that music had in resist ... read more >

Disc Quantity: 2
Release date: 2019-09-06
Item # : 534840
Availability : 2/3 WEEKS, NOT IN STOCK

Format : LP
[login]
VARIOUS
JUMPING WITH MR LEE (LP)
KINGSTON SOUNDS

The period of 1967 - 1968 when Rocksteady was in full flow, would also be a turning point for Bunny Striker Lee, when he became a producer in his own right. Many of the great tunes during this eventful year came out of his stable and initially saw the light of day on his own imprint label Lees. This album has been assembled from some of those f ... read more >

Disc Quantity: 1
Release date: 2019-07-26
Item # : 534818
Availability : 2/3 WEEKS, NOT IN STOCK

Format : LP
[login]
RAWSIDE
YOUR LIFE GETS CRUSHED (LP)
AGGRESSIVE PUNK

For Fans Of: Exploited, Fahnenflucht, Slayer, Napalm Death, Lamb of God, Pro Pain, VorkriegsjugendTen years after their last album "Widerstand" the Coburger Hardcore-Punks are back with a new record. And this one is a blast!

Disc Quantity: 1
Release date: 2019-07-26
Item # : 534775
Availability : 2/3 WEEKS, NOT IN STOCK

Format : LP
[login]
METEORS, THE
MENTAL INSTRUMENTALS II (LP)
MUTANT ROCK

Due to the 40th Anniversary the 2nd part of the All-instrumental album, Mental Instrumentals 2 - When Guitars Attack" from the original Psychobilly band THE METEORS is coming along. A lethal overdose of Paul Fenech's spine-bending Psychobilly guitar backed by THE METEORS' pulsating Voodoo-Billy beat. 16 Stompin pure Psychobilly sounds made of p ... read more >

Disc Quantity: 2
Release date: 2019-07-26
Item # : 534777
Availability : 2/3 WEEKS, NOT IN STOCK

Format : LP
[login]
ORDO ROSARIUS EQUILIBRIO
MENAGE A QUATRE (LP)
OUT OF LINE

The place where Life and Death come together, where the fire of sensualism rises to the skies, where the orgy of the unregretted sin becomes the celebration of doom is the place where Ordo Rosarius Equilibrio gain their inspiration. Menage A Quatre" unifies light and loopy mood with the dark and sinister to pure Apocalyptic Pop seing a promise ... read more >

Disc Quantity: 1
Release date: 2019-07-19
Item # : 534714
Availability : 2/3 WEEKS, NOT IN STOCK

Format : LP
[login]
LORD OF THE LOST
TILL DEATH DO US PART (LP)
OUT OF LINE

Hamburg has always been a special place for international music. Bands such as The Beatles, Jimmy Hendrix and Black Sabbath entered the stage of the Star Club to gain stardom, and the sea breeze brought sounds from all over the world to the harbour city. An inspiring ambience for a guy from St. Pauli like Chris Harms, who found Lord Of The Lost ... read more >

Disc Quantity: 2
Release date: 2019-08-09
Item # : 534718
Availability : 2/3 WEEKS, NOT IN STOCK

Format : LP
[login]
A-SUN AMISSA
FOR BURDENED AND BRIGHT LIGHT (LP)
CONSOULING SOUNDS

This new work builds on the foundations of previous record Ceremony in the Stillness (2018), incorporating some of the heavier, distorted, guitar oriented themes but this time fuses them with broken, crumbling electronic beats and primal drone movements. The result is two long-form pieces of work that take time to unfold and multiple listens to ... read more >

Disc Quantity: 1
Release date: 2019-09-13
Item # : 534743
Availability : 2/3 WEEKS, NOT IN STOCK

Format : LP
[login]
VOLKMAN, KIM -& THE WHISKEY PRIESTS-
THE DEVIL WON'T TAKE CHARITY (LP)
BEAST

"Kim Volkman has led an interesting musical life. Guitarist with Ian Rilen and the Love Addicts - one of the most underrated, raw and real bands to appear on Australian stages in the last 30 years - hes also had three stints filling his late ex-band leaders bass spot in X.Volkmans played with many lesser-known bands - including his own very goo ... read more >

Disc Quantity: 1
Release date: 2019-09-27
Item # : 534676
Availability : 2/3 WEEKS, NOT IN STOCK

Format : LP
[login]
VICIOUS IRENE
SACRIFICE (LP)
RUIN NATION

The third full length album by Goteborg's Grrrl-Kang outfit "Vicious Irene" is finally here and contains eleven storming tracks of shredding and bellicose feminist infused Grrrlcrust-Punk! Expect some more relentless swedish "kang-punk" and L7'esque grunge with heaps of scandinavian-black metal guitars in league with the unstoppable "full throt ... read more >

Disc Quantity: 1
Release date: 2019-08-02
Item # : 534709
Availability : 2/3 WEEKS, NOT IN STOCK

Format : LP
[login]
VARIOUS
PUNK ROCK RADUNO, VOL. 4 (LP)
STARDUMB

Celebrating the fourth edition of Punk Rock Raduno, heres a great compilation with 23 unreleased or rare tracks by 23 bands on the bill of the Italian festival in July 2019, including Pansy Division, The Avengers, Dan Vapid & The Cheats, Kepi Ghoulie, The Yum Yums, Kurt Baker Combo, The Copyrights, etc. etc.Digital Bonus Tracks: 1. The Ferrets ... read more >

Disc Quantity: 1
Release date: 2019-07-19
Item # : 533748
Availability : 2/3 WEEKS, NOT IN STOCK

Format : LP
[login]
MOD CON/MOODY BEACHES
SPLIT (LP)
BEAST

Two sides, two bands, both from Melbourne, both all girl bands, both released records on Poison City Records in Australia.Mod Con is led by Erica Dunn (from Tropical Fuck Storm) - vocals and guitar - Sara Retallick (bass) and Raquel Solier (drums).Moody Beaches are a post-punk grunge project featuring members of La Bastard, Hot Wings, & millenn ... read more >

Disc Quantity: 1
Release date: 2019-07-19
Item # : 534682
Availability : 2/3 WEEKS, NOT IN STOCK

Format : LP
[login]
LIZARDS, THE
INSIDE YOUR HEAD (LP)
BEAST

The Lizards are a power trio from Barcelona formed in 2007 that are characterized by their singable melodies and a strong sound influenced by bands such as Joan Jett, Motorhead, and Misfits. In 2011, they sign with Kaiowas Records, a subsidiary of Roadrunner Records and release their first album "Stalking the Prey."Their second album "Road To A ... read more >

Disc Quantity: 1
Release date: 2019-09-27
Item # : 534680
Availability : 2/3 WEEKS, NOT IN STOCK

Format : LP
[login]
CELLOPHANE SUCKERS
GHOSTRIDERS B.R.D. (LP)
BEAST

Who the fuck are the CELLOPHANE SUCKERS? The 5 pals rumbling all but unwatched now more than 25 years. And whenever you thought you get rid of them, one of those damn posters hangs around announcing the next SUCKERS show. And probably youll find them drinking in good company at the bar.And its now 2019, the earth stumbles and shakes, and the SU ... read more >

Disc Quantity: 1
Release date: 2019-07-19
Item # : 534679
Availability : 2/3 WEEKS, NOT IN STOCK

Format : LP
[login]
BLUE MOON MARQUEE
BARE KNUCKLES AND BRAWN (LP)
FOLC

Gipsy blues duo from the Badlands of the prairies of the Canadian Rockies. They are influenced by the most primitive blues, folk roots, swing and ragtime. A.W. Cardinal, of the Metis de Cree ethnic group, howls with a powerful voice andplays guitar influenced by both blues and jazz. Jasmine Colette, also known as Badlands Jazz, is the rhythm se ... read more >

Disc Quantity: 1
Release date: 2019-07-19
Item # : 534674
Availability : 2/3 WEEKS, NOT IN STOCK

Format : LP
[login]
SPIDER CREW
TOO OLD TO DIE YOUNG (LP)
STRAIGHT FROM THE HEART

SPIDERCREW strikes again with a hard as nails, straight up hardcore MCD bringing it back to the 'You Better Recognize' days. 8 tracks of raging working class hardcore, 4 brand new tracks and 4 classic SPIDERCREW songs completely re-recorded.First on vinyl!

Disc Quantity: 1
Release date: 2019-07-12
Item # : 534655
Availability : 2/3 WEEKS, NOT IN STOCK

Format : LP
[login]
TORNADO, TOMMY -& THE CLERKS-
BACK ON TRACK (LP)
TOMMY TORNADO

3rd relase of Tommy Tornado, roots reggae dub,... Together with the german band The Clerks , mixed by Dubcreator.

Disc Quantity: 1
Release date: 2019-10-04
Item # : 534605
Availability : 2/3 WEEKS, NOT IN STOCK

Format : LP
[login]
SUICIDE COMMANDO
HELLRAISER (PD) (12")
OUT OF LINE

In the year of 2000 after Christ the demons of hell gained possession of Suicide Commando and made Johan create a classic that still is without comparing. Its name was ,Mindstrip", and hell followed within. On the dancefloors of the world this album set standards that found thousands of copycats without ever been reached again.It is time to ret ... read more >

Disc Quantity: 1
Release date: 2019-08-09
Item # : 534645
Availability : 2/3 WEEKS, NOT IN STOCK

Format : 12"
[login]
ASTEROID B-612
NOT MEANT FOR THIS WORLD (LP)
BANG!

At last! ASTEROID B-612 "Not Meant for This World!" long awaited vinyl reissue of this classic album of Australian high energy rocknroll!Originally recorded and released in Sydney - Australia in 1996, under guidance of their leader John A. Spittles (a.k.a. Johnny Casino), this album reached the maximum exposition of sonic attack and guitar army ... read more >

Disc Quantity: 1
Release date: 2019-08-16
Item # : 534644
Availability : 2/3 WEEKS, NOT IN STOCK

Format : LP
[login]
HAWKEYES
LAST LIGHT OF FUTURE FAILURE (12")
HELMET LADY

Helmet Lady Records are proud to present to you Hawkeyes' second full-length LP, Last Light Of Future Failure.The follow-up to 2015's Poison Slows You Down, Last Light Of Future Failure is a different Hawkeyes. Though four long years have passed between long-players, those keeping score could have charted the band's growth over the course of sp ... read more >

Disc Quantity: 1
Release date: 2019-07-12
Item # : 534642
Availability : 2/3 WEEKS, NOT IN STOCK

Format : 12"
[login]
DROIDS BLOOD
BE FREE (LP)
DRUNKEN SAILOR

Debut LP from this Chicago band that is a new iteration of Broken Prayer. If you were a fan of Broken Prayer it's hard to imagine how you wouldn't be on board with Droid's Blood, since they rely on a similar combination of noisy hardcore and whirring synth topped with Scott Plant's trademark topical lyrics and distinctive vocals. Since 2016 Pla ... read more >

Disc Quantity: 1
Release date: 2019-07-19
Item # : 534608
Availability : 2/3 WEEKS, NOT IN STOCK

Format : LP
[login]
CEREAL KILLER
THE BEGINNING & END OF CEREAL KILLER (LP)
DRUNKEN SAILOR

'The Beginning & End Of Cereal Killer" is the band's first full length album to date and also their last release since 2016's, "Demo's EP". The album was recorded over six weeks of tracking in the famous Geelong studios, "The Barracks", before calling upon mastermind Mikey Young to sail his yacht across the bay and put his much practised mixing ... read more >

Disc Quantity: 1
Release date: 2019-07-19
Item # : 534607
Availability : 2/3 WEEKS, NOT IN STOCK

Format : LP
[login]
AKRON
PLAYS "RITUALUL SFEREI" (LP)
VAMPISOUL

"Voyage Of Exploration (2012) and "Synaptic Beat" (2013) established Akron as one of the best sonic and mood explorers out there, achieving an engaging personal sound while carrying on the legacy of greats such as Les Baxter, Delia Derbyshire, Mort Garson, Sun Ra...In 2014 Akron became a quartet in order to perform their music on stage and soon ... read more >

Disc Quantity: 1
Release date: 2019-08-09
Item # : 534589
Availability : 2/3 WEEKS, NOT IN STOCK

Format : LP
[login]
CAPPS, GARRETT T.
ALL RIGHT, ALL NIGHT (LP)
SHOTGUN HOUSE

With All Right, All Night, Garrett T. Capps has no intention of taking it slower. He will also continue unabated afterwards. 'All Right, All Night' is number two of the 'In the Shadows Trilogy'. It's a danceable country record. On the album a fierce Americana sound is interwoven with lush soundscapes and that prevailing space-country sound that ... read more >

Disc Quantity: 1
Release date: 2019-08-30
Item # : 534552
Availability : 2/3 WEEKS, NOT IN STOCK

Format : LP
[login]
SHAKING SENSATIONS, THE
HOW ARE WE TO FIGHT THE BLIGHT? (LP)
PELAGIC

THE SHAKING SENSATIONS have expanded the classic post-rock constellation by addition of a second drummer, allowing the band to develop a unique approach to the rhythm section and a fresh and unconventional take on instrumental rock music. During 4 extensive European tours, the band have shared thestage with acts such as Caspian, And So I Watche ... read more >

Disc Quantity: 2
Release date: 2019-10-04
Item # : 534469
Availability : 2/3 WEEKS, NOT IN STOCK

Format : LP
[login]
HOCICO
ARTIFICIAL EXTINCTION (LP) NEW
OUT OF LINE

Double Vinyl Edition in blue and silver.

Disc Quantity: 2
Release date: 2019-07-26
Item # : 534466
Availability : 2/3 WEEKS, NOT IN STOCK

Format : LP
[login]
SCHRAMMS, THE
OMNIDIRECTIONAL (LP)
BLUE ROSE

The Schramms featuring Dave Schramms, guitarist and alumnus of Yo La Tengo and session guitarist for the Replacements, Freedy Jonston, Holsapple/Stamey, Richard Buckner and many more. Omnidirectional is a ten-years-in-the-making tour de force. Produced by JD Foster...Omnidirectional is the seventh album from the Schramms, a beautiful work of ar ... read more >

Disc Quantity: 1
Release date: 2019-07-05
Item # : 525807
Availability : 2/3 WEEKS, NOT IN STOCK

Format : LP
[login]
HOCICO
SIGNOS DE ABERRACION (LP)
OUT OF LINE

First time vinyl release as limited edition of 500 copies on colored inkspot vinyl.

Disc Quantity: 2
Release date: 2019-07-19
Item # : 534324
Availability : 2/3 WEEKS, NOT IN STOCK

Format : LP
[login]
HOCICO
SANGRE HIRVIENTE (LP)
OUT OF LINE

First time vinyl release as limited edition of 500 copies on colored inkspot vinyl.

Disc Quantity: 2
Release date: 2019-07-19
Item # : 534323
Availability : 2/3 WEEKS, NOT IN STOCK

Format : LP
[login]
HOCICO
ODIO BAJO EL ALMA (LP)
OUT OF LINE

First time vinyl release as limited edition of 500 copies on colored inkspot vinyl.

Disc Quantity: 2
Release date: 2019-07-19
Item # : 534322
Availability : 2/3 WEEKS, NOT IN STOCK

Format : LP
[login]
FRASER, ED
GHOST GUM (LP)
THIS CHARMING MAN

Ed Fraser is the Singer and guitarplayer of berlins darknoise trio HEADS. Native Melbournian singer, guitarist and songwriter Ed Fraser relocated to Berlin from Australia in 2013, founding the Berlin-based post punk band Heads. with two native Germans in early 2014. Heads. released two critically acclaimed LPs - S/T (2015) and Collider (2018) - ... read more >

Disc Quantity: 1
Release date: 2019-09-13
Item # : 534242
Availability : 2/3 WEEKS, NOT IN STOCK

Format : LP
[login]
FLESHWORLD
THE ESSENCE HAS CHANGED, BUT THE DETAILS REMAIN (LP)
THIS CHARMING MAN

A five-piece band from Krakow, Poland, revolving around the concepts of uncertainty and change, beauty found in decay, and the indescribable emotions. Unpleasant, noisy, and melodic sludgy post-hardcore, evoking nostalgia, regret, and uneasiness. 2019 will see the release of their new album, "The Essence Has Changed, but the Details Remain" th ... read more >

Disc Quantity: 1
Release date: 2019-10-15
Item # : 534241
Availability : 2/3 WEEKS, NOT IN STOCK

Format : LP
[login]
SHAKTI
VERBODEN DROMEN (LP)
STROOM

'SHAKTI, a three-man formation around "Praga Khan". With this first mini-lp Praga once more proves his capability to drill into new rhythmic territories. Forbidden Dreams is a dance record. Western discotheque rhythmics mixed with Eastern influences. A unique creation that certainly can be called astonishing. The use of original Eastern instrum ... read more >

Disc Quantity: 1
Release date: 2019-07-26
Item # : 534169
Availability : 2/3 WEEKS, NOT IN STOCK

Format : LP
[login]
MOTOR!K
MOTOR!K (L+C)
OUT OF LINE

Dirk Ivens (Guitars / FX) is a man who wrote history. Since 1980 he is an influencial force in EBM and Industrial being part of bands such as Absolute Body Control, The Klinik and Dive building a monument that brilliance will survive his time. Now he joined force with two likeminded souls, Joeri Dobbeleir ( Guitars / Synths) from The Whereabout ... read more >

Disc Quantity: 2
Release date: 2019-06-21
Item # : 534190
Availability : 2/3 WEEKS, NOT IN STOCK

Format : L+C
[login]
BORED!
TAKE IT OUT ON YOU (LP)
BANG!

BORED!s finest, most sublime, purest excellence, perfection of sonic hazard and guitar violence. Dave Thomas once spoke about this recording as them jamming in the studio with the tape rolling until it finished and the band kept on playing further and further.The most brutal recording ever done in Australia on the roots of Detroit sound."Take i ... read more >

Disc Quantity: 1
Release date: 2019-08-02
Item # : 534256
Availability : 2/3 WEEKS, NOT IN STOCK

Format : LP
[login]
TOWSON, GREG
MORE! TRAVELIN' GUITAR (LP)
HI-TIDE

12 more guitar instrumentals from GREG TOWNSON of LOS STRAITJACKETS & THE HI-RISERS, featuring "Joy Ride", "Speed Bump" & "Part of Your World".

Disc Quantity: 1
Release date: 2019-07-12
Item # : 534205
Availability : 2/3 WEEKS, NOT IN STOCK

Format : LP
[login]
SLOWEY AND THE BOATS
BENEATH AN AMBER MOON (LP)
HI-TIDE

Beneath an Amber Moon is a sound painting of one of the most beautiful spots on this earth, a place where SLOWEY AND THE BOATS have never been. These sophisticated island-tinged musicians dream of one day playing their tropical melodies under the swaying palms of Waikiki, but for now, their quest for the spirit of Aloha remains far across the s ... read more >

Disc Quantity: 1
Release date: 2019-07-12
Item # : 534204
Availability : 2/3 WEEKS, NOT IN STOCK

Format : LP
[login]
UV-TV
HAPPY (LP)
DERANGED

If ones been keeping up with the melodic punk music of UV-TV, then their new album Happy will feel like a natural evolution to the stripped-down, sped-up gazey, twee sound of past releases, Go Away and Glass (2017).

Disc Quantity: 1
Release date: 2019-07-19
Item # : 534238
Availability : 2/3 WEEKS, NOT IN STOCK

Format : LP
[login]
SCHNITZLER, CONRAD
CONDITIONS OF THE GAS GIANT (LP)
BUREAU B

Imagine if you could listen to the nervous whirling of methane and helium, thats what this album sounds like - at least in the mind of experimentalist Conrad Schnitzler. The Berlin artist first released these recordings on a small American cassette label. An uncommonly rhythmical vortex, we would suggest. Now available for the very first time ... read more >

Disc Quantity: 1
Release date: 2019-08-16
Item # : 534163
Availability : 2/3 WEEKS, NOT IN STOCK

Format : LP
[login]
SHAIN'S, LOS
EL RITMO DE LOS SHAIN'S (LP)
MUNSTER

Los Shains represent wild sounds and uncompromising garage rock. Their repertoire is full of primitive screams, dirty fast guitars, tight drums and Farfisa organ licks, an arsenal that made them one of the leading bands of the Peruvian 60s rock scene."El Ritmo de Los Shains" was their 1965 debut album and contained an array of sensational cover ... read more >

Disc Quantity: 1
Release date: 2019-08-02
Item # : 534253
Availability : 2/3 WEEKS, NOT IN STOCK

Format : LP
[login]
CONJUNTO MIRAMAR
CUMBIAS CON EL MIRAMAR (LP)
VAMPISOUL

First ever reissue of "Cumbias con El Miramar", a very hard-to-find album released by Discos Fuentes in 1965.Full of excellent cumbias and gaitas for dancing, the record actually is a lot more diverse than the title leadsone to believe, as there are lots of other hot rhythms and arrangements on it, taken from Cuban genres like guajira, guaracha ... read more >

Disc Quantity: 1
Release date: 2019-08-02
Item # : 534254
Availability : 2/3 WEEKS, NOT IN STOCK

Format : LP
[login]
BARRIENTOS, LITO -Y SU ORQUESTA-
VERY VERY WELL (LP)
VAMPISOUL

"Very Very Well" was the first album for Discos Fuentes by Salvadorian Rafael "Lito" Barrientos and his tropical orchestra, recorded in 1965.While in Colombia in the mid-1960s, he found great success with his assimilation of styles like cumbia and porro but also included Cuban charanga, Puerto Rican bomba and Mexican corrido in his repertoire, ... read more >

Disc Quantity: 1
Release date: 2019-08-02
Item # : 534255
Availability : 2/3 WEEKS, NOT IN STOCK

Format : LP
[login]
HETEROFOBIA
QUEREMOS VER EL MUNDO ARDER (LP)
DRUNKEN SAILOR

Debut LP from the Monterrey punks, featuring members of Cremalleras.Primitive and stubborn angry South American 80's hardcore played with a total death rock vibe by this amazing punk band from Monterey, Mexico. Imagine the hybrid of Ataque Frontal and Christian Death! 10 tracks plus La Uvi cover.

Disc Quantity: 1
Release date: 2019-06-14
Item # : 534074
Availability : 2/3 WEEKS, NOT IN STOCK

Format : LP
[login]
RANDY
THERE'S NO WAY WE'RE GONNA FIT IN (LP)
LA AGONIA DE VIVIR

14 songs full of speed, this is better than ever definately one of this years bets punk albums. 100% Ska punk in the "FAT WRECK" vein.previously only available on cd by Dolores Records in 1994!

Disc Quantity: 1
Release date: 2019-07-05
Item # : 534118
Availability : 2/3 WEEKS, NOT IN STOCK

Format : LP
[login]
RAMONA
DEALS, DEALS, DEALS (LP)
RED SCARE

Ramona formed in Seattle, kicked some ass out there, then moved to Philadelphiabecause-if you wanna know the truth-you can buy two drinks for $4 at most any bar.FOUR BUCKS. So then they get asked to play shows with bands like The LawrenceArms, The Menzingers, etc. and people are really responding to their songs and their funshows. Next we shipp ... read more >

Disc Quantity: 1
Release date: 2019-06-07
Item # : 533647
Availability : 2/3 WEEKS, NOT IN STOCK

Format : LP
[login]
PHEEYOWNAH
SILVER (LP)
LABRADOR

Swedish/Ugandan singer-songwriter, multi-instrumentalist & dancer Pheeyownah releases her bewitching debut R&B album SILVER via Labrador Records. She recently shared singles "Scent/Sweat" from it via LADYGUNN and "Gold" via Popdust.With atmospheric R&B harmonies and poetic lyrics in the realm of Bjork, SZA, FKA Twigs and Flume, Pheeyownah explo ... read more >

Disc Quantity: 1
Release date: 2019-05-17
Item # : 533579
Availability : 2/3 WEEKS, NOT IN STOCK

Format : LP
[login]
KANENOBU, SACHIKO
MISORA (LP)
LIGHT I/T ATTIC

Born and raised in Osaka in a large, music-loving family, Kanenobu picked up the guitar as a teen just as the "college folk" boom swept through university campuses in the Kansai area in the mid-60s. The Pete Seeger and American folk-leaning scene didnt appeal much to her, however, and instead gravitated towards the British sounds of Donovan and ... read more >

Disc Quantity: 1
Release date: 2019-07-12
Item # : 533453
Availability : 2/3 WEEKS, NOT IN STOCK

Format : LP
[login]
DANGERS OF LOVE
DANGERS OF LOVE (LP)
STILL UNBEATABLE

Formed of members from GREAT CYNICS and APOLOGIES, I HAVE NONE, DANGERS OF LOVE take a head-on approach to maximum punk rock n roll. Produced themselves at Musicland Studios in London, their debut EP is a self-titled six-track group of hits.Lyrically themed on personal loss, self appreciation and living in a world of people who bullshit for a l ... read more >

Disc Quantity: 1
Release date: 2019-07-19
Item # : 533344
Availability : 2/3 WEEKS, NOT IN STOCK

Format : LP
[login]
NEKROMANTIX
HELLBOUND (LP)
TOMBSTONE

Finally available again the vinyl reprint of this 1990 psychobilly classic!

Disc Quantity: 1
Release date: 2019-07-12
Item # : 526885
Availability : 2/3 WEEKS, NOT IN STOCK

Format : LP
[login]
ROCKET, JOHNNY
COME A LITTLE CLOSER (LP)
WOLVERINE

Imagine the scene, Johnny and BB meet Lemmy and Slash in a sleazy downtown honky-tonk dive bar, get drunk and start a band. The name, "Johnny Rocket". A guitar driven rock 'n' roll band, with the rawness of punk, sentiment of the blues and the honesty of country music. Over the next 13 years, Johnny Rocket have developed and moved with the time ... read more >

Disc Quantity: 1
Release date: 2019-03-29
Item # : 526364
Availability : 2/3 WEEKS, NOT IN STOCK

Format : LP
[login]