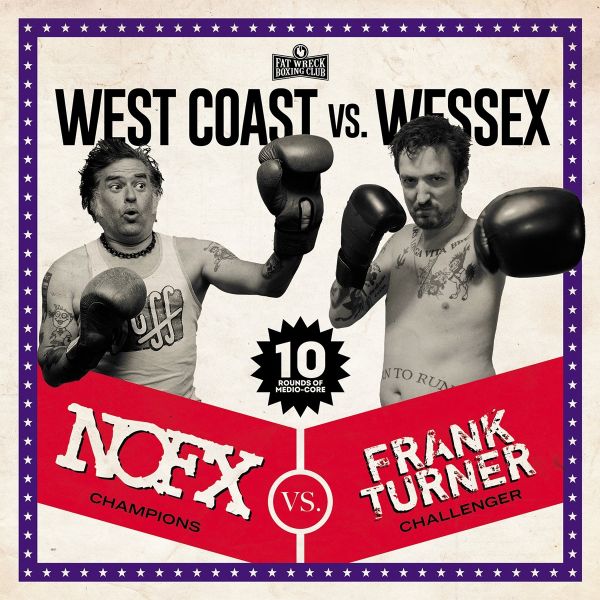 1 - NOFX/FRANK TURNER - WEST COAST VS WESSEX - (CD)
FAT WRECK CHORDS

How often does the leader of one of your favorite bands ask you to do a split album?Where his band covers your songs? Singer-songwriter Frank Turner found himself in thatsituation last year, when Fat Mike of NOFX asked if he wanted to do a split coversalbum. West Coast vs. Wessex shows NOFX filtering five of Frank Turners songs throughtheir singular sensibility, with Turner doing the same on five NOFX songs. But thesearent simply double-time versions of Turners folk-punk tunes or slow, acousticreworkings of NOFXs iconic SoCal punk anthems. Both NOFX and Frank Turner tooktime to play with the possibilities each others music presented. They also put a lot ofthought into the songs they chose to cover. Both groups really wanted to songs thatpresented an opportunity to create something unique, and bring something to the songthat really made it their own.For Frank Turners side, the result was a tracklist that pulls more or less from deeper inNOFXs discography. NOFX classic "Bob" being the exception, Turner transforms into awistful country song. "Perfect Government" is joyously turned into a barroom singalong,along with a punked up "Scavenger Type," the post-hardcore "Eat the Meek," and aspare, haunting "Falling in Love."On the NOFX side, their climactic take on "Substitute" couldve fit on Punk in Drublic."Worse Things Happen at Sea" simmers with an ominous portent. The jaunty "ThatcherFucked the Kids" sounds like a companion to NOFXs "Philthy Phil Philanthropist." "TheBallad of Me and My Friends," lilting and bittersweet in Frank Turners original, goesballs-out here. "Glory Hallelujah" sounds like a lost track from Fat Mikes stage musical,Home Street Home.There is no loser on West Coast Vs. Wessex. The Frank Turner-Fat Mike MutualAdmiration Society has produced 10 hooky reimaginings of each others music. Thenovelty may pique listeners curiosity, but the songs will keep them coming back.

TRACKLISTING: 01. Substitute 02. Worse Things Happen At Sea 03. Thatcher Fucked The Kids 04. Ballad Of Me And My Friends 05. Glory Hallelujah 06. Scavenger Type 07. Bob 08. Eat The Meek 09. Perfect Government 10. Falling In Love

People who bought this item also bought ASTROSAUR, THURISAZ, D.O.A., VARIOUS, ...

Format: CD

Disc Quantity: 1
Release date: 01-09-2020
Item # : 542027
Availability: IN STOCK

[login]