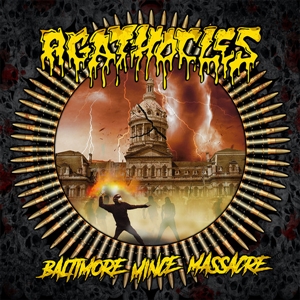 1 - AGATHOCLES - BALTIMORE MINCE MASSACRE - (LP)
POWER IT UP

2016, BALTIMORE, USA... Years after frequent attempts of AGATHOCLES trying to get into the USA for making a tour, being refused entrance into the land of freedom several times in the 90's and last time in 2015, AGATHOCLES managed to get into the "country of freedom and hope" in summer 2016. Wasting no time and playing a show everyday, AGATHOCLES also got the chance, on a very hot afternoon in July 2016, to make a full studio session of 38 songs with JOE WARKENTIN doing all the vocals and second guitars. Imagine the combination of a heated up (near 40 degrees) small studio in Baltimore, with friends around, no sleep, all adrenaline, the "we wanna make noise now" spirit and the plan of playing a show that same night. The result: a massive driller killer sensation of old AGATHOCLES cognac poured with the finess of ARCHAGATHUS whiskey and the bulldozing bass gin of MORTICIAN. STIR IT WELL AND YOU GET THIS ALBUM !!! The LP is housed in an inside/outside cover design and contains a huge full colored booklet.

TRACKLISTING: 01. Commence To Mince 02. Electrifarce 03. Grind Is Protest 04. The Fog 05. Gorgonized Dorks 06. Who Cares? 07. Carved Face Fashion 08. Why Do They Gaggle? 09. Interrupted 10. Noise Abatement 11. Bang Bang 12. Chronic Death 13. Until It Bleed 14. Lay Off Me 15. Splattered Brains 16. Axe To Tax 17. Christianity Means Tyranny 18. Opgefokt 19. Teachers 20. Bathing In Hate 21. Anarchist Spectrum Disorder 22. Big One 23. Razor Sharp Dagger 24. Mutilated Regurgitator 25. No Use ... Hatred 26. Gallow's Eve 27. Labelisation 28. Will Gone, Lobotomy Done 29. And The Loser Is 30. Go Fucking Nihilist 31. Abrir Las Puertas 32. Hypotrips 33. Ulkopuolinen 34. Is It Really Mine ? 35. Vmo 36. Kill Thrill 37. Demons In My Head 38. Straight Lane

People who bought this item also bought VARIOUS, SEXMACHINES, THROATSNAPPER, HORSE HEAD BED, THE, ...

Format: LP

Disc Quantity: 1
Release date: 29-02-2020
Item # : 541076
Availability: IN STOCK

[login]