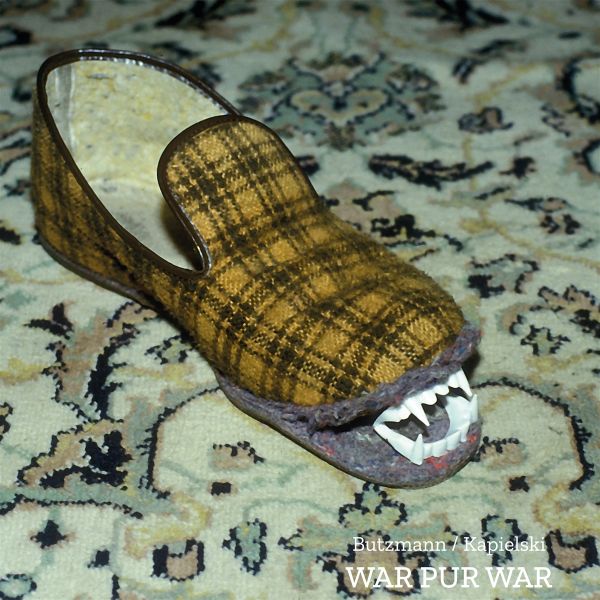 1 - BUTZMANN/KAPIELSKI - WAR PUR WAR - (LP)
BUREAU B

Composer, radio dramatist and performance artist Frieder Butzmann began exploringexperimental music in the late 1960s.One of the pioneers of German industrial music and a member of the Geniale Dilettantenmovement, Butzmann has collaborated with artists such as Genesis P-Orridge, Blixa Bargeld,and Santrra Oxyd, as well as releasing numerous solo works.Frieder Butzmann joined forces with author and artist Thomas Kapielski in the early 1980s.Most of their compositions are minimalist tracks interspersed with everyday noises andfragments of speech, as can be heard on their WAR PUR WAR album, first released on Zensorin 1987. This utterly unique work is an idiosyncratic mix of eccentric electro-pop and bizarresonic collages and has gone on to become a sought-after collectors item. Now lovinglyremastered, with refreshed artwork and two bonus tracks, WAR PUR WAR is being reissued onLP and CD on Bureau B, complete with previously unpublished photos and liner notes byFrieder Butzmann.

TRACKLISTING: 01. Freebeer 02. Damit Des Ergetzens Auf Erden Kein Ende Seyn Moege 03. Die Luftmatratze 04. Der Garagenschlager 05. Pavel From Prague 06. Incendio (versione Per Danza) 07. Do The Vopo 08. Zweitstimme 09. Wunderbar 10. Wurmberg 11. Rolle Der Frau 12. Qua Pur Qua 13. Con Fermezza 14. Haacke & Gross 15. Kurzstueck 16. Ein Beglockendes Rauschen 17. Akron, Ohio 18. Kojote

People who bought this item also bought INVSN, MOVEMENT, THE, GOOD RIDDANCE, DEATH BY STEREO, ...

Format: LP

Disc Quantity: 1
Release date: 27-03-2020
Item # : 540637
Availability: IN STOCK

[login]