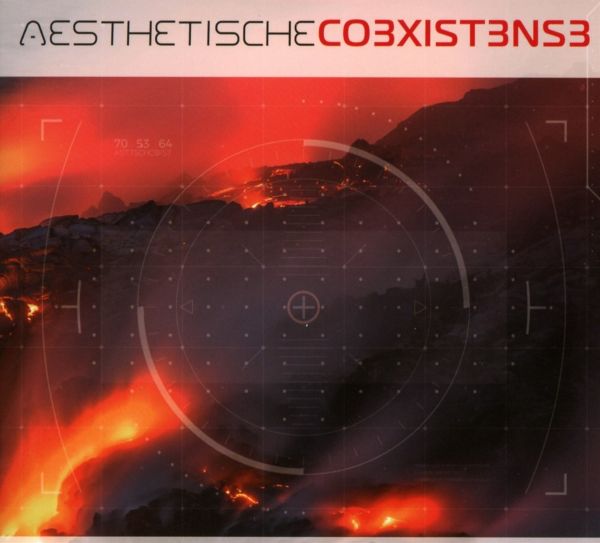 1 - AESTHETISCHE - CO3XIST3NS3 - (CD)
ALFA MATRIX

Brazilian electronic duo AESTHETISCHE takes us by surprise with this new "Co3xist3ns3 release demonstrating to us in 10 tracks that modern electronics and their sharp EBM roots can coexist in full harmony for an uplifting sonic experience. "ExisTense" immediately sets the bar high with a fresh mesh-up of dark industrial and modern electro with female vocal samples evoking ANNE CLARKs cold atmospheres. With "Barking Up The Wrong Tree", AESTHETISCHE do not only signal the next future pop club hit for this Summer featuring nobody else but Sascha Mario Klein from German electro stars NEUROTICFISH, they also once again remind us how they excel at selecting the very right artists for the most successful collaborations. This song offers a pure symbiosis between Saschas characteristic vocals and the Brazilians lush and dynamic synth arrangements. This song is also featured here as a club mix and as a remake by label mates PSYCHIC FORCE. While "Transcender", "What Year Is This?" and "Forever Is Now" are all instrumental tracks merging hypnotic trance sequences, catchy techno melodies with an industrial dance edge, "Berlin" is another ear-catcher with a true return to AESTHETISCHEs original EBM roots evoking early FRONT 242 meets FRONT LINE ASSEMBLY. Another wonderful song also featured in two additional versions including a stunning analog retake by AD:KEY. The limited and physical CD edition of "Co3xist3ns3" includes a bonus second disc offering a selection of 10 more songs which were featured on previous AESTHETISCHE digital-only releases and appear here for the very first time on CD on the pressing demand of the bands fanbase. A quite club oriented bonus disc revealing the remixing skills of bands like NEUROTICFISH, DJ SIMON CARTER or yet AESTHETISCHE themselves, but also mindblowing collaborations and featurings with singers in the likes of Mari Kattman, Noemi Aurora (HELALYN FLOWERS), Diana S. (JUNKSISTA) and Xev (DIFFUZION). An uplifting blend of EBM and progressive hypnotic melodies with a darker feel proving that AESTHETISCHE are really at the top of well-crafted melodic upbeat electronic music production.

TRACKLISTING: 01. Existense 02. Barking Up The Wrong Tree - Feat. Sascha Klein 03. Transcender 04. What Year Is This? 05. Berlin 06. Forever Is Now 07. Barking Up The Wrong Tree - Feat. Sascha Klein (club Mix) 08. Berlin (r3sist3nc3 M1x) 09. Barking Up The Wrong Tree - Feat. Sascha Klein (psychic Force Mix) 10. Berlin (ad:key -analog Mix) DISC #2: 01. An End In Itself 02. Cold Glass - Feat. Xev (2015 Rework) 03. We Follow Blindly - Feat. Mari Kattman 04. Blue Print - Feat. Mari Kattman (original Club Mix) 05. Breathe - Feat. Diana S. 06. Dirt (simon Carters Club Edit) 07. Eye On You 08. We Follow Blindly (neuroticfish Mix) 09. Unity 10. In My Aurora - Feat. Noemi Aurora (aesthetische Uplifting Mix)

People who bought this item also bought MANOWAR, MONDTRAUME, SYNAPSYCHE, T.S.O.L., ...

Format: CD

Disc Quantity: 2
Release date: 21-06-2019
Item # : 533664
Availability: IN STOCK

[login]