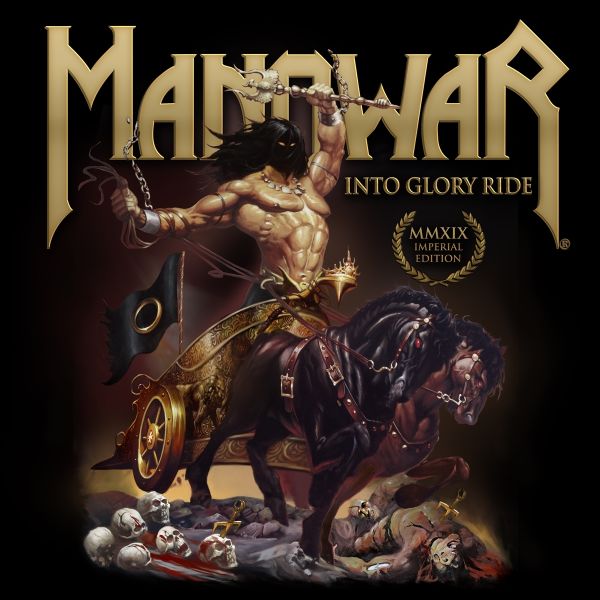 1 - MANOWAR - INTO GLORY RIDE MMXIX IMPERIAL EDITION - (CD)
MAGIC CIRCLE

Into Glory Ride Imperial Edition MMXIX (Remixed/Remastered)On July 1, 1983, MANOWAR released their second album: "INTO GLORY RIDE" . Back in 83, "INTO GLORY RIDE" stood apart from everything else that was happening in music: an imperious statement of metallic intent from a band with no fear and a lust for glory, but also one of the most brutal, raw and punishing records ever released. Admittedly, "INTO GLORY RIDE"s savage sonic qualities stemmed primarily from the fact that MANOWAR ran out of time in the studio and were forced to salvage the sessions with a one-off, high velocity mixdown. But setbacks often lead to unexpected magic, and the result of the bands thwarted endeavours was that "INTO GLORY RIDE" simply slayed: vicious, unrelenting and heavier than Hells gates.From the opening assault of "WARLORD" and the monumental grandeur of "GATES OF VALHALLA" to the devastating drama and doom-laden fury of "HATRED" , the album was a master class in heavy metal majesty, revealing yet even more cataclysmic power and passion: the morbid grandeur of " REVELATION"and finally the life-affirming splendour of the closing epic "MARCH FOR REVENGE" these are all immortal classics, instantlyrecognisable as the work of Joey DeMaio and his rampant, regal brethren.36 years later, producer DeMaio has performed yet more miracles by bringing "INTO GLORY RIDE" back to life, imbuing it with the sonic strength and quality that it always demanded and, somewhat against the odds, making this ageless monument to heavy metal supremacy sound even more colossal, more inspirational and more sonically visceral than ever before.Revisiting these beloved songs in this new, enhanced form is guaranteed to be a thrilling experience for die-hardfans; but imagine hearing "INTO GLORY RIDE" for the first time... and it sounds like ! Being utterly pulverised hasnever felt so good.Fans old and new, play this masterpiece louder than hell. This is heavy fucking metal in its purest form, now and forevermore. The ride to glory never ends!

TRACKLISTING: 01. Warlord (remixed/remastered 2019) 02. Secret Of Steel (remixed/remastered 2019) 03. Gloves Of Metal (remixed/remastered 2019) 04. Gates Of Valhalla (remixed/remastered 2019) 05. Hatred (remixed/remastered 2019) 06. Revelation (deaths Angel) (remixed/remastered 2019) 07. March For Revenge (by The Soldiers Of Death)(remixed/remastered 2019)

People who bought this item also bought KATCHE, MANU, MOSES, LEE, GIERSBERGEN, ANNEKE VAN, LEFT LANE CRUISER, ...

Format: CD

Disc Quantity: 1
Release date: 31-05-2019
Item # : 527042
Availability: IN STOCK

[login]