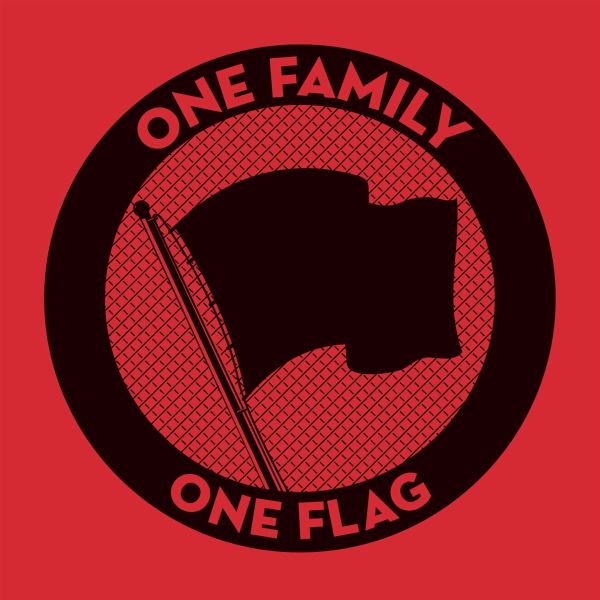 1 - VARIOUS - ONE FAMILY.ONE FLAG. - (LP)
PIRATES PRESS

Includes giant (a2) 18" x 24" poster with cover art from all Pirates Press Records releases.Includes 5 sides of music plus a screen-printed 6th sideStandard version: white screen-printed 6th sideThis label started out-of-the-gate with an amazing six-picture disc 7" box set, and amongst a backdrop of fantastic LPs and singles, weve since released two amazing anthology box sets,lots of shaped records and tons of other really creative projects. Pirates Press manufactures millions of recordsfor other labels and bands each year. That is how we generate the money to live, and to invest back into Pirates Press Records - so we have seen a lot of incredible vinyl, and know what it takes to make our releases stand out in the crowd. Likethis fantastic package youre holding in your hands, we will continue to do our best to bring you the highest quality, most innovative and creative releases that we can. When it all comes down to it though, its all about the music. Without the bands, and the tunes that fill our days with such energy and fun,the packaging is empty. We are incredibly proud to have released (and re-released) so many unbelievable records, that when it came to doing something special for PIR200, it was clear that we wanted to focus on the songs. Limiting ourselves to one song per band was incredibly difficult, but nonetheless, these are some of the songs that we love most. Individually,they hold special memories for lots of the Pirates. As a playlist, it truly encapsulates our goal as a label and celebrates our accomplishments.

TRACKLISTING: 01. Cock Sparrer - One By One 02. Booze And Glory - Swinging Hammers 03. Reducers S.f. - Empty Bottles 04. Harrington Saints - Saturdays In The Sun 05. Bishops Green - Alone 06. Noi!se - Idle Action 07. Lenny Lashleys Gang Of One - Hooligans 08. The Ratchets - Rockers Taking Over 09. Downtown Struts - Rogues 10. Roadside Bombs - Rise Up 11. Street Dogs - Certain Fate 12. The Bar Stool Preachers - One Fool Down 13. The Interrupters - This Is The New Sound DISC #2: 01. Sydney Ducks - He Lives For Today 02. The Complicators - The Next One 03. Bum City Saints - Hearts Beat As One 04. Off With Their Heads - Die Today 05. The Struggle - Just Like You 06. This Means War! - Use It Up 07. Kicker - Timeless Clichs 08. Workin Stiffs - We Are The Truth 09. Rancid - Fuck You 10. Argy Bargy - This Is Me 11. Evil Conduct - That Old Tattoo 12. Lions Law - Way Of Life 13. 45 Adapters - Dress Well, Drink Heavily 14. Suede Razors - Keep On Rockin DISC #3: 01. Tim Timebomb & Friends - Too Much Pressure 02. Re-volts - Piles 03. Smalltown - Square One 04. Bombshell Rocks - Scars And Tattoos 05. Detournement - Awaken With Millions 06. Territories - Heart That Breaks 07. The Old Firm Casuals - For The Love Of It All

People who bought this item also bought OLD FIRM CASUALS, THE, ...

Format: LP

Disc Quantity: 3
Release date: 05-04-2019
Item # : 526093
Availability: IN STOCK

[login]