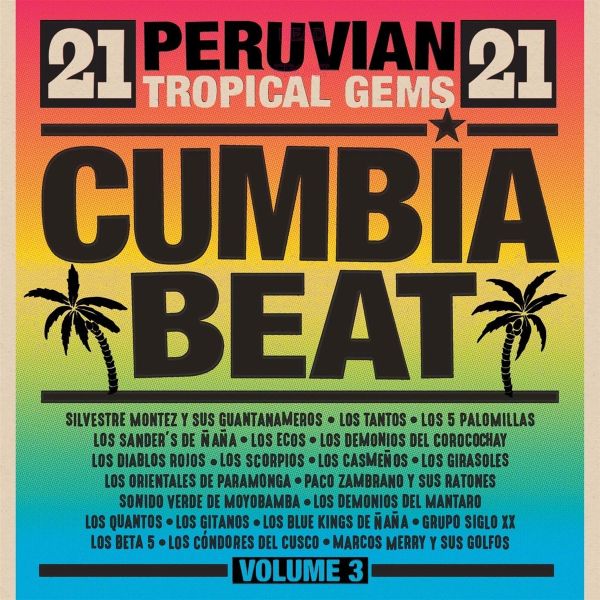 1 - VARIOUS - CUMBIA BEAT, VOL. 3 - (CD)
VAMPISOUL

The third volume of our "Cumbia Beat" series includes again tracks by the some of the most important bands of the golden age of Peruvian cumbia: Los Diablos Rojos, Los Beta 5, Los Girasoles, Los Ecos, Los Demonios del Mantaro, Los Sanders de Nana.Peruvian cumbia brings together tropical music styles from Colombia and Cuba, Western influences such as60s beat and psychedelic rock, and mixes them with indigenous melodies from the Amazonian jungle and traditional Andean songs. The result is a unique and vibrant style of music which reverberates with life.

TRACKLISTING: 01. El Saltamontes - Silvestre Montez Y Sus Guantanameros 02. Lamento Del Condor - Los Condores Del Cusco 03. La Manzanita - Los Gitanos 04. Descarga Oriental - Los Orientales De Paramonga 05. La Espumita Del Rio - Los Casmenos 06. El Forastero - Los 5 Palomillas 07. Sueno Hippie - Los Beta 5 08. Girasoleando - Los Girasoles 09. Cumbia Del Amor - Los Demonios Del Mantaro 10. Cumbia Del Puerto - Los Demonios Del Corocochay 11. Bailando Con Patricia - Paco Zambrano Y Sus Ratones 12. Chola Ingrata - Los Ecos 13. Manzana Verde - Los Tantos 14. Si No Quieres Bailar Vuelve A Casa - Los Scorpios 15. El Baile De Los Reyes - Los Blue Kings De Nana 16. La Naranjadita - Grupo Siglo Xx 17. Larga Espera - Los Sanders De Nana 18. Cumbia Quantica - Los Quantos 19. Silbando Por La Montana - Los Diablos Rojos 20. El Chullo - Marco Merry Y Sus Golfos 21. Lamento Moyobambino - Sonido Verde De Moyobamba

People who bought this item also bought AMENRA, DMX, RISK, THE, SNAKEFINGER, ...

Format: CD

Disc Quantity: 1
Release date: 29-03-2019
Item # : 524884
Availability: IN STOCK

[login]