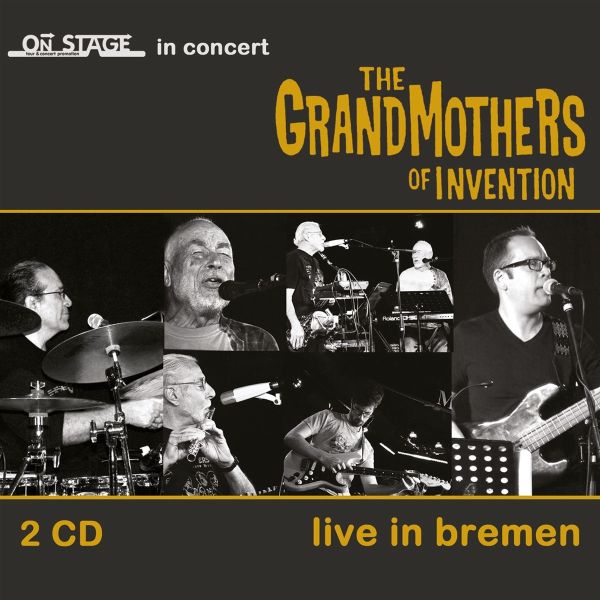 1 - GRANDMOTHERS OF INVENTION - LIVE IN BREMEN - (CD)
SIREENA

Those of you who have been to a live concert of The Mothers of Inventions probably have had quite an experience. Although the band in which Frank Zappa was active only existed for a short while in its original form, it was formative for many musicians of that generation. The era of rebellion and new beginning that brought not only the hippies but also student revolts into the world found its unique soundtrack in the music of the "Mothers". The brilliant fusion of rock, jazz and freestyle is unparalleled until today. The GrandMothers Of Invention were founded in 1980 by three former members of Mothers of Invention: Don Preston, Bunk Gardner and Jimmy Carl Black. The gentlemen made it their task to revive the highly complex and virtuous compositions of the "Mothers" in their original and raw form.The GrandMothers Of Invention perform this task in the highest possible quality not despite of but because of their slightly advanced age and they prove that on this live CD, that was recorded in 2014 at the famous Meisenfrei Blues Club in Bremen during a short tour through Europe with the title "An Evening With Mothers Music...". It is part of a live-collection, that is presented and continuously extended by Sireena Records and ON STAGE.

TRACKLISTING: 01. Introduction 02. Pound For A Brown 03. Call Any Vegetable 04. Absolutely Free 05. Flower Punk (bunk) (hey Joe Excerpt) 06. Who Needs The Peace Corps ? 07. Im The Slime DISC #2: 01. Uncle Meat (main Theme) 02. Drum Solo 03. Lets Make The Water Turn Black 04. Oh No 05. The Orange County Lumber Truck 06. Synthesizer(iphone) Solo 07. Trouble Every Day 08. Montana 09. Stratus (excerpt)

People who bought this item also bought THIS HEAT, ANGELS DIE HARD, BEEFHEART JR, MAD CADDIES, ...

Format: CD

Disc Quantity: 2
Release date: 30-03-2018
Item # : 513735
Availability: IN STOCK

[login]