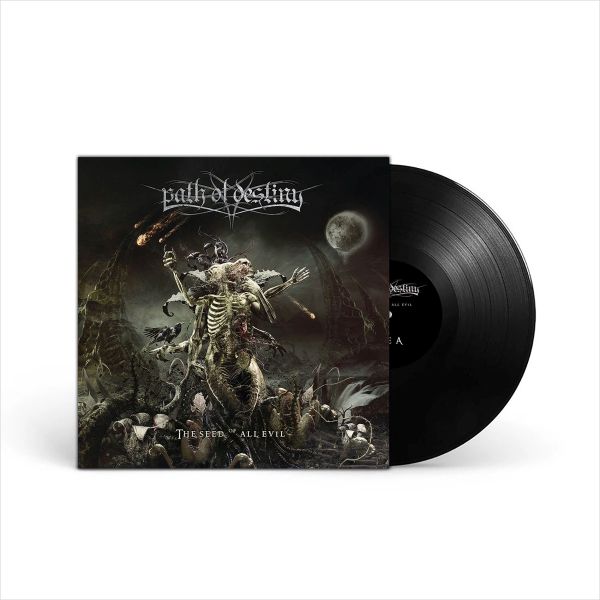 1 - PATH OF DESTINY - THE SEED OF ALL EVIL - (LP)
APOSTASY

It is one of the most significant questions of mankind: Where is the origin for all this misery that we must face all dayeveryday? There might never be a clear answer in response to this, because it is an interplay between many factorsand we ourselves have a lot of points of contact with them. There is the institutionalization of spirituality by so-calledreligions, who are just aiming for more power in the end. And there is our own intellect who is overestimated far toooften to allow us to deceive ourselves. Five years after "Dreams In Splendid Black", PATH OF DESTINY return with anew album, which again needed a long ripening process. Thats why it presents the German melodic death metaloutfit more diverse and more mature than ever before. All ten songs on "The Seed Of All Evil" feature an ominouscharacter, because they mirror the society in a way that makes it even impossible to take a close look into the mirroritself. The anthemic opener The Division Of A Spiral Synergy immediately shows the strengths of the band: melodiesthat are there to stay and a thrilling heaviness. The midtempo track Erased By Light battles its way through darknessin an epic manner, while Endbringer is a blast beat driven speed attack. The furious March Of The Antichrist livesup to its name and creates a pitch black atmosphere. PATH OF DESTINYs third creation "The Seed Of All Evil"contains all necessary tools to make it one of the melodic death metal jewels of 2021.

TRACKLISTING: 01. The Division Of A Spiral Synergy 02. Necromantic Storm 03. Erased By Light 04. Endbringer 05. As Stars Collide 06. From Heaven They Fall 07. Kingdom Of God 08. March Of The Antichrist 09. Wave Goodbye To Sanity 10. The Crown Of Creation

People who bought this item also bought 999, METEORS, THE, AMENRA, CACTUS, ...

Format: LP

Disc Quantity: 1
Release date: 11-06-2021
Item # : 548920
Availability: IN STOCK

[login]