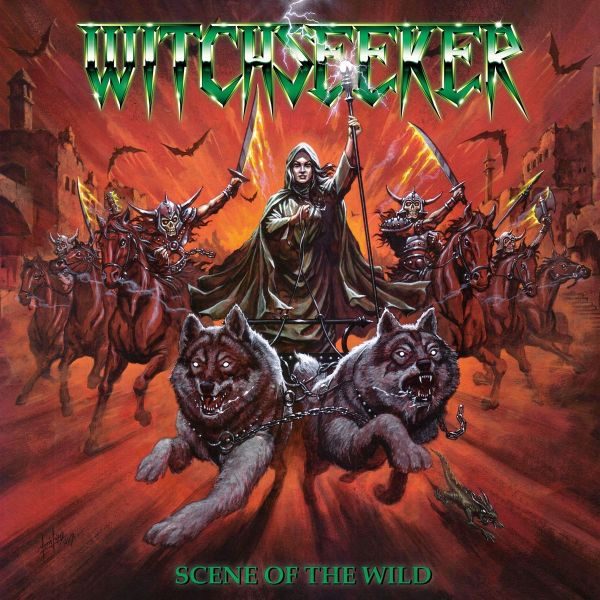 1 - WITCHSEEKER - SCENE OF THE WILD - (LP)
DYING VICTIMS

Hailing from Singapore, WITCHSEEKER formed in late 2012, originally as a one-man project by Sheikh Spitfire. By the time of the bands first EP, 2014s Night Rituals, WITCHSEEKER had expanded to a trio but was then pared back to a duo for their debut album, 2017s When the Clock Strikes, with Brandon Speedranger on guitars and Sheikh Spitfire on vocals, bass, and drums.While traditional metal is not often associated with Singapore, WITCHSEEKER gained the attention of their national scene with a classics-minded style of heavy metal thats packed with power, speed, melody, and aggression. Legions have joined their cause, and over the years, WITCHSEEKER have shared stages with such bands as Firehouse, Enforcer, Destruction, Midnight, Exciter, and many more.Come 2019, WITCHSEEKER expanded to a quartet with the joining of Aip Sinner on drums and Nick Stormbringer on guitars. With this bolstered lineup, the band then wrote and recorded their second full-length, Scene of the Wild. Aptly titled, Scene of the Wild stylistically spans Sunset Strip hot-rockin and classy, cruising speed metal alike, all with the finesse and deftness of devotees of all thats timeless and true. Each of these 10 tracks in an anthem unto itself, but each one offers something equally unique. Not here will you find one big blur of sameness: "Lust for Dust" is like a runaway train, while "Nights in Tokyo" offers space, shade, and a yearning heart; "Rock This Night Away" does exactly what it says, while the title track is a ballroom blitz; "Screaming in the Moonlight" is a steady night-time strut, while "Candle in the Dark" struts to a darker, more personal pulse; and plenty more to be experienced elsewhere. Keeping things true, WITCHSEEKER dont let proceedings get too slick, retaining a rawness of approach and authenticity of spirit, together giving Scene of the Wild a "scrappy underdog" aspect not unlike Motley crues Too Fast For Love.

TRACKLISTING: 01. Scene Of The Wild 02:29 02. Rock This Night Away 04:18 03. Lust For Dust 03:03 04. Be Quick Or Be Dead 03:01 05. Sin City 05:02 06. Nights In Tokyo 04:15 07. Screaming In The Moonlight 03:40 08. Break Away 03:19 09. Candle In The Dark 05:37 10. Hellions Of The Night 03:02

People who bought this item also bought 999, METEORS, THE, AMENRA, CACTUS, ...

Format: LP

Disc Quantity: 1
Release date: 05-04-2021
Item # : 548501
Availability: IN STOCK

[login]