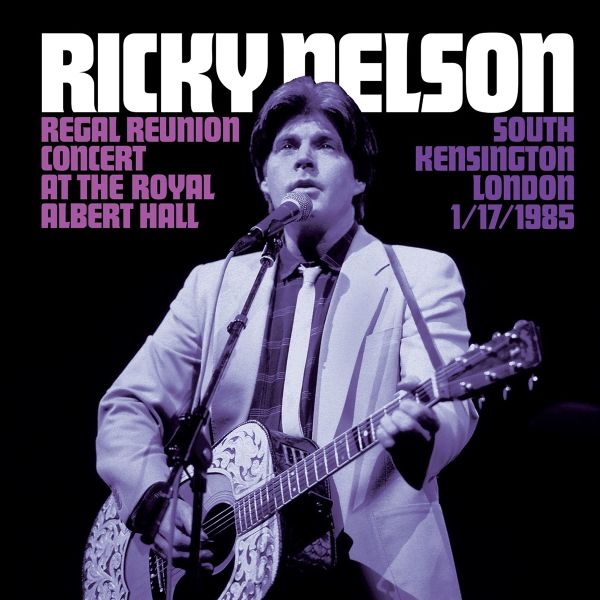 1 - NELSON, RICKY - REGAL REUNION CONCERT (+7") - (LP)
YOUNG WORLD

Our beloved Ricky Nelsons previously unreleased and final "live" concert at the Royal Albert Hall in London, England that Ricky and his band performed on November 17th, 1985 - along with a very special added extended play record that includes 5 tracks from his final unreleased sessions with Curb Records. This vinyl package is a MUST for anyone who loves to listen to the original rockabilly artists of the 50s in addition to Rickys millions of fans and collectors alike.This unique package includes some interesting items and no doubt was very well-thought out. Heres what you get inside ~180 gram black or red-vinyl LP 12" record of the concert, white poly-lined insert sleeve.42 gram black or red-vinyl EP 7" (large hole) record and cover of 5 final Curb sessions.300 gram LP art cover, glossy finishing, and a 3 millimeter spine.Liner notes on back of LP and EP covers, with both vinyl records played at 33 1/3 RPM.Full record label-color reminiscent of Rickys original Imperial Records label.Fully sealed shrink-wrapped cover includes outer promotional round sticker with package details, including vinyl color.A4-sized print of original Concert Poster backed with Ricky Nelson photo and biography - both from the original Souvenir Program of the Regal Reunion Concert tour. And ready for framing, as desired.

TRACKLISTING: 01. Regal Rock N Blues Radio Trailer 02. Stood Up/waitin In School 03. Milk Cow Blues 04. Im Walkin 05. Travelin Man 06. Hello Mary Lou 07. Garden Party 08. You Know What I Mean 09. Never Be Anyone Else But You 10. Thats All Right (mama) 11. Lonesome Town 12. One After 909 13. Poor Little Fool 14. My Babe DISC #2: 01. Singing The Blues 02. You Got Me Gone 03. Moon Enough 04. Do You Know What I Mean 05. Curb Sampler

People who bought this item also bought D.O.A., SUPERSUCKERS, BIAFRA, JELLO -AND THE GUANTANAMO SCHOOL OF MEDICINE-, VOODOO GLOW SKULLS, ...

Format: LP

Disc Quantity: 2
Release date: 02-07-2021
Item # : 549826
Availability: IN STOCK

[login]