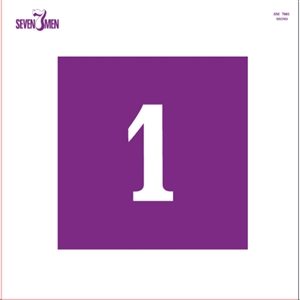 1 - I MARC 4 - 1 - (LP)
SEVENMEN

This rather mysterious Jazz recording, which dates back to 1971, was quickly put together in a studio session sandwiched between RAI orchestra rehearsals, film soundtrack recordings and various other projects that make up this incredible musical library, all recorded in that period by our best musicians. The unique particulars of this record are that the musicians are not named, except for a mythical "Plakoti" but also the rights and the tapes seemed tohave strangely disappeared. After a period of accurate research, thanks to Maurizio Majorana (bass player for the Marc 4) we have been able to find the original recordings and also the musicians that played on it. Even though this recording was accredited to the Marc 4, by semi-official sources of the time, strangely enough only two of them are effectively present on this record Antonello Vannucchi on the Hammond Organ, Vibraphone and Piano and Roberto Podio on the Drums. The other two musicians are Giovanni Tommaso playing his mythical "Pedrazzini" (ndr) double bass who already played together with Vannucchi as part of the famous "Lucca Quartet" and then as the bass player of the group "Perigeo" and Enzo Grillini, part of the Rai orchestra and a favorite guitar player of both Armando Trovajoli and Gianni Ferrio who, at the time, was considered one of the best Italian Jazz guitar player and who rarely recorded music outside of the RAI orchestra. The style of this record, thanks to this very particular group of musicians, contrary to many other Library recordings, is very jazzy and the very special sound reminds us of the Jazz organ of the Verve/Blue Note labels made in the Sixties. The Seven Men Label, another characteristic of this new edition, born from a partnership of 7 mysterious producers and musicians in order to produce background music, in fact, only produced four recordings and they are : "1" that you are already listening to, 2, AKA "Il Cinghialetto" directed by Gianni Ferrio and played by the very best popular and classical musicians of the day, as the soundtrack of a theatre piece written by Grazia Deledda and to conclude there are two recordings made in the 1970s written by Bruno Canfora: "Musiche di scena n1" and "Musiche di scena n2". To have been able to bring this recording out again, knowing about its ups and downs and how it was made, is even more important now, as we have been able to add yet another gem to the numerous reeditions of the "Italian Library Music" over these past years.

TRACKLISTING: 01. Archetipus 02. Medardo 03. Soul Piano 04. Monosex 05. Elite 06. Four Cords 07. Take The Blues 08. Twice Quie 09. Low Theme 10. Dumbo 11. Feelin Soft 12. Record

People who bought this item also bought KING TUBBY, VILLAGE CALLERS, THE, OS SEIS EM PONTO, SONORA CASINO, ...

Format: LP

Disc Quantity: 1
Release date: 28-12-2018
Item # : 523129
Availability: IN STOCK

[login]