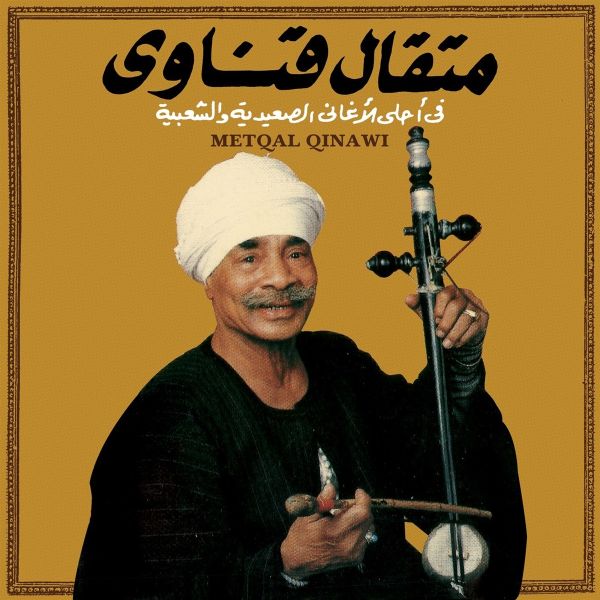 1 - QINAWI, METQAL - QINAWI, METQAL - (LP)
AKENATON

Metqal Quenawi, born in 1929 (Luxor, Egypt), also known as Met'qal, Metaqal Kinawi Metaqal, Metaqal Rebab Ensemble, Metkaal Kenawe or Awlad Metqal, developed an intense artistic career based on rescuing folk traditions from southern Egypt.Recovering the traditions of the Said, the southern region around Luxor, Qena and Asyut, Metqal was brought up on the customs of the Fellahin (agricultural labourers who passed on the age-old traditions of Egypt) disseminated across the nation by the rebab, an instrument of Bedouin origin, a type of violin, made out of coconut shell, wood, animal skin, with two or three strings and played with a horse hair bow.The themes he evokes are pastoral and rural visions and love and his compositions, written from the age of nine onwards, were received with enthusiasm, enabling him to move to Cairo where he met with great success and was in constant demand to play at celebrations like weddings.His many recordings disseminated and rescued in the 70s and 80s on multiple cassettes, made Metqal into a key reference in Egyptian music and took him to perform in Paris, where not only was he celebrated by the Egyptian community but also acclaimed by the cultural press. His work is as prolific as the number of offspring he had, 25 children from nine different marriages.Now the Akenaton label is presenting this legend to the west, who left the spirit of the Said ready for us to swing our hips to on the dance floor.

People who bought this item also bought SEFFCHEQUE, XAO, CAREER SUICIDE, GROUP DOUEH & CHEVEU, VARIOUS, ...

Format: LP

Disc Quantity: 1
Release date: 24-02-2017
Item # : 499757
Availability: IN STOCK

[login]