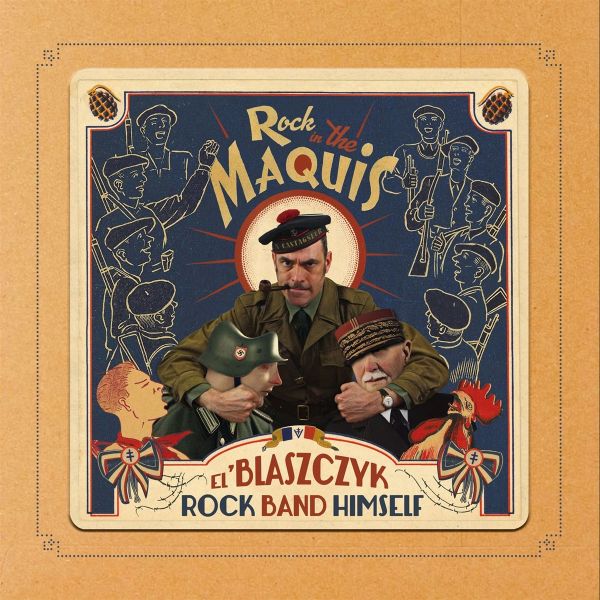 1 - EL'BLASZCZYK - ROCK IN THE MAQUIS - (LP)
MONO-TONE

A retro-futurist record, home made, on hand build equipment, which brings to mind the french sixties, yeyes and Nouvelle Vague movies, zigzaging between an iconoclast and DIY Serge Gainsbourg, a twisted Jacques Dutronc, the delirious spirit of les Blousons Noirs or an art brut painting.This double album comes with gatefold sleeve and an insert plus two three pages folded inserts containing lyrics and stuff with color pictures + digital download card.

TRACKLISTING: 01. Trop D'allemands (3mn08s) 02. Ces Boches Sont Faits Pour Morfler (2mn56s) 03. C'est La Guerre, Quelle Galère (2mn52s) 04. C'est La Guerre, J'sais Plus Quoi Faire (2mn35s) 05. Sadly London (2mn12s) 06. Cold Dead (2mn18s) 07. Jerk In Dunkerque (2mn21s) 08. Les Filles De 42 (2mn59s 09. Ich Liebe Dich Claudine (1mn52s) 10. Le Rock Des Ffi (part 1) (2mn58s) 11. J'ai Deux Amours (2mn55s) 12. Accordeon / Microsillon (3mn10s) 13. Le Rock Des Ffi (part 2) (2mn58s) 14. Chanson Du Jeudi Afternoon (2mn25s) DISC #2: 01. Out (2mn26s) 02. Made In Germany (2mn) 03. Si J'etais Un Bon Franais (2mn59s) 04. Mon Ffi (3mn29s) 05. Parachute Night (3mn05s) 06. Mad Train Is Comin' (2mn50s) 07. Aie (2mn38s) 08. La Grande Castagne (3mn05s) 09. Dans Mon Bunker (2mn41s) 10. Das Ende Der Haricots (1mn52s) 11. La Nuit La Plus Courte (n-night) (1mn51s) 12. Marechal Nous Voilà! (2mn42s) 13. Frydolin' Blues (2mn29s) 14. J'ai Decide De Rester (2mn50s) 15. Le Chant Des Partisans (2mn19s)

People who bought this item also bought FRUKO, FRONT 242, REVELATORS, ASS-DRAGGERS, LOS, ...

Format: LP

Disc Quantity: 2
Release date: 22-01-2021
Item # : 545789
Availability: IN STOCK

[login]