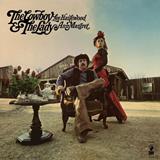 1 - HAZLEWOOD, LEE -& ANN MARGARET- - THE COWBOY AND THE LADY - (LP)
LIGHT I/T ATTIC

The "Cowboy" moved slowly out of the booth and into the studio. You could tell by the look in his eyes, that the half-dozen shots of Chivas Regal had put his ego to rest, and he was ready to sing with the "Lady." They Sang for three nights - the "Cowboy" and the "Lady", and the Gods were kind, and their album was finished on time. Herein, lie the results.some good, some bad and some more. - Lee Hazlewood"He had that wonderful, raw sense of humor and that good ol boy accent. He certainly could turn a phrase." -Ann-MargretIn 1969 Lee Hazlewoods personal record label LHI Records was flush with major label cash and Lee wanted to make Ann-Margret his next big star. In the quest for a hit, the pair recorded fuzzed out acid rock ("Its A Nice World To Visit (But Not To Live In)" & "You Turned My Head Around,") orchestral pop ("Sleep in the Grass" & "Chico") and a genuine country album cut in Nashville.

TRACKLISTING: 01. Am I That Easy To Forget 02. Only Mama That'll Walk The Line 03. Greyhound Bus Depot 04. Walk On Out Of My Mind 05. Hangin' On 06. Victims Of The Night 07. Break My Mind 08. You Can't Imagine 09. Sweet Thing 10. No Regrets 11. Dark End Of The Street 12. You Turned My Head Around 13. It's A Nice World To Visit (but Not To Live In) 14. Sleep In The Grass 15. Chico 16. Sam 17. He Rode Away (backing Track)

People who bought this item also bought NEONSCHWARZ, LENTO, MOUNT FUJI DOOMJAZZ CORPORATION, THE, KLINKE, DER, ...

Format: LP

Disc Quantity: 1
Release date: 10-11-2017
Item # : 508173
Availability: IN STOCK

[login]