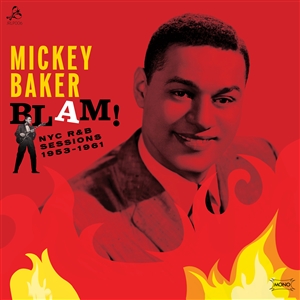 1 - BAKER, MICKEY - BLAM! THE NYC R&B SESSIONS - (LP)
JEROME

The contribution of Mickey Baker to 1950s music puts him next to titans like Bo Diddley and Chuck Berry. He is undoubtedly the king of 50s R&B guitar as well as an inventor of the sound called rock and roll. The difference between these two and Baker is that his career has been unfairly undervalued, if not almost unknown. And his recorded output is FIVE times more than Chuck and Bo combined.The most in-demand studio musician/session guitarist par excellence during the golden years of the R&B laid the foundation for rock and roll. This tireless hard working musician spent half his life in the studio and the other half on tour and left his mark on hundreds, thousands of recordings, among which are hits from artists like Big Joe Turner, Ruth Brown or the Coasters. His incendiary riffs and solos were always aggressive, twisted but elegant sounding. Baker possessed creativity ahead of his time with excellent taste, and completely transformed the concept and role of the electric guitar into rock and roll forever. But don't panic. This is far from being an album for guitarists or academics. It is a selection of rare recordings that showcase him backing various singers and a few instrumentals easily moving through styles of R&B, blues, rock, gospel and folk done for different labels between 1953 and 1961. We are happy to present this diverse compilation with stunning sound quality and much of the material never before reissued. And we hope you enjoy the experience of discovering or remembering the immeasurable Mickey Baker, the king of and most recorded guitarist in 1950s rhythm and blues.

TRACKLISTING: 01. Blam - Big John Greer And His Combo 02. Dont Leave Poor Me - Big Maybelle 03. Anna Maebrownie - Mcghee Sextet 04. The Storm Is Passing Over - Marie Knight 05. Honky Tonk In Silk -doc Bagby 06. Im Doing All This Time (and You Put Me Down) - Stick Mcghee 07. Big Boat Up The River - Brother John Sellers 08. Give Me Love - The Cyclones Featuring Eddie Jones 09. St. Louis Blues - Mickey And Kitty 10. Night Life - Jesse Stone 11. A Long Time - Nappy Brown 12. Took My Feet Out Of The Miry Clay - Brother John Sellers 13. Thats A Pretty Good Love - Big Maybelle 14. Shake It Up - Mickey And Sylvia

People who bought this item also bought VARIOUS, PERRY, LEE -VS BUNNY STRIKER LEE-, CADOGAN, SUSAN, RADIATION, RODDY, ...

Format: LP

Disc Quantity: 1
Release date: 17-08-2018
Item # : 516724
Availability: IN STOCK

[login]