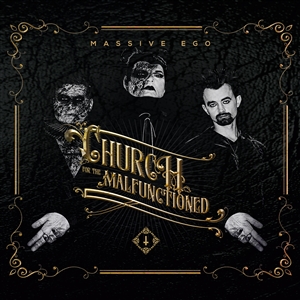 1 - MASSIVE EGO - CHURCH FOR THE MALFUNCTIONED - (CD)
OUT OF LINE

A much harder beast than what has gone before, built on beats the like of which weve not heard from this band. Withsongs challenging the very core of religious beliefs and questioning its role in todays society. Built on solid 80s electro pop foundations, ,Church For The Malfunctioned" combines Industrial elements alongside gothic tones and euphoric highs. The result is harder, louder and more angrythan ever before, whilst remaining barefaced catchy at the same time. "Where the first album was a tentative toe dipped into the dark scene, this album sees us plunging in head first and swimming" vocalist Marc Massive comments, "Because we wear black, smudged eyeliner and listen to dark bands we are often viewed as malfunctioned or weird in the eyes of mainstream society, so why not join a new church, a new religion, that wants to celebrate this lifestyle rather than preying tofake Gods".

TRACKLISTING: 01. The Last Sunrays In June 02. Digital Heroin 03. Malfunctioning Me 04. My Religion Is Dark 05. Fallen From Grace 06. The Wolf 07. Points Of No Return - Feat Auger 08. Super Selfie Superstar 09. Killing For Gods 10. World In The Gutter 11. Kill The Conspiracy - Feat Chris L 12. Military Fashion Show 13. Is The Universe Trying To Tell Me Something? 14. Mother Requiem DISC #2: 01. Digital Heroin (mr. Stranger Remix) 02. My Religion Is Dark (blutengel Remix) 03. Kill The Conspiracy - Feat Chris L (agonoize Remix) 04. Digital Heroin (solar Fake Remix) 05. World In The Gutter (auger Remix) 06. Kill The Conspiracy - Feat Chris L (kunstwerk Remix) 07. Digital Heroin (ost+front Liebesgrusse Aus Berlin Remix) 08. Killing For Gods (forcenry Remix) 09. Digital Heroin (dkag Remix) 10. Malfunctioning Me (the Horrorist Remix)

People who bought this item also bought MOSES, LEE, EXILE ONE, VON SPAR, PARADISE LOST, ...

Format: CD

Disc Quantity: 2
Release date: 10-05-2019
Item # : 526869
Availability: IN STOCK

[login]