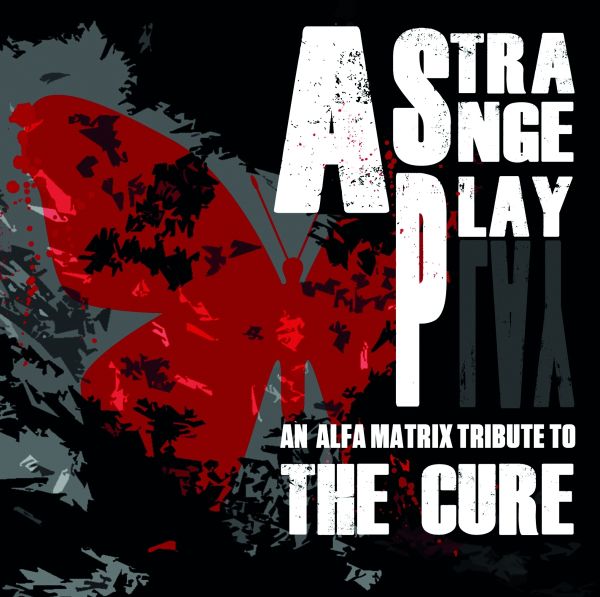 1 - VARIOUS (THE CURE TRIBUTE) - A STRANGE PLAY - (CD)
ALFA MATRIX

Everyone born between 1970 and 1980 has undergone a THE CURE brainwashing, voluntary or not, filled with genius songwriting pearls by Robert Smith & co. Whereas other bands that grew up alongside with them ended up with albums that no longer stand the test of fandom, THE CURE has been able to maintain an overall quality throughout the years, constantly offering unforgettable extended live shows made of nostalgic classic mixed with newer songs, and always reminding us that the unique "THE CURE magic" has remained intact!Today the Alfa Matrix label roster is paying homage to this great and unique band: THE CURE, choosing classic radio hits but also songs that are less known to the public-at-large but which deserve even more to be heard again, showing that the songs written by Robert Smith and current/ex-members also lend themselves to different music style treatments... All electronic music genres have their very own ambassadors on this 31-track double CD compilation from electro dance to pop rock through dark elektro and modern EBM. Compiled by and for THE CURE fans, "A Strange Play - a tribute to The Cure" will offer you astounding interpretations of classic hits!

TRACKLISTING: 01. Junksista . The Lovecats 02. Lovelorn Dolls . Just Like Heaven 03. Kant Kino Feat. Mari Kattman . Charlotte Sometimes 04. Aesthetische . Anniversary 05. Avarice In Audio . Disintegration 06. Aiboforcen Feat. Mondtraume . A Strange Day 07. Star Industry . The Walk (club Edit) 08. Cynical Existence . Lullaby 09. Essence Of Mind . Burn 10. Sebastian Komor . Lovesong 11. Alien Vampires . In Your House 12. Halo In Reverse . Prayers For Rain 13. Diffuzion . Pictures Of You 14. Metroland . Close To Me 15. Aiboforcen . All Cats Are Grey DISC #2: 01. I:scintilla . Fight 02. Helalyn Flowers . Burn 03. Kant Kino . Jumping Someone Else's Train 04. Cosmic Armchair . Friday I'm In Love 05. Mari Chrome . A Forest 06. Schwarzblut . The Figurehead 07. Zombie Girl . Fascination Street 08. Technoir . The Drowning Man 09. Regenerator . Prayers For Rain 10. Mondtraume . Lament 11. Armageddon Dildos Vs. Bezirk02 Feat. Denise Kanka . The Baby Screams 12. Plastic Noise Experience . Why Can't I Be You 13. Xmh . A Night Like This 14. Neikka Rpm . Sleep When I'm Dead 15. Totem Obscura . Cold 16. Acylum . Trust

People who bought this item also bought ANTI-FLAG, LAGWAGON, RIECHMANN, MOEBIUS/PLANK/NEUMEIER, ...

Format: CD

Disc Quantity: 2
Release date: 07-11-2014
Item # : 468608
Availability: IN STOCK

[login]