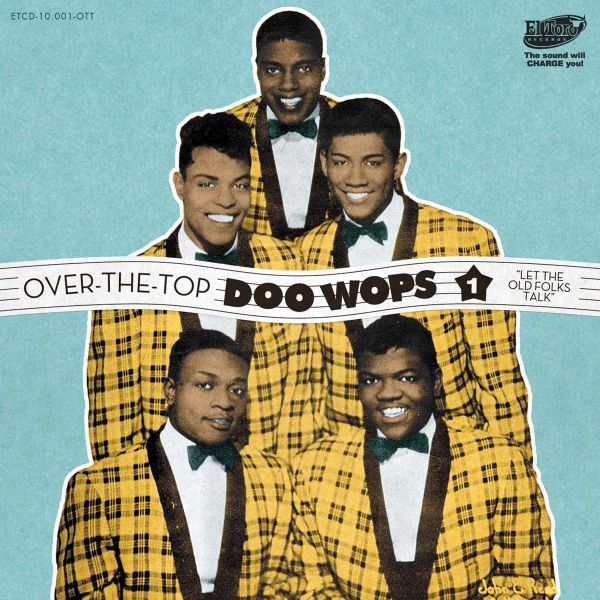 1 - VARIOUS (LET THE OLD FOLKS TALK) - OVER THE TOP DOO WOPS, VOL. 1) - (CD)
EL TORO

In the early heyday of Rock 'n' Roll, the music we now know as Doo-Wop had just come of age. From the street corners of Harlem and Detroit, Baltimore and St. Louis, and stretching all the way to Los Angeles, San Francisco and beyond, the art of vocal group harmony was undergoing a process of constant experimentation and refinement through the efforts of young hopefuls looking to make their mark in the field of popular music. Eventually music historians would come up with a name for it, but not until the phenomenon had evolved from passing fancy to nostalgic obsession with entirely new generations of music fans worldwide.

TRACKLISTING: 01. Sock Hop - Sharptones 02. Ray Pearl - Jivers 03. Zippety Zip - Empires 04. Rock-a-little Lucy - Four Scores 05. Cozy With Rosie - Vibraharps 06. Strollin' - Hornets 07. How To Win Your Love - Sonny Mart 08. Moonlight - Dynamics 09. Your Love - Billy Kent & The Andantes 10. Say You'll Be Mine - Ecuadors 11. Come On - Five Blacks 12. Goodness Gracious Baby - Upbeats 13. I'm On My Way - Bobby Sanders 14. Hold On - Peppers 15. School Boy Blues - Buzzy King 16. What's The Word.thunderbird - Bobby & Buddy 17. You Better Believe - Gay Poppers 18. Big Bad Mollie - Lapels 19. Let The Old Folks Talk - Vibes 20. Josephine - Fabulous Flames 21. Mr. Dillon - Delacardos 22. So Much - Starfires 23. Waterproof - Scamps 24. Do-li-op - Four Kings 25. You're Not Too Ol' (to Rock & Roll) - Deep River Boys

People who bought this item also bought PROPAGANDHI, RISE AGAINST, STRUNG OUT, MAD CADDIES, ...

Format: CD

Disc Quantity: 1
Release date: 02-06-2014
Item # : 464428
Availability: IN STOCK

[login]