1 - HERRMANN, BERNARD - CAPE FEAR - (LP)
DOXY CINEDELIC

Super classic score from the great Bernard Herrmann, one of the most famous American soundtrack composers known for his collaborations with director Alfred Hitchcock (Psycho, North by Northwest, The Man Who Knew Too Much, Vertigo) and other cinema masterpieces including Citizen Kane, The Day the Earth Stood Still, and Taxi Driver.

TRACKLISTING: 01. Main Title 02. The Courtroom 03. The Car Keys 04. The House Bowling Alley 05. The Barking Dog 06. The Dog Is Poisoned 07. The Dream 08. After The Dream 09. Sam Talks To The Police 10. An Evening With Max Cady 11. The Pick-up 12. The Girl Is Found 13. Cady At The Boat Dock 14. At The School 15. Cady Stalks The Daughter 16. Sam Gets A Gun 17. Sam Returns Home 18. Cady Is Attacked 19. Cady Calls Sam 20. Sam Leaves The Case To The Judge 21. Cape Fear!!! 22. Farewell Sounds Of A Boat At Night 23. Sam Arrives 24. Final Confrontation 25. Finale

People who bought this item also bought GOOD RIDDANCE, GUT UND IRMLER, WIEGEDOOD, REAGAN YOUTH, ...

Format: LP

Disc Quantity: 1
Release date: 13-08-2017
Item # : 506470
Availability: 2/3 WEEKS, NOT IN STOCK

[login]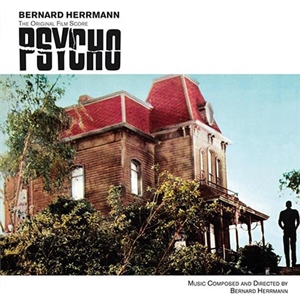 2 - HERRMANN, BERNARD - PSYCHO (RED) - (LP)
DOL

TRACKLISTING: 01. Prelude; The City; Marion And Sam; Temptation;6:17 02. Flight; The Patrol Car; The Car Lot; The Package; The Rainstorm;7:23 03. Hotel Room; The Window; The Parlour; The Madhouse; The Peephole;8:54 04. The Bathroom; The Murder; The Body; The Office; The Curtain; 7:00 05. The Search; The Shadow; Phone Booth; The Porch; The Stairs; 5:43 06. The Search; The First Floor; Cabin 10; Cabin 1;6:20 07. The Hill; The Bedroom; The Toys; The Cellar; Discovery; Finale;5:00



Format: LP

Disc Quantity: 1
Release date: 24-01-2020
Item # : 539015
Availability: 2/3 WEEKS, NOT IN STOCK

[login]