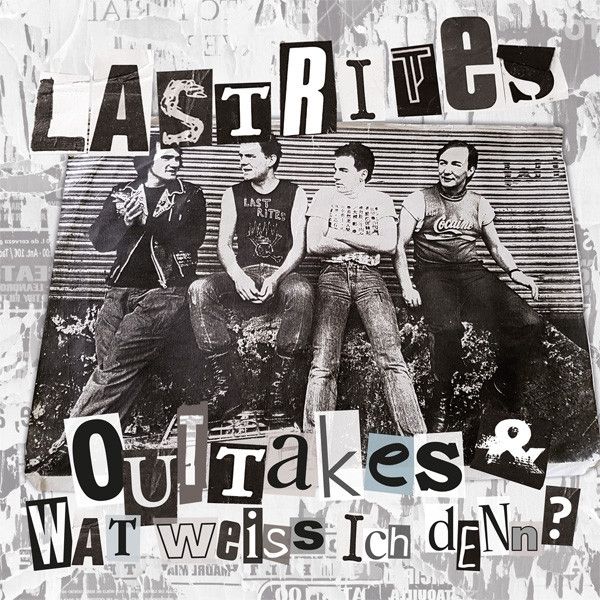 1 - LAST RITES - OUTTAKES & WAT WEISS ICH DENN? - (LP)
MAD BUTCHER

taken from Fascism means war EP01.No Right To Take02.Convicted Without Trial03.Protest And Survive04.The Dreams Of Manytaken from A Kick Up The Arse - Volume One compilation05.OI! OI! OI!06.Addicttaken from No Visible Scars E.P. compilation07. Scarred for lifeunreleased recorded 198408.All walls have ears09.Conforming10.Face in the crowd11.I wanne be an anarchistSide 212.No rights to take13.Propaganda lies14.Prophets of doom15.Suicidestolen anthems recorded 198416.Fuck a mod (Exploited)17.Holiday in Cambodia (Dead Kennedys)18.Londons burning (Clash)19.Pretty Vacant (Sex Pistols)20.Tube Disasters (Flux of Pink Indians)21.Warhead (U.K.Subs)

TRACKLISTING: 01. No Right To Take 02. Convicted Without Trial 03. Protest And Survive 04. The Dreams Of Many 05. Oi! Oi! Oi! 06. Addict 07. Scarred For Life 08. All Walls Have Ears 09. Conforming 10. Face In The Crowd 11. I Wanne Be An Anarchist 12. No Rights To Take 13. Propaganda Lies 14. Prophets Of Doom 15. Suicide 16. Fuck A Mod (exploited) 17. Holiday In Cambodia (dead Kennedys) 18. Londons Burning (clash) 19. Pretty Vacant (sex Pistols) 20. Tube Disasters (flux Of Pink Indians) 21. Warhead (u.k.subs)

People who bought this item also bought AITKEN, LAUREL, CAPTAIN SENSIBLE, COCK SPARRER, BRACES, THE, ...

Format: LP

Disc Quantity: 1
Release date: 23-10-2020
Item # : 544351
Availability: IN STOCK

[login]