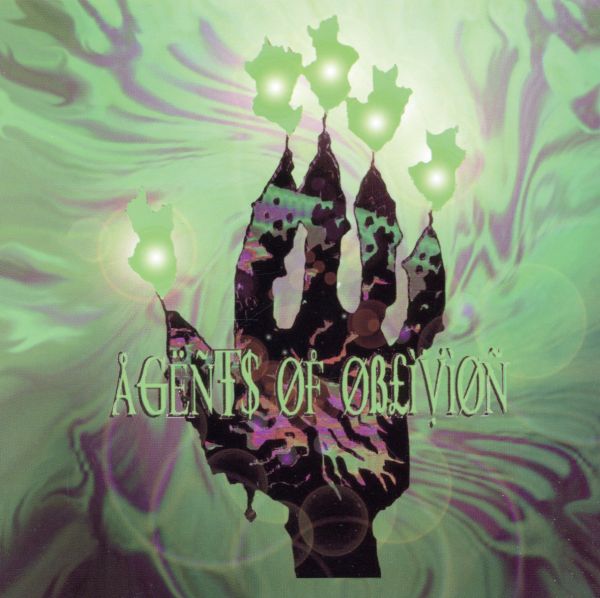 1 - AGENTS OF OBLIVION - AGENTS OF OBLIVION - (CD)
ROTTEN

On Rotten, a definite devation from the overly typical regiment of hard rock, Agents Of Oblivion have taken their already cult-status metallic sounds and melted them with the early 70's attitued fueled sounds of Iggy Pop and Ziggy Stardust-era Bowie. A downright sweet collaboration of two carefully selected and infuential sounds, closely layered above the traditional Acid Bath songwriting style that they were best known for. Agents Of Oblivion possess the must have qualities for any fan of psych raunch rock.



Format: CD

Disc Quantity: 1
Release date: 03-03-2000
Item # : 322204
Availability: 2/3 WEEKS, NOT IN STOCK

[login]
2 - AGENTS OF OBLIVION - AGENTS OF OBLIVION - (LP)
ROTTEN

DOUBLE ALBUM GATEFOLD SLEEVE, 180 GRAM COLORED VINYL!The first and only album by Louisiana's Agents of Oblivion is a distinct departure from the music of Acid Bath, the previous band of songwriters Dax Riggs and Mike Sanchez, though it does shed some light on that band's unique collision of styles. While fellow Acid Bath member Sammy Duet went on to pound out grinding black metal with Goatwhore, Riggs and Sanchez put together a band more concerned with melody and straightforward rock songwriting. There are strong echoes of T. Rex (whose "Cosmic Dancer" they cover here) and Ziggy Stardust-era David Bowie in the soaring, melancholic grandeur of slower tracks such as "Phantom Green," "Endsmouth," and "Big Black Backwards." Meanwhile, the hard rock numbers, notably "Slave Riot" and "Ash of the Mind," recall Iggy Pop and, again, T. Rex, though the heavy drums and thickly distorted guitars have a density more in line with the grungy metal of the Melvins or early Alice in Chains. The lyrics, though, are purely Riggs' work: vivid, desolate, and filled with image-laden references to insects, death, and decaying skulls that avoid sounding trite or adolescent, as they might have in lesser hands. His sorrowful, crooning vocals, too, are really superb, perhaps influenced by Bowie and Jim Morrison but still quite distinct. In the end, Agents of Oblivion may not be the most groundbreaking record to come out in 2000, but it is still a fine piece of desolate, melancholy hard rock that, rather than simply recasting its '70s rock influences, invests them with real personality and creativity.

TRACKLISTING: 01. Endsmouth 02. Slave Riot 03. A Song That Crawls 04. Dead Girl 05. Phantom Green 06. The Hangmans Daughter 07. Ladybug 08. Ash Of The Mind 09. Wither 10. Paroled In 54 11. Anthem (for This Haunted City) 12. Cosmic Dancer 13. Big Black Backwards

People who bought this item also bought COLOUR HAZE, NILOVIC, JANKO, COODER, RY, ...

Format: LP

Disc Quantity: 2
Release date: 01-09-2017
Item # : 506460
Availability: 2/3 WEEKS, NOT IN STOCK

[login]