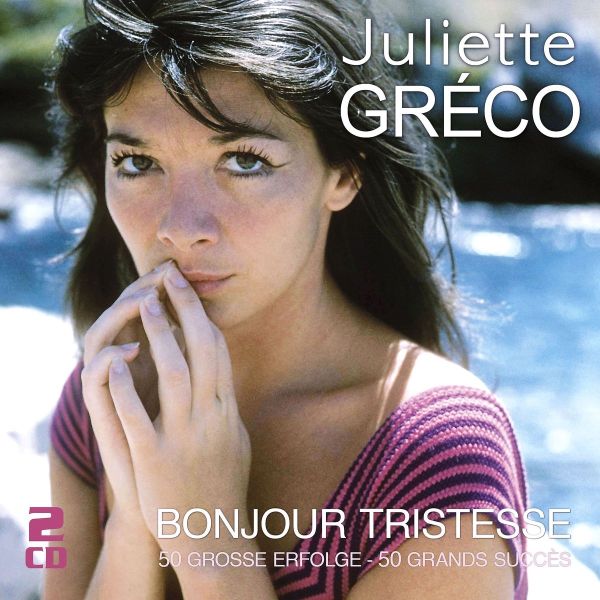 1 - GRECO, JULIETTE - BONJOUR TRISTESSE - (CD)
MUSICTALES

Juliette Grco was born on February 7, 1927 in Montpellier. Her parents separated and she grew up with her grown-upsparents in Bordeaux. Her mother took her to Paris in 1933. After the war, Juliette discovered the intellectual scene.bubbling Paris Rive Gauche. 1947 opens a new club, the Tabou, where she becomes the famous muse of bohemian Saint-Germain-des-Prs. In 1950, his first disc "Si tu s'imagines" was published. In 1951, she received theSACEM prize for his recording "Je hais les Dimanches". In 1954, she sang at the Olympics.After starring in several films, she returned to the song, to which she subsequently stuck. She has sung titles by Jacques Brel, Lo Ferr, Guy Bart and Serge Gainsbourg, still completely unknown at the time.In 1965, she played a main role in the television series "Belphgor ou le mystère du Louvre". She goes outregularly new albums and her tours take her around the world. In 2007 she received the award forthe work of his life during the presentation of the French music prize "Victoires de la musique

TRACKLISTING: 01. Qu On Est Bien 02. La Chanson De Gervaise 03. La Valse Brune 04. Si Tu Timagines 05. Chanson Pour Lauvergnat 06. Mfiez-vous De Paris 07. A Va (le Diable) 08. Je Suis Comme Je Suis 09. Embrasse-moi 10. La Chanson De Barbara (barbara-song) 11. Chandernagor 12. Le Jour (dlaisse Le Ciel) 13. Romance 14. Sous Le Ciel De Paris 15. Je Prends Les Choses Du Bon Cot (mit Eddie Constantine) 16. Sans Vous Aimer 17. Le Guinche 18. Bonjour Tristesse 19. Demain Il Fera Jour (tomorrow My Love) 20. Les Croix 21. Musique Mcanique 22. La Fourmi 23. Vous, Mon Coeur 24. Les Enfants Qui Saiment 25. La Fête Est Là DISC #2: 01. Je Hais Les Dimanches 02. Les Feuilles Mortes 03. Coin De Rue 04. Paname 05. Il Ny A Plus Daprès 06. Le Temps De Cacahuètes 07. De Pantin à Pkin 08. Comment Voulez-vous 09. La Marche Nuptiale 10. Jolie Môme 11. Paris Canaille 12. Ctait Bien (le Ptit Bal Perdu) 13. Accordon 14. Miarka 15. Complainte 16. La Valse Des Si 17. Les Lunettes 18. Madame Arthur 19. Lternel Fminin 20. Lamour 21. Les Damn De La Poste 22. La Complainte Du Tlphone 23. La Cuisine 24. La Valse 25. Les Pas Runis

People who bought this item also bought VARIOUS, THURISAZ, CLEMENT, IAN, D.O.A., ...

Format: CD

Disc Quantity: 2
Release date: 01-10-2020
Item # : 544307
Availability: IN STOCK

[login]