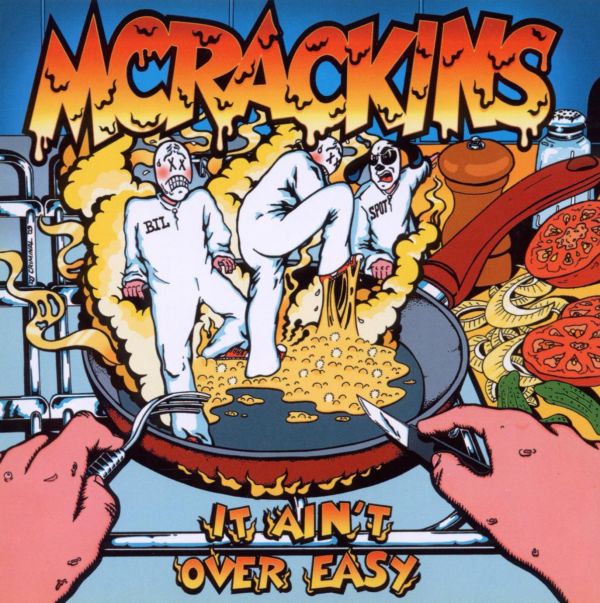 1 - MCRACKINS - IT AIN'T OVER EASY - (CD)
WOLVERINE

Its a well known joke (or yolk if you will) that their discography reads like the rap sheet of a seasoned criminal, as they have had nearly 250 songs released by over 60 different record labels around the globe as 90 separate CD, EP, LP , 7" and compilation releases too numerous to mention. The fun dont end there, as the barn yard hooligans also found time to bring their elusive and rare kick-ass ball of pop-punk energy, and humorous fun-filled live eggstravaganza to many clubs and stages across 14 countries to date, including multiple tours of Europe, U.S.A, and Canada. To add to their overwhelming list of savant like accomplishments, the MCRACKINS have also recorded live sessions for the BBC, made cameo appearances in movies and television commercials, have been featured on numerous radio and television shows and continue to light up the request lines at college radio stations everywhere. Well, thats how it goes in the zany world of the MCRACKINS. What could be more normal than a pop-punk trio with twin egg guitar players backed by a drumming dog? If its a "gimmick", it would surely rate as one of the all time worst ever, so lets give them the benefit of the doubt and say theyre just fuckin crazy!!

TRACKLISTING: 01. CANDY 02. FAIRY TALE 03. DEAR LIFE 04. NERDCORE RISING 05. NEED SOMEBODY 06. TRASH YOU SMASH YOU 07. EVERYTHING IS GOOD 08. I'LL FLY AWAY 09. IN THE YEAR 3000 10. KLEPTOMANIAC 11. FIRST DAMN THING 12. ONLY IN THE MOVIES 13. EDGE OF THE WORLD 14. IT AIN'T OVER EASY

People who bought this item also bought PSYCHOTIC YOUTH, BADTOWN BOYS, SPITS, REAL MCKENZIES, THE, ...

Format: CD

Disc Quantity: 1
Release date: 19-03-2010
Item # : 405863
Availability: IN STOCK

[login]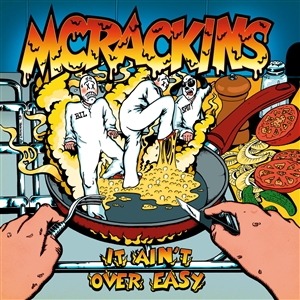 2 - MCRACKINS - IT AIN'T OVER EASY - (LP)
LAST EXIT

2010: The band released its latest full length "It Ain't Over Easy" on CD2019: Last Exit Music brings this piece of good music back: On vinyl for the first time!

TRACKLISTING: 01. Candy 02:36 02. Fairy Tale 02:44 03. Dear Life 02:56 04. Nerdcore Rising 02:10 05. Need Somebody 02:38 06. Trash You Smash You 02:43 07. Everything Is Good 03:36 08. Ill Fly Away 02:06 09. In The Year 3000 02:16 10. Kleptomaniac 02:43 11. First Damn Thing 02:58 12. Only In The Movies 02:57 13. Edge Of The World 02:39 14. It Aint Over Easy 01:41

People who bought this item also bought SHIP THIEVES, SUICIDE GENERATION, OF MONTREAL, LEWSBERG, ...

Format: LP

Disc Quantity: 1
Release date: 20-03-2020
Item # : 540954
Availability: IN STOCK

[login]