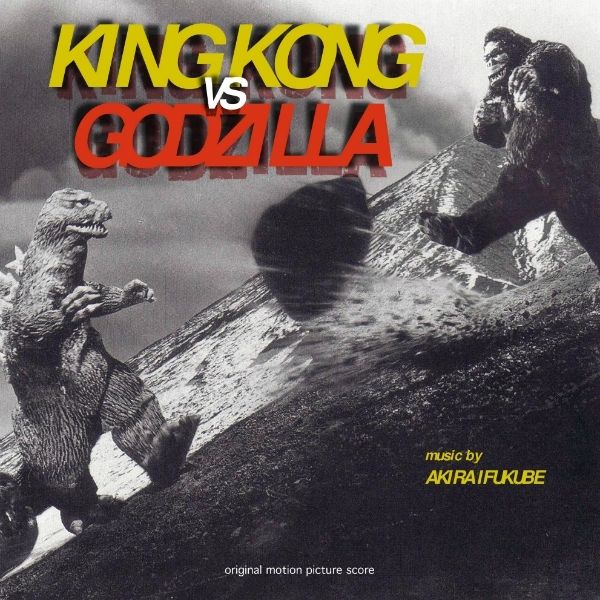 1 - IFUKUBE, AKIRA - KING KONG VS. GODZILLA - (LP) UPDATED
DOXY CINEMATIC

Akira Ifukubes score to the legendary 1962 monster movie King Kong vs. Godzilla! Ifukubes visionary music is tense and violent, a perfect complement to Ishiro Hondas film. This incredible score alternates between brass and strings as we witness the death and destruction that comes in the wake of these two classic film monsters battles. LIMITED EDITION OF 500 COPIES

TRACKLISTING: 01. Main Title 02. Series Of World Wonders 03. The Sparkling Iceberg 04. The Seahawk In Crisis 05. The Seahawks S.o.s. 06. Fallow Island 07. The Natives 08. Thunder And The Devil 09. Fumikos Misgivings 10. Godzillas Resurrection 11. The Cry Of The Devil 12. A Prayer To The Rolling Thunder 13. Drums Of Battle 14. The Devil In The South Seas 15. Giant Octopus Vs King Kong 16. The Sleeping Devil 17. The Invincible King Kong 18. Preparations For Operation Burial 19. Operation Burial 20. Operation Burial Fails 21. The Terror Of Godzilla 22. King Kong Vs Godzilla I 23. Preparations For Operation One Million Volts 24. Operation One Million Volts I 25. Operation One Million Volts Ii 26. Kong Shows Up In Tokyo 27. The Plan To Rescue Fumiko 28. The Plan To Transport King Kong 29. King Kong Advances On Fuji 30. The Confrontation At Fuji 31. King Kongs Resurrection 32. King Kong Vs Godzilla Ii 33. Ending

People who bought this item also bought GHOULIE, KEPI -& THE COPYRIGHTS-, PEUK, SAD SAD SAD, BELAIRS, THE, ...

Format: LP

Disc Quantity: 1
Release date: 18-01-2019
Item # : 523313
Availability: IN STOCK

[login]
2 - IN ZAIRE - VISIONS OF THE AGE TO COME - (LP) UPDATED
SOUND OF COBRA

In Zaire return with an eightfold kaleidoscope coming into blissful focus! It's called 'Visions Of The Age To Come' and presents them in a feverish dance between rock heritage and psychedelic outlands.



Format: LP

Disc Quantity: 1
Release date: 02-05-2017
Item # : 503776
Availability: 2/3 WEEKS, NOT IN STOCK

[login]