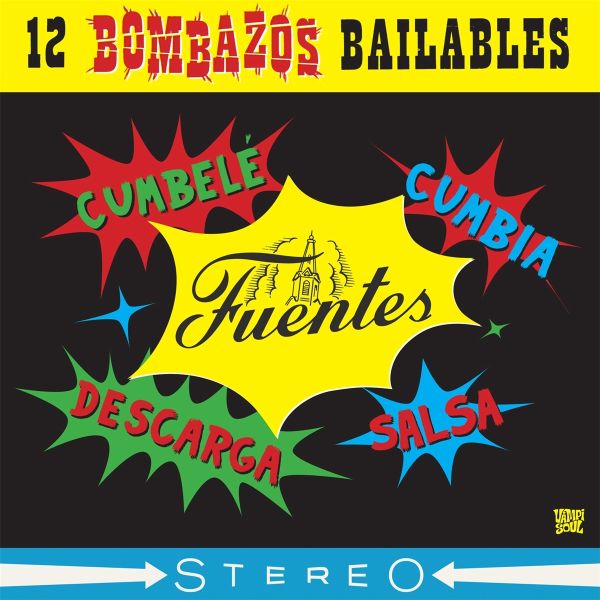 1 - VARIOUS - 12 BOMBAZOS BAILABLES - (CD)
VAMPISOUL

Budget sampler album compiling 12 take-no-prisoners dancefloor tracks from the Discos Fuentes vast catalogue that turns 85 this year! Cumbia, hard salsa, descarga and more.A perfect introduction to our Discos Fuentes reissue series and a very convenient DJ tool, every track is a winner!1.CUMBIA EN DO MENOR -Lito Barrientos y su OrquestaTaken from "Very Very Well" (VAMPI 198)2. ARREBATA -Lisandro Meza y su ComboTaken from "Salsita Mami" (VAMPI 177)3. COCO MAY MAY -Combo Los YogasTaken from "Canabrava" (VAMPI 175)4. LA PLUMA -Peregoyo y su Combo VacanaTaken from "Mi Buenaventura" (VAMPI 185)5. SABROSO BACALAO -Adolfo Echeverria y su OrquestaTaken from "Sabroso Bacalao" (VAMPI 202)6. LINDO MAGDALENA -Pedro Laza y sus PelayerosTaken from "Rito Esclavo" (VAMPI 176)7. EL VIDRIERO -Fruko y sus TesosTaken from "Tesura" (VAMPI 173)8. ATIZA Y ATAJA -Los SupremosTaken from "Atiza y Ataja" (VAMPI 182)9. CUMBIA LOCA -Conjunto MiramarTaken from "Cumbias con el Miramar" (VAMPI 197)10. MANUE -Michi Sarmiento y su Combo BravoTaken from "Salsa con Monte" (VAMPI 184)11. SAFARI SAFARI -Tita Duval y el Nuevo Ritmo de Bobby ReyTaken from "Cumbias Internacionales" (VAMPI 186)12. MAMBO FLAMENCO -Sexteto MiramarTaken from "Salsa! Mi Hermana" (VAMPI 188)

TRACKLISTING: 01. Cumbia En Do Menor -lito Barrientos Y Su Orquesta 02. Arrebata -lisandro Meza Y Su Combo 03. Coco May May -combo Los Yogas 04. La Pluma -peregoyo Y Su Combo Vacana 05. Sabroso Bacalao -adolfo Echeverria Y Su Orquesta 06. Lindo Magdalena -pedro Laza Y Sus Pelayeros 07. El Vidriero -fruko Y Sus Tesos 08. Atiza Y Ataja -los Supremos 09. Cumbia Loca -conjunto Miramar 10. Manue -michi Sarmiento Y Su Combo Bravo 11. Safari Safari -tita Duval Y El Nuevo Ritmo De Bobby Rey 12. Mambo Flamenco -sexteto Miramar

People who bought this item also bought VIKLICKY, EMIL, PSYKIK VOLTS, VILLAGE CALLERS, THE, MOSES, LEE, ...

Format: CD

Disc Quantity: 1
Release date: 13-12-2019
Item # : 538053
Availability: IN STOCK

[login]