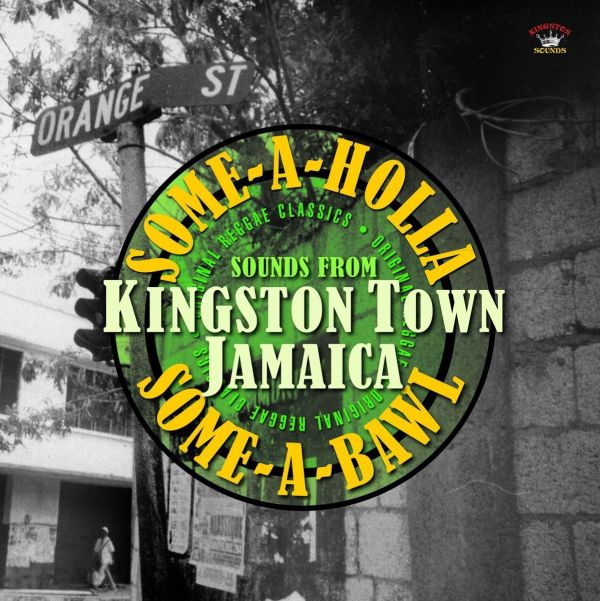 1 - VARIOUS - SOME-A-HOLLA SOME-A-BRAWL - (CD)
KINGSTON SOUNDS

Orange Street, Kingston, Jamaica the epicentre of the Reggae world. Where all the record shops, studios, pressing plants were based. The new cut 45s would be taken to the shops after a testing on various Sound Systems around the people and passed to the record shop proprietors to sell. Bunny Lee as a former record plugger and now a leading producer knew what the people wanted and a great ear for a hit tune. This collection carries some of the stand out tracks from this period, when music was finding a new beat as Rocksteady rolled into the late 60s early 70s Reggae Sound. The Ravers Mati and Fulli telling the story that the Rent too High to The Twinkle Brothers Miss Laba Laba .you see and blind you must hear and deaf.clean up your own backyard before talking about others. All stories of daily life and love songs told over a cracking rhythm played by finest musicians on the island. So yes Some A Holla Some A Bawl as Max Romeo would say but it cant be denied that all the tunes on this selection are of a fine pedigree..

TRACKLISTING: 01. Matti And Fulli-the Ravers 02. Throw Mw Com-winston Shand 03. Some A Holla Some A Bawl-max Romeo 04. Miss Laba Laba-twinkle Brothers 05. This Is My Story-the Claridonians 06. South Of The Border-doreen Shaffer 07. Give Me A Love-slim Smith 08. This Old Heart Of Mine-delroy Wilson 09. Lonely Lover-the Sensations 10. Two Faced People-max Romeo 11. Im Leaving-derrick Morgan&hortense Ellis 12. The Winner(taking Over)-roy Shirley 13. Sad Mood-ken Parker 14. Girl Of My Dreams-dave Barker 15. Sometimes-max Romeo* 16. Dedication-the Melodians* 17. Butterflies-the Ravers*

People who bought this item also bought SYKES, O.T., COVAY, DON, DAYTONIANS, PAYNE, SCHERRIE, ...

Format: CD

Disc Quantity: 1
Release date: 20-09-2019
Item # : 535027
Availability: IN STOCK

[login]