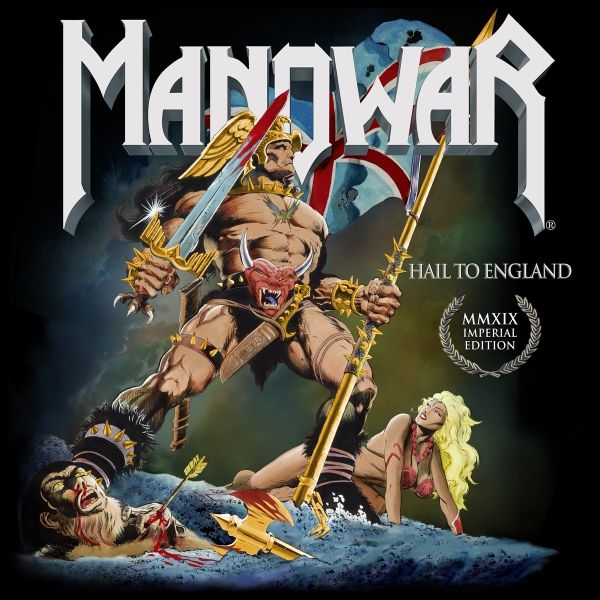 1 - MANOWAR - HAIL TO ENGLAND MMXIX IMPERIAL EDITION - (CD)
MAGIC CIRCLE

Hail To England Imperial Edition MMXIX (Remixed/Remastered)Released in February 1984, a little over six months after its predecessor, "HAIL TO ENGLAND" arrived amid sky-highexpectations, not least because by this point MANOWAR were notorious around the world as self-proclaimed guardians of an entire genre. Luckily, the album itself was more than equipped to blow peoples heads off all over again.Kicking off with the stately might of "BLOOD OF MY ENEMIES" ,"HAIL TO ENGLAND " may just be the finest record thatMANOWAR made in their first decade. With a more rounded and muscular production than "INTO GLORY RIDE" and blessed with some of the finest songs the band have ever recorded, this still young band were demonstrating a fierce sense of individuality, decimating the competition in the process. Bolstered by a heightened sense of dynamics and cinematic melodrama, the likes of doom-drenched and devilish denouement "BRIDGE OF DEATH" revealed new subtleties and textures within the MANOWAR arsenal. Meanwhile, the jaw-shattering attack of "KILL WITH POWER" and the impossibly stirring melodies and might of itself confirmed that MANOWARs song writingchops were getting sharper and more effective with every passing year. Throw in one of Joey DeMaios mind-bendingtrademark bass solos, the truly mesmerising "BLACK ARROWS" , and album number three could hardly have offered amore complete or compelling taste of MANOWAR circa 1984.35 years later, "HAIL TO ENGLAND" has been revived and revitalised by producer Joey DeMaio himself. It might behard to believe that an album as righteous and monumental as this could ever be improved, but if one thing has defined MANOWARs unrelenting march to glory, it has been a tireless devotion to delivering the goods on a level that makes everyone elses efforts look pathetic. Crank up the enhanced "HAIL TO ENGLAND" to life-threatening volume and witness the sound of an immaculate heavy metal monolith erupting with newfound power and punch. This is heavy fucking metal in its purest form and no one does it better. Hail MANOWAR!

TRACKLISTING: 01. Blood Of My Enemies (remixed/remastered 2019) 02. Each Dawn I Die (remixed/remastered 2019) 03. Kill With Power (remixed/remastered 2019) 04. Hail To England (remixed/remastered 2019) 05. Army Of The Immortals (remixed/remastered 2019) 06. Black Arrows (remixed/remastered 2019) 07. Bridge Of Death (remixed/remastered 2019)

People who bought this item also bought KATCHE, MANU, MOSES, LEE, GIERSBERGEN, ANNEKE VAN, LEFT LANE CRUISER, ...

Format: CD

Disc Quantity: 1
Release date: 31-05-2019
Item # : 527045
Availability: IN STOCK

[login]