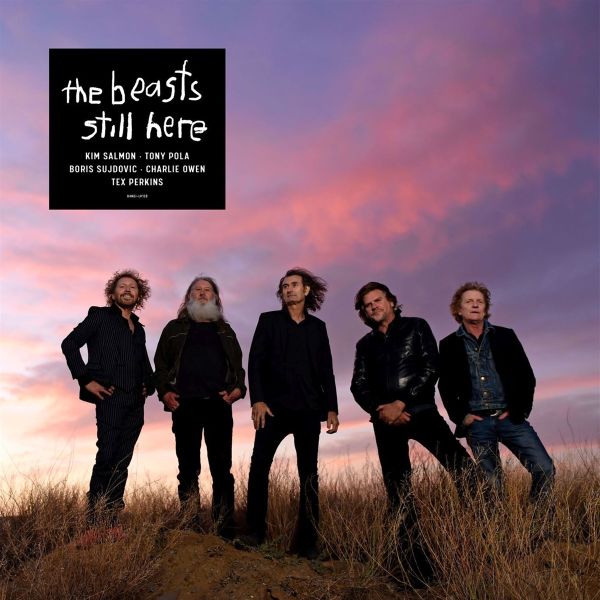 1 - BEASTS, THE - STILL HERE - (CD)
BANG!

After an extremely emotional final performance with the Beasts of Bourbon, Tex Perkins hit upon the idea of getting all of the bands members, past and present into a recording studio with no particular agenda other than to do just that. It was more of a celebratory thing he had in mind than anything. Sadly, bassist Brian Hooper didnt make it along as he passed away a week after the Beasts last show.Assembled in Soundpark Studio a couple of weeks later were Charlie Owen, Boris Sujdovic, Tony Pola, Spencer Jones, Kim Salmon and Tex Perkins. They were unprepared save for some sketchy ideas, loose ends and a couple of covers. With limited time the band knocked together a collection of jams pretty much true to the crazy M.O. employed back when The Axemans Jazz got laid down in that fateful eight-hour session in 1983.Songs werent so much learned as ideas thrown together and recorded the moment they began to coalesce. Captured were: Brian Hoopers What The Hell Was I Thinking, James Bakers Drunk On A Train, Boris Dont Pull Me Over, Kims Pearls Before Swine, Texs On My Back and Just Let Go and Spencers At The Hospital. There was Zappas The Torture Never Stops, Warren Zevons My Shits Fucked Up (was there ever a more appropriate cover for the Beasts?). Add to that some untitled jams that became the hilarious Your Honour and Its All Lies.Sounds like an album? You betchya! Deeply sad is that Spencer was only around long enough to make it onto one track. Absolutely wonderful is that he did make it onto the recording. And with such a funny and typically Jones style piece of observation as At The Hospital.With respect, this isnt the Beasts of Bourbon. It would need to have Jonesy on every track to be that! But loudly and proudly this is: The Beasts Still Here.

TRACKLISTING: 01. On My Back 02. Pearls Before Swine 03. My Shits Fucked Up 04. Just Let Go 05. At The Hospital 06. Drunk On A Train 07. The Torture Never Stops 08. Its All Lies 09. What The Hell Was I Thinking 10. Dont Pull Me Over 11. Your Honour

People who bought this item also bought WALKYSONS, LOS, DEAD KENNEDYS, SCHEISSE MINNELLI/GENERAL FUCKING PRINCIPLE, APE, THE, ...

Format: CD

Disc Quantity: 1
Release date: 15-02-2019
Item # : 523293
Availability: IN STOCK

[login]