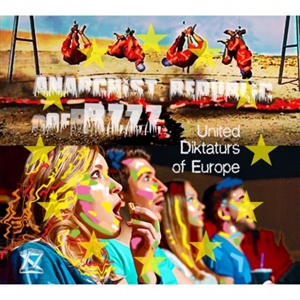 1 - ANARCHIST REPUBLIC OF BZZZ - UNITED DIKTATURS OF EUROPE - (LP)
IGUANE SERIEL

Founded in early 2000s, Bzzz brings together ArTO LINDsAy, MIKe LADD, MArC rIBOT, seNsATIONAL and its leader seB eL ZIN at the guitar and composition. Claiming the in uence of the kabbalist Abdul Vector Von hassid, this sonic nation distills on its rst record a raging mix of sharp noisy post-no-wave guitars and urgent rap. some electro colour also emanates from crazy architect seb el Zins mix. "United Diktaturs of Europe", Seb el Zins latest experiment has everything the informed music-lover needs to fuel his fantasies, be it only mention of these hallowed names in the line-up: Arto Lindsay, Archie Shepp, Mike Ladd, Luc Ex, Juice Aleem and ErikM, to name but a few. But these names merely represent the foundations for an even more demented music than that on A.R.of Bzzzs 1rst offering which, along with Lindsay and Ladd, featured Marc Ribot and Sensational.This time the barbed-wire guitars of the last record, interwoven by Lindsay and el Zin (who on this album also plays the ney) are borne on the back of Luc Exs visceral bass and the thwacking rhythms of two talented Turkish percussionists. On this blazing canvas, the rhapsodic flights of the kanun and the violin, the saxophonic slashings of Mr Shepp and the abrasive minerality of eRikm all jar superbly with the machine-gun vocals of Ladd and Aleem, both more seething than ever.The albums cover, designed by Kiki Picasso, acting in his role as propaganda minister, puts the seal on what is - have no doubt about it - a cult classic, just like its illustrious predecessor.

People who bought this item also bought NEW ORDER, THE, POWERMAN 5000, GIRLSCHOOL, EDGE, DAMON, ...

Format: LP

Disc Quantity: 1
Release date: 14-12-2018
Item # : 522480
Availability: IN STOCK

[login]