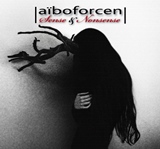 1 - AIBOFORCEN - SENSE & NONSENSE - (CD)
ALFA MATRIX

Its 7 years after the last "Dedale" album, that Belgiums cult dark electro act AIBOFORCEN now returns with their 6th full length album "Sense & Nonsense".Still mostly centered today around the intriguing personality of mastermind Benoit Blanchart and the enigmatic female singer Patrice Synthea (REGENERATOR lead singer), AIBOFORCEN once again could not resist collaborating with an impressive and more than promising list of special guests on this album!Starting straight into it with what could be AIBOFORCENs best song ever, the poignant and electric "We Woke Up The Dragon" features the extraordinary vocal talent of Jean-Luc De Meyer (FRONT 242, 32CRASH, UNDERVIEWER, etc.) who lends his unique voice on not less than 3 songs on this album, including a surprising upbeat EBM cover version of FRONT 242s "Loud" and the more atmospheric and darkish "The Arrival". Other noticeable appearance comes from Damasius of label mates MONDTRUME for a catchy melancholic future pop track. Besides 2 lingering noir pop songs beautifully fitting the highly expressive and emotional voice of Mari Kattman, AIBOFORCEN also take a harsher and more aggressive road through uncompromising powerful collaborations with MILDREDA, VENAL FLESH and KANT KINO. All in all, AIBOFORCEN remain faithful to their characteristic mixture of low-tempo complex dark eletro arrangements with straighter modern up-beat synth- / body-pop songs. A melange which appears to be more than efficient when we consider that the band manages here to follow a meticulous artistic conceptual red line around contradiction, sense and nonsense while aligning such diverse songs as the oppressive "We Woke Up The Dragons", the future pop club hit "Come Clean" featuring Patrice Synthea at her best and especially on the moody dark trip hop "Tears".

TRACKLISTING: 01. We Woke Up The Dragon (feat. Jean-luc De Meyer) 02. Come Clean 03. Tears (feat. Mari Kattman) 04. Hall Of Mirrors 05. Guilty Eyes (feat. Damasius/mondtrume) 06. Caresse 07. In My Arms (feat. Mari Kattman) 08. Loud (feat. Jean-luc De Meyer) 09. Shallow Then Halo (feat. Jan Dewulf/mildreda) 10. Etching Herself In Acid (feat. Lars Bass/kant Kino) 11. Ablation à Vif (feat. Dan Barrett/venal Flesh) 12. The Arrival (feat. Jean-luc De Meyer) 13. Nos Silences 14. Ritual Control 15. Life In The Valley Of Death

People who bought this item also bought SLAPSHOT, TECUMSEH, SAKAMOTO, KYU, SOULGRIP/VVOUNDS, ...

Format: CD

Disc Quantity: 1
Release date: 22-06-2018
Item # : 515240
Availability: IN STOCK

[login]