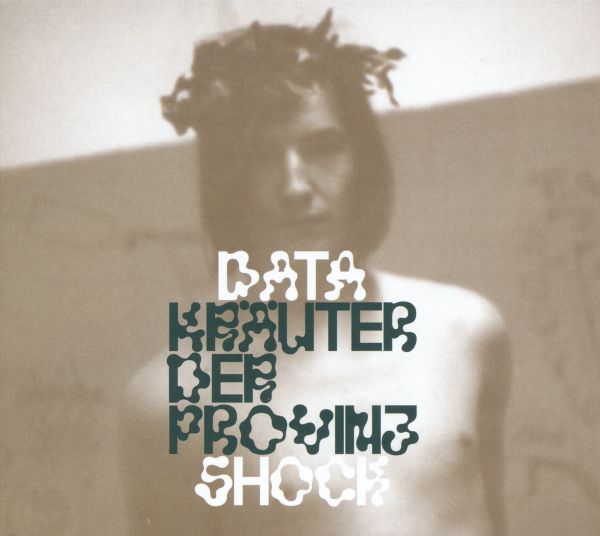 1 - DATASHOCK - KRAUTER DER PROVINZ - (CD)
BUREAU B

The musicians: artist collective with changing personnel, founded in Saarlouis in 2003The music: psychedelic (Krautrock) improvisationsHow does it sound? "Like a free-folk-informed update on Amon Duul" (The Wire) / "A splendidly righteous motherfucker" (Julian Cope on their album "Pyramiden in Giessen") / "Neo-Hippie-Spook-Folk" (in their own words)Crossed the desert? Check. Seen the pyramids? Check. Whats next? "Krauter der Provinz"... Herbs of the Province. Smoking dope with Edgar Reitz (the man who made Heimat)? A homage to regional cuisine or a celebration of backwoods origins? Absolutely not. But there's safety in ambiguity and a pun a day keeps the critics away. Still, how to get a handle on whats going on here? Can it even be explained?Datashock 2018: Eighty fingers playing, but what are they all up to? Are Datashock in command of their instruments or is it the other way around? What we do know - this is freely improvised music, complete with rattles, rumbles and whistles. Music as a social happening, both in terms of process and outcome, where individual and collective development can thrive - an ecstatic experience! Sheesh! No, really! This much you already knew? Well, no harm in saying it again, is there?!

TRACKLISTING: 01. Hullu Gullu, Wir Liefern Shizz 02. Wenn Alle Wollen, Will Uch Auch! 03. Im Zuchtstall Der Existenzhengste 04. Spirituelle Enthaltsamkeit Im Sandwichverfahren 05. Schoenster Gurkenschwan 06. Marodierende Sachbearbeiter Aus Teilzeit 07. Halb-halb, Wie Ein Guter Kloss

People who bought this item also bought SLAPSHOT, TECUMSEH, SAKAMOTO, KYU, SOULGRIP/VVOUNDS, ...

Format: CD

Disc Quantity: 1
Release date: 25-05-2018
Item # : 513625
Availability: IN STOCK

[login]