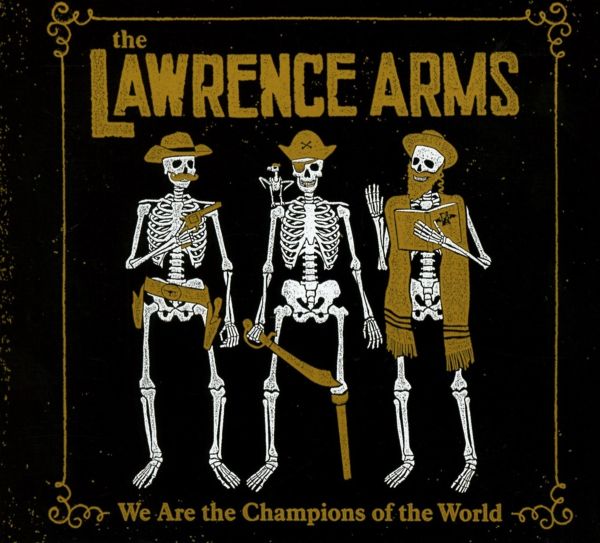 1 - LAWRENCE ARMS - WE ARE THE CHAMPIONS OF THE WORLD - (CD)
FAT WRECK CHORDS

Culled From the bands entire discography, which includes their releases on Asian Man Records, Epitaph Records, and FAT, We Are The Champions Of The World serves as both a retrospective and an introduction to the Chicago institution. The track list was handpicked by the bandbassist/vocalist Brendan Kelly, guitarist/vocalist Chris McCaughan, and drummer Neil Hennessyinorder to show how these three friends went from making gritty, lo-fi records to becoming some of the sharpest songwriters in all of punk. In addition to the monumental track list, all theliner notes were written by Kelly and McCaughan. They both reflect on how each song came to be, sharing anecdotes about what inspired them to put pen to paper, without explicitly detailing what the songs are about. The result is a fun glimpse into the bands creative process, that preserves the mythology built up by fans over the years. Finally, the track list boasts a little something new for even the most seasoned fans of THE LAWRENCE ARMS, with 5 previously unreleased and super rare songs. In all, We Are The Champions Of The World serves as theperfect collection for newcomers and longtime fanatics alike.

TRACKLISTING: 01. On With The Show 02. Great Lakes/great Escapes 03. Alert The Audience! 04. 100 Resolutions 05. The Devils Takin Names 06. Beautiful Things 07. Quincentuple Your Money 08. The Slowest Drink At The Saddest Bar On The Nowiest Day I/t Greatest City 09. Are You There Margaret? Its Me, God. 10. Right As Rain Part 2 11. Seventeener (17th And 37th) 12. Chapter 13: The Hero Appears 13. The Ramblin Boys Of Pleasure 14. Light Breathing (me And Martha Plimpton In A Fancy Elevator) 15. Like A Record Player 16. You Are Here 17. Boatless Booze Cruise Part 1 18. Brick Wall Views 19. Sixteen Hours 20. Turnstiles 21. An Evening Of Extraordinary Circumstance 22. The Northside, The L&l And Any Number Of Crappy Apartments 23. Porno & Snuff Films 24. Demons 25. The Rabbit And The Rooster * 26. Catalog * 27. Black Snow * 28. Laugh Out Loud * 29. Warped Summer Extravaganza (turbo Excellent) *

People who bought this item also bought BIRDS OF PASSAGE, NO USE FOR A NAME, DIVE, GAINSBOURG, SERGE -& JEAN-CLAUDE VANNIER-, ...

Format: CD

Disc Quantity: 1
Release date: 30-03-2018
Item # : 512712
Availability: IN STOCK

[login]