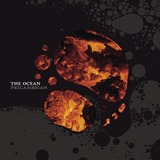 1 - OCEAN, THE - PRECAMBRIAN (10TH ANN. ED.) - (LP)
PELAGIC

Few albums still feel relevant, fresh and contemporary-sounding, 10 years after their original release. THE OCEANs Precambrian, originally released in November 2007, is one such case: the bands musically most mature and versatile album to that date, Precambrian is distinguished by complexyet intimate songwriting, huge orchestrations, subtle electronic textures and immense harmonic and dynamic density.With guests appearances by Caleb Scofield (CAVE IN, OLD MAN GLOOM), Nate Newton (CONVERGE), Tomas Hallbom (BREACH) Eric Kalsbeek (ex-TEXTURES) and musicians from the Berlin Philharmonic Orchestra, Precambrian remains a career-defining milestone for the band, and still a fans favourite. - possibly even more than just a random anniversary celebration? "There is a gap between Precambrian and Heliocentric, both conceptually and musically. and its atempting idea to fill that gap with a new album, that would connect the two", Robin Staps comments.The 10th anniversary edition of Precambrian comes with a bonus track: a brand new studio re-recording of 10-minutes opene r Rhyacian, featuring the current lineup with Loic Rossetti on vocals, Paul Seidel on drums and Mattias Haegerstrand on bass.

TRACKLISTING: 01. Hadean / The Long March Of The Yes-men 02. Eoarchaean / The Great Void 03. Paleoarchaean / Man And The Sea 04. Mesoarchaean / Legions Of Winged Octopi 05. Neoarchaean / To Burn The Duck Of Doubt DISC #2: 01. Siderian 02. Rhyacian / Untimely Meditations 03. Orosirian / For The Great Blue Cold Now Reigns 04. Statherian 05. Calymmian / Lake Disappointment DISC #3: 01. Ectasian / De Profundis 02. Stenian / Mount Sorrow 03. Tonian / Confessions Of A Dangerous Mind 04. Cryogenian 05. Rhyacian (2017 Studio Version)

People who bought this item also bought DAVIS, BETTY, AMENRA, ANGELIC UPSTARTS, CAPE, JOEY, ...

Format: LP

Disc Quantity: 3
Release date: 19-07-2019
Item # : 510403
Availability: IN STOCK

[login]