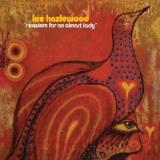 1 - HAZLEWOOD, LEE - REQUIEM FOR AN ALMOST LADY - (CD)
LIGHT I/T ATTIC

1971s Requiem for An Almost Lady is a personal statement and one of the heaviest break-up albums of all time. There are no lilting strings, sweeping choirs, or dancing trumpets. The arrangements are stripped down to the raw nerve; Lees emotions are the orchestra here. The listener eavesdrops on a sonic journal of heartbreak. After losing his lady, his record label, and his country, Lee etches his woes to wax."He was a storyteller, thats his music... the storytelling. Thats the thing I fell in love with him for. This final story that we see, the Requiem story, is kind of looking back at a career, I think. Not just a relationship-its his story. I think its authentic and the most revealing, really, because other things are cloaked, cloaked in romanticism, in a way. When you think of Sand and Jose, My Autumns Done Come and Some Velvet Morning... those are stories, theyre stories you make up... theyre fiction. This is a little closer to home, I think." -Suzi Jane Hokom.

TRACKLISTING: 01. I'm Glad I Never... 02. If It's Monday Morning 03. L.a. Lady 04. Won't You Tell Your Dreams 05. I'll Live Yesterdays 06. Little Miss Sunshine (little Miss Rain) 07. Stoned Lost Child 08. Come On Home To Me 09. Must Have Been Something I Loved 10. I'd Rather Be Your Enemy 11. I Just Learned To Run 12. Little Bird (demo)

People who bought this item also bought NO USE FOR A NAME, PYROLATOR, BRASSERS, DE, INKUBUS SUKKUBUS, ...

Format: CD

Disc Quantity: 1
Release date: 10-11-2017
Item # : 508178
Availability: IN STOCK

[login]