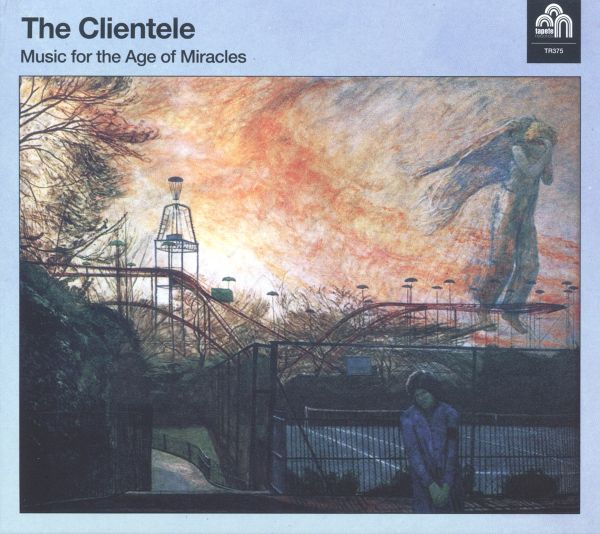 1 - CLIENTELE, THE - MUSIC FOR THE AGE OF MIRACLES - (CD)
TAPETE

After The Clientele released Minotaur, Alasdair MacLean, singer and principal songwriter for the band, made two wonderful albums with Lupe Nunez-Fernandez as Amor de Dias, issued a Clientele best-of called Alone and Unreal, oversaw reissues of Suburban Light and Strange Geometry, and played shows solo or as part of Amor de Dias or The Clientele. He and Lupe have also been raising a family, so the prospect of a new Clientele record seemed to be diminishing.It seems fitting, then, that a chance meeting with a ghost from the past/future is what led to Music for the Age of Miracles, the first album of new Clientele songs in seven years. Theres something rapturous about the ways in which tracks on side one such as "Falling Asleep" (featuring the Santoor) and the exquisite "Everything You See Tonight Is Different From Itself" stretch out in choral harmony and rhythmic syncopation. Leon Beckenhams trumpet solo on the latter is a highlight of the record, as is the way the words "ballerina, breathe" reappear at the three-minute mark. Similarly, Keens beautifully evocative interludes "Lyra in April," "Lyra in October," and "North Circular Days," the last of these featuring a recording of the wind captured outside the late filmmaker Derek Jarmans house in Dungeness on the Kent coast, mean this album sounds subtly but significantly different from previous ones. Birth, rebirth, the ghost in the trees, something on the edge of sight, the faces we love, childhood, parenthood, the dance of our days; music for the age of miracles, indeed.

TRACKLISTING: 01. The Neighbour 02. Lyra In April 03. Lunar Days 04. Falling Asleep 05. Everything You See Tonight Is Different From Itself 06. Lyra In October 07. Everyone You Meet 08. The Circus 09. Constellations Echo Lanes 10. The Museum Of Fog 11. North Circular Days 12. The Age Of Miracles

People who bought this item also bought RUMJACKS, THE, NICELY, NICK, SCANNER, VARIOUS, ...

Format: CD

Disc Quantity: 1
Release date: 22-09-2017
Item # : 505010
Availability: IN STOCK

[login]