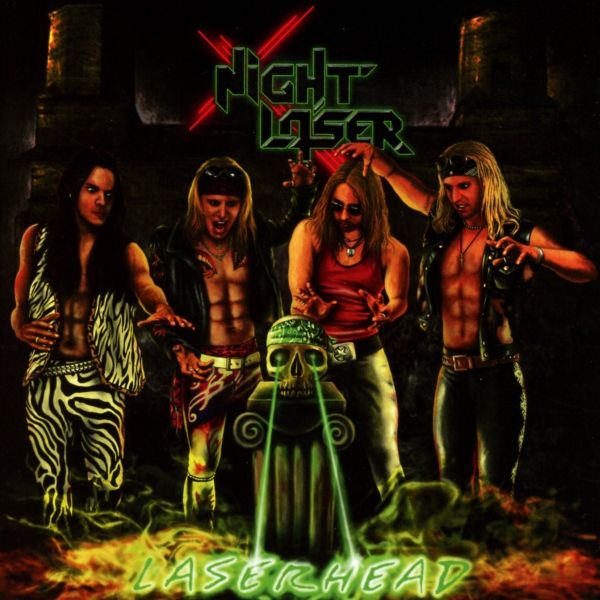 1 - NIGHT LASER - LASERHEAD - (CD)
OUT OF LINE

Here comes the new Glam-explosion! On "Laserhead", Night Laser revive the spirit of a golden Metal-era in such a refreshing manner, that the listener is catapulted straight back to the Eighties.Hard guitar riffs, wild outfits, glam and a red-hot stage show. Few contemporary bands capture the essence of Eighties Metal as convincingly as the young and wild Hamburg-based lads Night Laser. Here, rock'n'roll is synonymous with pure lust for life and anthemic choruses meet precision high-speed-guitar-licks, hair spray and spandex. But Night Laser are not prone to parody: they have imbibed the spirit with flesh and bone and for them, this lifestyle means serious business. From the essence of Hair-Metal-icons like Motley Crue, Cinderella, Ratt or Poison and the drive of Power-Metal-acts such as Helloween, Night Laser have distilled a fresh and energetic sound that is both familiar and new. It is therefore little wonder that Metal-legend Kai Hansen (ex-Helloween, Gamma Ray) volunteered to spice up the title song "Laserhead" with his trademark vocals and that none other than Jens Reinhold (of Running Wild, Freedom Call or Sodom-fame) hand painted the stylistically perfect cover artwork. And what other band would dare to write a loving homage to the Opel Manta, Germany's number-one redneck vehicle of the Eighties and actually manage to pull this feat off without looking silly. Let's say it like this: it was about time for a new band to put the glam and the fun back in Metal... and Night Laser are doing just that!

TRACKLISTING: 01. Laserhead 02. Manta 03. Fighting The Blues 04. Make Me Cry 05. Keep This Love Alive 06. Bread And Circus 07. Neon Lightning 08. La One Day 09. Magnetism Of Flesh 10. Thin Ice 11. Chaos Crew 12. The Same Heartbeat

People who bought this item also bought PALMER, TRISTON, VARIOUS, CHROME, KIMBALL, BOBBY, ...

Format: CD

Disc Quantity: 1
Release date: 24-03-2017
Item # : 501640
Availability: IN STOCK

[login]