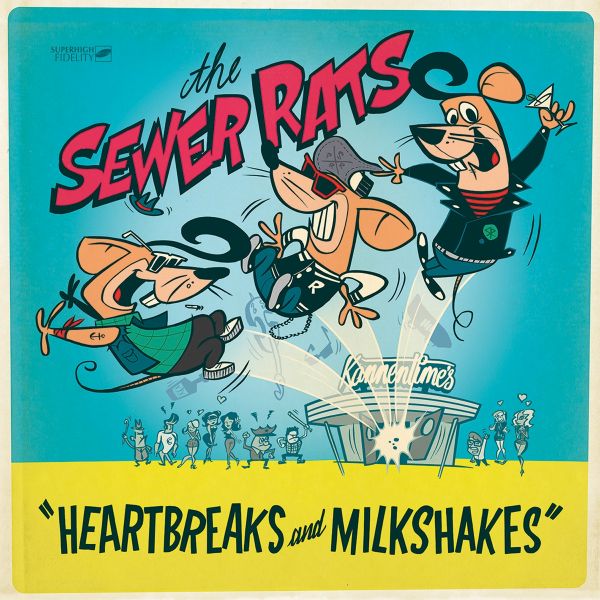 1 - SEWER RATS - HEARTBREAKS AND MILKSHAKES - (CD)
ROOKIE

,Back with a bang! After playing more than 400 shows worldwide, touring Europe, China, Japan & the U.S. numerous times during the last 3 years, German greaser-punks The SEWER RATS are back in the game and dropping a brand-new record. Their new album ,Heartbreaks & Milkshakes" takes the band to the next level and sounds like a sugar-high vision of 90s old-school pop-punk with witty tongue-in-cheek humor and a greasy yet stylish 50s vibe. Delivering 12 catchy and well-crafted pop-punk sing-a-longs about heartbreak, black-metal chicks and moving back in with your parents (again), The SEWER RATS are ready to hit the road worldwide in order to promote their new release which will be out on Rookie Records (Europe), Rude Runner (Japan) and t.b.a. (USA & Canada) in spring 2017. They must have been listening to a whole lot of METHADONES, LILLINGTONS and QUEERS while driving down those west-coast highways during the last couple of years. Thus it comes as no big surprise that all those tours in the warm California pop-punk-sun made their way into the sound of the bands new material.In contrast to their last album ,Wild at Heart", which included mostly upright bass and a far more billy-oriented sound, the band uses Rickenbacker electric bass and guitar on their third studio album ,Heartbreaks & Milkshakes", making it way punker and in-your-face. Even though in terms of style the band still sticks to their guns guns of slicked-back-Ness a la Mike-1994 and vegan leatherjackets, their old-school Vans are now both feet on skate decks. The 12 album tracks mostly clock-in way under 3 minutes, bursting with juvenile energy and catchy-ness. All in all the new record sounds very 90s and a lot like summer and kinda makes you wanna call up your friends to go skate and eat burritos, drink Tecate and maybe get tattooed afterwards.The vinyl version includes the bands take on RANCIDs ,Journey to the End of the East Bay" which they contributed to the RANCID tribute sampler put out by SMELLVIS/ HELLCAT Records.,PCH 101" is the first single of the new record and a fast-paced uptempo skate punk anthem, a tribute to the bands friends and memories they made on the road in the U.S. during their last west-coast tours.

TRACKLISTING: 01. Pch 101 02. Danny Has A Date 03. I Don't Like You (when Your Girl's Around) 04. (i Would) Run To The Hills (for You) 05. Heartbreaks & Milkshakes 06. Baseballs 07. El Garage 08. Rocket To Usher 09. Waiting For A Letter 10. Utopia 11. I'm Moving In With My Parents (again) 12. Too Punk For You

People who bought this item also bought HAWKINS, SCREAMIN' JAY, ...

Format: CD

Disc Quantity: 1
Release date: 31-03-2017
Item # : 500452
Availability: IN STOCK

[login]