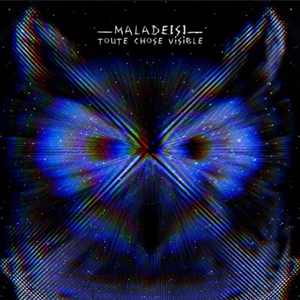 1 - MALADE(S) - TOUTE CHOSE VISIBLE - (CD)
SALAMAH

Having come to Rennes for their studies ten years ago, Louise Goupil and Tanguy Moaligou become friends and become roommates, an opportunity to share their influences at the age when musical cultures are forged, affirmed, recalled (sometimes), crystallized, felt too (too often). Enough common grounds and contrasting courses, this probably helps to explain how the two members of the duo Malade [s] are located at the ideal distance from one another.A self-taught guitarist who has been bored with Mogwai or Slint post-rock or progressive rock, Tanguy Moaligou is a member of the Cerf Boiteux group, which is part of this line. He is an electronic enthusiast who goes so far as to make his pedals deffet himself. Louise Goupil comes from a classical academic career (piano then clarinet) which she drifted to rub the trad (Breton and Klezmer and Balkanic) music and the song alongside Camille Hardouin. It is also self-taught which is formed at tenor sax but also with the MAO and sampling. Let us note that she is also a researcher, interested since her thesis in the free improvisation (ie without harmonic or rhythmic frame), and more generally in the way one communicates with the sounds.If Godspeed you! Black Emperor, The Ex, A Silver Mount Zion or James Holden and Modeselektor are the common cultural ground of the duo, it is yet Mad Hatter that could get closer to the music of Malade [s], mainly by his attraction for the complex and meaningful logics hiding behind the reality, the facade. The introductory title which gives its name to this first album expresses it well: Anything Visible and this sample drawn from an interview of Ren Magritte whose shadow also hovers on the visual of the disc.An electro intelligent and yet visceral, deep but immediate, unconsciously erudite and frighteningly accessible for the rest: Patient [s] signs with Tout Visible a first album that does not lack cachet.

TRACKLISTING: 01. Toute Chose Visible 02. Endless Nights 03. Sur Ce Chemin Noir 04. Hibou 05. Struggle 06. Bang !



Format: CD

Disc Quantity: 1
Release date: 07-06-2019
Item # : 533955
Availability: IN STOCK

[login]