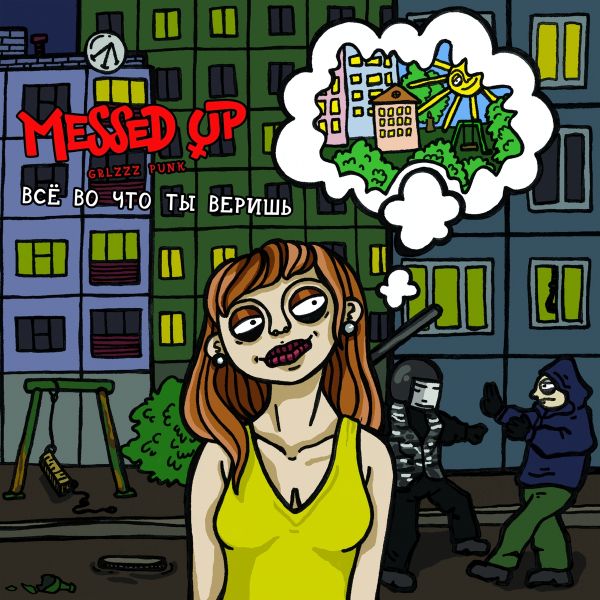 1 - MESSED UP - EVERYTHING YOU BELIEVE IN - (CD)
AUDIOLITH

MESSED UP are four grrrls from the city of Grodno near the Polish and Lithuanian borders. The quartet was founded in 2015 with the will to escape the lethargy of their post-Soviet homeland and to face the social expectations and constraints of their own environment with self-empowerment and creativity. In the small Belarusian subculture, which is often affected by repression and incomprehension, at least a temporary escape from everyday society is possible; touring through other cities and neighbouring countries expands ones own horizon better than Instagram and Vk.com. The band is quickly at home in a D.I.Y. scene in which bands, promoters and clubs know each other well and often have to act on the edge of illegality. Contacts to like-minded musicians with emancipatory agendas such as MISTER X lead through WHAT WE FEEL to FEINE SAHNE FISCHFILET, who always work closely with the local bands of the anti-fascist scene at their former USSR concerts and support them vice versa in Germany.

TRACKLISTING: 01. Around Me02:26 02. Everything You Believe In03:09 03. Someones Tears And Pain03:04 04. Have No Heart03:11 05. Leave Me Alone03:46 06. I Won't03:30 07. Empty Inside02:30 08. This Is My World02:39 09. Blind Faith02:45 10. Who Gave You The Right To02:46 11. I Wanna Be Your Dog03:10



Format: CD

Disc Quantity: 1
Release date: 01-11-2019
Item # : 537156
Availability: IN STOCK

[login]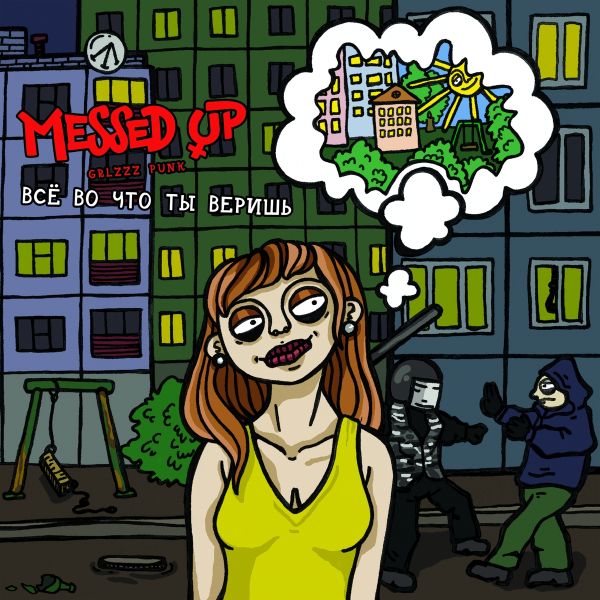 2 - MESSED UP - EVERYTHING YOU BELIEVE IN - (LP)
AUDIOLITH

MESSED UP are four grrrls from the city of Grodno near the Polish and Lithuanian borders. The quartet was founded in 2015 with the will to escape the lethargy of their post-Soviet homeland and to face the social expectations and constraints of their own environment with self-empowerment and creativity. In the small Belarusian subculture, which is often affected by repression and incomprehension, at least a temporary escape from everyday society is possible; touring through other cities and neighbouring countries expands ones own horizon better than Instagram and Vk.com. The band is quickly at home in a D.I.Y. scene in which bands, promoters and clubs know each other well and often have to act on the edge of illegality. Contacts to like-minded musicians with emancipatory agendas such as MISTER X lead through WHAT WE FEEL to FEINE SAHNE FISCHFILET, who always work closely with the local bands of the anti-fascist scene at their former USSR concerts and support them vice versa in Germany.

TRACKLISTING: 01. Messed Up Are Four Grrrls From The City Of Grodno Near The Polish And Lithuanian 02. Borders. The Quartet Was Founded In 2015 With The Will To Escape The Lethargy Of 03. Their Post-soviet Homeland And To Face The Social Expectations And Constraints 04. Of Their Own Environment With Self-empowerment And Creativity. In The Small 05. Belarusian Subculture, Which Is Often Affected By Repression And 06. Incomprehension, At Least A Temporary Escape From Everyday Society Is Possible; 07. Touring Through Other Cities And Neighbouring Countries Expands Ones Own Horizon 08. Better Than Instagram And Vk.com. The Band Is Quickly At Home In A D.i.y. Scene 09. In Which Bands, Promoters And Clubs Know Each Other Well And Often Have To Act 10. On The Edge Of Illegality. Contacts To Like-minded Musicians With Emancipatory 11. Agendas Such As Mister X Lead Through What We Feel To Feine Sahne Fischfilet, 12. Who Always Work Closely With The Local Bands Of The Anti-fascist Scene At Their 13. Former Ussr Concerts And Support Them Vice Versa In Germany.



Format: LP

Disc Quantity: 1
Release date: 01-11-2019
Item # : 537157
Availability: IN STOCK

[login]