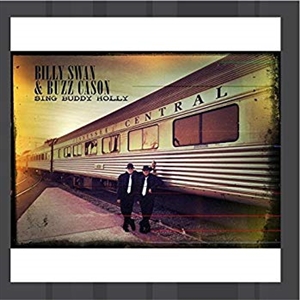 1 - SWAN, BILLY -AND BUZZ CASON- - BILLY AND BUZZ SING BUDDY - (CD)
ARENA RECORDINGS

"Billy Swan teamed up with fellow songsmith Buzz Cason for their first collaborative album, Billy & Buzz Sing Buddy, a tribute to the music of the late, great Buddy Holly, who was a major influence on both Swan and Cason. The album was recorded at the legendary Creative Workshop studio in Nashville and features unique renditions of some of Holly's most memorable songs along with a heartfelt original called ""Thank You Buddy"". Both Swan and Cason have substantially contributed to American music's DNA, producing unforgettable records and writing legendary songs like ""Everlasting Love"" (Carl Carlton, U2) ""Soldier OfLove"" (The Beatles, Pearl Jam) and ""I Can Help"" (Elvis Presley) and ""Lover Please"" (Clyde McPhatter)."

TRACKLISTING: 01. Spoken Introduction 02. Cashmans Polka/ Lehanes Polka/ Walshs Polka 03. Spoken Introduction To "tuttles Reel" Set 04. Tuttles Reel/the Bunch Of Green Rushes/the Maids Of Mitchelstown 05. Spoken Intro To "lucys Fling" Set 06. Lucys Fling/sioma Ruc A Chunnaic Mi/some Say The Devil Is Dead 07. Spoken Intro To Ocarolan Set 08. Ocarolans Concerto/loftus Jones 09. Spoken Intro To "across The Black River" Set 10. Across The Black River/paidn Orafferty 11. Spoken Intro To "paris Nights" 12. Paris Nights 13. The Sailor On The Rock/michael Kennedys Reel/the Hop Down Reel 14. Spoken Intro To "seanamhac Tube Station" 15. Seanamhac Tube Station 16. Spoken Intro To "galway Bay/drunken Sailor" 17. Galway Bay/the Drunken Sailor 18. Spoken Intro To "glen Cottage Polka" Set 19. The Glen Cottage Polka/the Tolka Polka 20. The Pigeon On The Gate/laffertys Reel/the Morning Dew | 21. Spoken Memories Of Johnny Cunningham 22. The Dion Reel/the Mouth Of The Tobique

People who bought this item also bought SUN RA AND HIS MYTH SCIENCE SOLAR ARKESTRA, THIS HEAT, TRIBAL SEEDS, SUGAR MINOTT, ...

Format: CD

Disc Quantity: 1
Release date: 25-08-2018
Item # : 517416
Availability: IN STOCK

[login]