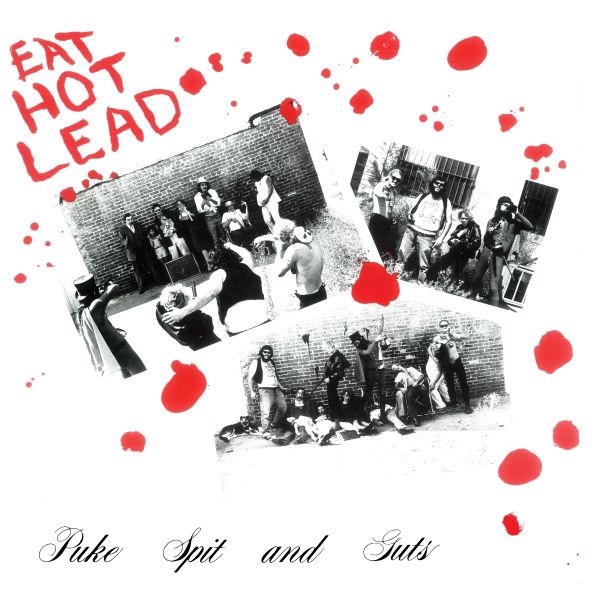 1 - PUKE SPIT & GUTS - EAT HOT LEAD - (LP)
BLACK GLADIATOR

At long last, Black Gladiator and Slovenly boldly present the first ever reissue of the infamous "Eat Hot Lead" LP from San Fernando Valleys PUKE SPIT & GUTS! Fully authorized by the bands surviving members, this project was ten years in the making, and originally slated for re-release by Alternative Tentacles. Heres Jello Biafra, as quoted from Re/Searchs "Incredibly Strange Music vol. II" tome: "Most extreme of all in music and attitude was PUKE SPIT & GUTS from Southern California - their album was subtly titled Eat Hot Lead. Theyre none to subtle about how much they hate having to play with punk bands, even though they sound like them. In L.A. they even had a run-in with an original D.C. hardcore band, The Teen Idles (Ian MacKaye pre-Minor Threat; Henry Rollins was their roadie). Seems Ian borrowed their bass amp and blew it up. P.S.& G. chased them all over the parking lot outside Madame Wongs (a punk club)!" A crew of spirited So. Cal. weirdos, as opposed to mere punks, Puke Spit & Guts released the LP on their own Important Records label in 1980. Members Donny Death, Captain Worm, Dick Head (real name!), Marie Manslaughter and Stuicide assembled this absurdist and raunchy LP with the unholy shrieks of human victims being fed into a countertop blender between each track. On the opening cut - the PS&G theme - Death declares most bizarrely and brazenly "Sex Pistols couldnt hold their liquor, Ramones wear tennis shoes! Alice Cooper is a party pooper, were the punk band for youuuu!" On "Kill for Kicks" he proclaims "Im so tired, Im so bored, I dont wanna live no more! Life is a fucker and Im a whore!" And it only gets weirder from there. Marie Manslaughter lets you know if you wanna get some of her fine lovin you gotta self-mutilate on "Send Me Your Ear," and even then, anal sex is outta the question on "You Aint Never." Were not even gonna attempt to tell you What Captain Worm is yelling about on the title track. This one-in-a-million scumbag rarity makes a killer companion to your Mentors, Jabbers, Broken Talent, and Were Loud records. Check the full story / interview by Laurent Bigot in the upcoming issue of Ugly Things Magazine (#45). A limited pressing of 100 copies (mail-order only) on blood splattered clear vinyl includes an autographed 8x10 photo of Marie Manslaughter, and as a Bandcamp download exclusive, there are 24 rare photos + 10 bonus tracks: live material from 1979, outtakes from the ERRATIC session (Capt. Worms post-PS&G project), one track from Worms last ever recording session (1984), a KROQ album giveaway aircheck, and a 2001 recording by DONNY DEATH JR. and the PUTZ.

TRACKLISTING: 01. Puke Spit + Guts Theme 02. Eat Hot Lead 03. Send Me Your Ear 04. Kill For Kicks 05. Scratch + Sniff 06. I Already Got A Fool 07. Kick + Kick + Kick + Kick 08. You Aint Never 09. Sidewalk Hog 10. Who Needs A Queer Cut 11. I Aint Scared 12. Spider Pasture 13. Comin On Strong 14. Keep Slashing Your Wrists (till They See It Our Way) 15. But I Love Her

People who bought this item also bought SUBSONICS, SPITS, NIGHT, CLOWNS, ...

Format: LP

Disc Quantity: 1
Release date: 02-07-2017
Item # : 504107
Availability: IN STOCK

[login]