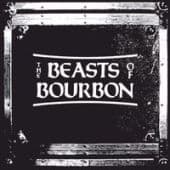 1 - BEASTS OF BOURBON - BOX SET - (LP)
BANG!

3 legendary records, finally re-issued on vinyl, in deluxe Box Set edition, which includes: "AXEMANS JAZZ", "SOUR MASH" and "BLACK MILK" - The 3 LPs with their artworks. (Note: 4 tracks previously unreleased on LP. See tracklist for details "*").- Inner booklet: *texts of all band members in that line up. *previously unseen pictures. *lyrics of all songs. - Poster. These 3 albums are the result of the 1st period of mighty Australian band, The Beasts Of Bourbon, in period 1983-1990. During those years the line up of the band was: - Tex Perkins: vocals (Cruel Sea, Butcher Shop, etc) - Kim Salmon: guitar (Scientists, Kim Salmon & The Surrealists, SALMON etc) - Spencer P. Jones. guitar (The Johnnys, The Slappers etc) - Boris Sujdovic: bass (Scientists, Dubrovniks, etc) - James Baker: drums (Scientists, Hoodoo Gurus, Dubrovniks, James Baker Experience, etc) For the 1st time since they were originally released, these 3 classic albums are reissued and now compilated in a box set. This is a Limited edition of 1000 copies and remastered.LP 1 ("AXEMANS JAZZ" LP, 1984), LP 2 ("SOUR MASH" LP, 1988), LP 3 ("BLACK MILK" LP, 1990).

TRACKLISTING: 01. Evil Ruby 02. Love & Death 03. Graveyard Train 04. Psycho 05. Drop Out 06. Save Me A Place 07. Lonesome Bones 08. The Day Marty Robbins Died 09. Ten Wheels For Jesus DISC #2: 01. Hard Work Drivin Man 02. Hard For You 03. Watch Your Step 04. Playground 05. Door To Your Soul 06. These Are The Good Old Days 07. The Hate Inside 08. The Big Sleep (* Previously Unreleased On Lp) 09. Pig 10. Driver Man 11. Elvis Impersonator Blues (* Previously Unreleased On Lp) 12. Today I Started Loving You Again 13. Flathead (the Fugitive) 14. This Ol Shit 15. Sun Gods DISC #3: 01. Black Milk 02. Finger Lickin 03. Cool Fire 04. Bad Revisited 05. Hope You Find Your Way To Heaven 06. Words From A Woman To Her Man 07. Im So Happy I Could Cry 08. You Let Me Down (* Previously Unreleased On Lp) 09. Lets Get Funky 10. A Fate Much Worse Than Life 11. El Beasto 12. Blue Stranger 13. Ive Let You Down Again 14. Blanc Garcon (* Previously Unreleased On Lp) 15. Execution Day 16. Rest In Peace

People who bought this item also bought NOFX, FUNKEES, VINCENT, SONNY -& SPITE-, WIEGEDOOD, ...

Format: LP

Disc Quantity: 3
Release date: 02-11-2009
Item # : 403673
Availability: IN STOCK

[login]