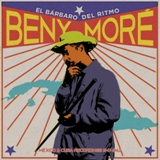 2 - MORE, BENY - EL BARBARO DEL RITMO - (LP)
GROSSO!

Mexico & Cuba Recordings 1947-1962! Some tracks have been remastered and restored and some are presented on vinyl after many years. Nice graphic design. 350g cardboard, reverse side print. Format and selection designed for DJs, collectors and general public.Its safe to say that Beny (or Benny as it is often spelled) Mor is still (and will probably always be) Cubas favorite and most iconic vocalist whose influence was central to what we call salsa, a legacy still felt today. "El Benny" was born Bartolom Maximiliano Mor Gutirrez, on August 24, 1919 in the rural hamlet of Santa Isabel de Las Lajas in the former province of Las Villas near Cienfuegos, and died in Havana on February 19, 1963. Beny occupies a unique position not only in the history of Cubas music but also in the socio-political and cultural life of the island because despite major differences between detractors and believers in Castros revolution, they can all agree he was the greatest sonero (improvising vocalist) of all, the original "El Sonero Mayor". Mors appeal was and remains international, making him a trans-national ambassador of Caribbean Latin culture.Aside from the unique quality of expression, fluid execution and natural, warm timbre of his voice, there is something intangible and magical in Benys sound that defies explanation and has its roots in Mother Africa. He was equally adept at most Cuban popular song genres, such as the mambo, bolero, son montuno, cha-cha-cha, and guaracha, all of which are represented here in this special collection. Many of his signature catchphrases, such as "Azcar!" and "Ecua j!" for instance, were later adopted by other singers.In this special compilation you can hear historical recordings made during his years lived in Mexico with the orchestras of Rafael de Paz, Ernesto Duarte, Mariano MercerOn and Damaso Perez Prado until the impressive performances with his Giant Band in Cuba. Enjoy!Pablo "Bongohead" Yglesias

TRACKLISTING: 01. Que Bueno Baila Usted (son Montuno) 1957 02. Santa Isabel De Las Lajas (son) 1955 03. Soy Campesino(son Montuno) 1959 04. Puntillita (son Montuno) 1947 05. Asi Es La Humanidad (guaracha) 1960 06. Francisco Guayabal (son Montuno) 1957 07. Como Fue (bolero) 1952 08. Mi Saoco (son Montuno) 1955 09. Adios Palma Soriano (mambo) 1952 10. Las Mulatas Del Cha-cha-cha (cha-cha-cha) 1955 11. Rumberos De Ayer (rhumba) 1954 12. Se Te Cayo El Tabaco (guaracha) 1959 13. Pachito Eche (mambo) 1949 14. Devuelveme El Coco (guaracha-swing) 1953 DISC #2: 01. Baila Mi Son (son Montuno) 1954 02. Elige Tu Que Canto Yo (guaracha) 1957 03. Oh, Vida! (bolero) 1955 04. De La Rumba Al Chachacha (rhumba- Cha) 1955 05. Mangolele (mambo) 194 06. Bonito Y Sabroso (mambo) 1950 07. La Culebra (mambo-afro) 1951 08. Maracaibo Oriental (son Montuno) 1958 09. El Canonero (montuno-cha) 1962 10. Soy Del Monte (son Montuno) 1954 11. Mata Siguaraya (afro) 1951 12. Encantado De La Vida (son Montuno) 1951 13. Me Gusta Mas El Son (son Montuno) 1960 14. Marianao (mambo-cha) 1956

People who bought this item also bought SWINGIN' UTTERS, NO USE FOR A NAME, DEMENTED ARE GO, SEATSNIFFERS, ...

Format: LP

Disc Quantity: 2
Release date: 22-04-2017
Item # : 500330
Availability: IN STOCK

[login]