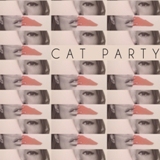 1 - CAT PARTY - CAT PARTY - (LP)
HOSTAGE

Rest in post.... Dearly beloved, what we have gathered here today on vinyl is a collection of cat party's obscure 45's, 2 brand new tracks recorded in november 2016 and 2 lost and previously unreleased tracks from the bands archived vaults. 11 songs total, all remastered by jack control at enormous door for that classic full sound. Cat party set the oc scene on fire as the true pioneers of an original post-punk sound culled from the ashes of the classic sounds of rik l. Rik. Joy division and pil. This vinyl documentation contains one of cat party's earliest demos from 2007 and continues through the band's legacy until it's final 2016 recording. A true jewel to add to any punk and post-punk collection, this band's body of work speaks for itself. Soaring guitars, stout drums and brooding melodies are the bands signature sound, they are all captured here on 12 inches of black wax. A one time limited pressing of 440 copies for rsd 2017. For fans of hostage records, post-punk, rik l. Rik., jesus and mary chain, pil, joy division, killing joke

TRACKLISTING: 01. Nostalgia 02. Acrylic Lines 03. A Thousand Shades Of Grey 04. Loves Benign 05. Reflection Or Illusion 06. Heartache Over Headache 07. Unconscious Living 08. Estrogen Milk And H0ney 09. Patchouli Death 10. Jigsaw Thoughts 11. Rhapsody In Black

People who bought this item also bought SAKAMOTO, RYUICHI, GUN CLUB, THE, CHROME, ANDRIESSEN, JURRIAAN, ...

Format: LP

Disc Quantity: 1
Release date: 22-04-2017
Item # : 501264
Availability: IN STOCK

[login]