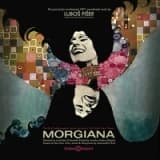 1 - FISER, LUBOS - MORGIANA (10") - (EP)
FINDERS KEEPERS

Regarded as the final ever film of the Czech New Wave, Juraj Herz's Morgiana (alongside Valerie And Her Week Of Wonders) was made after the Prague Spring during Czech cinemas most scrutinised censorship era, deep in the throws of communism. Spearheading a micro-cosmic sub-genre of horror fantasy or scary/fairytales alongside Karel Kachyna's Mala Morska Vla (The Little Mermaid), these directors built a handful of subversive, flamboyant and experimental new films based around classical communist approved surrealist literature; sidestepping creative compromise and uniting some of the leading lights of the FAMU founded film movement for the last time. Both musical scores courtesy of Lubos Fiser unite Valerie and Morgiana; sharing doppelgnger production and compositional ideas presented by Finders Keepers Records for the first time ever outside of the original context of the film.

TRACKLISTING: 01. Dust To Dust 02. Matching Mirrors/morgiana's Prowl 03. Swan Steps 04. Klara & Viktorie 05. Prospective Suitor Marek 06. Red Ghost 07. Quinine 08. I Don't Want Any Flowers 09. Viktorie's Darkest Moment 10. Message From Marek 11. Klara's Thirst 12. Lost In The Tavern 13. The Cards 14. Blood Red Roses 15. Crimson Elixir 16. Alzbeta Behind The Curtain 17. Kucera Steps 18. Dust Settles 19. Morgiana (opening Titles

People who bought this item also bought MINUTEMEN, COLOUR HAZE, HAVE HEART, RODRIGUEZ, ...

Format: EP

Disc Quantity: 1
Release date: 01-10-2013
Item # : 450189
Availability: 2/3 WEEKS, NOT IN STOCK

[login]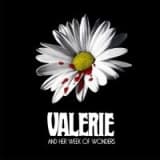 2 - FISER, LUBOS - VALERIE AND HER WEEK OF WONDERS - (CD)
FINDERS KEEPERS

Album release of this delicately haunting and sacred score to Jaromil Jires' essential Eastern European hallucinogenic-baroque-witch-flick 'Valerie And Her Week Of Wonders'.It has taken Andy Votel almost 12 years to finally get his grubby vinyl-magnetic mits on the original studio recordings of this previously unreleased score. A futile decade of Eastern European phone calls, continental crate digging and eventually wicked web scouring confirmed that like most Czechoslovakian film scores 'Valerie And Her Week Of Wonders' never benefited from a commercial vinyl release and was condemned to a life imprisoned in the vaults of the original film production company sheltered from political duress and controversy for ever more... until now.Lubos Fiser provides what is perhaps the greatest musical score of all the maligned Czech New Wave feature-films with a gossamer-fragile blend of pastoral-orchestral folk songs and clockwork harpsichords. From the very first delicate chord to the final crescendo this joyous sound is as addictive as the bizarre imagery seen in this seldom celebrated cinematic gem

TRACKLISTING: 01. The Magic Yard 02. Talk With Grandmother 03. The Letter 04. The Sermon 05. Losing The Way 06. The Visit 07. The Work Of Death 08. Dinner 09. Dense Smoke 10. The Contract / The Wedding 11. The Punishment 12. Disquiet 13. Awakening 14. Brother And Sister 15. Sacrifice 16. The Letter 2 / Friends 17. In Flames 18. Puppets 19. Homeless 20. Questions And Answers 21. Confession 22. Forgiveness 23. And The Last



Format: CD

Disc Quantity: 1
Release date: 01-02-2010
Item # : 405678
Availability: 2/3 WEEKS, NOT IN STOCK

[login]