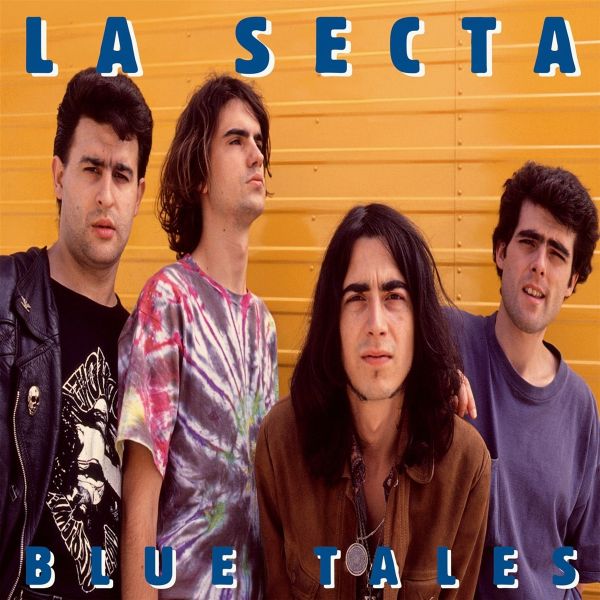 1 - SECTA, LA - BLUE TALES - (LP)
MUNSTER

Its almost 30 years since La Sectas "Blue Tales" was recorded and released. It was an effervescent time with a very active and top quality Basque music scene which included bands such as Los Bichos, Cancer Moon, La Perrera and La Secta. They were spearheads both in their respective cities and areas of influence as in the rest of Spain, La Secta especially lauded by the alternative press circuit (fanzines) outside the Iberian Peninsula (United States, France, Germany, UK, Australia, Switzerland...), creating a very favourable impact. "Blue Tales" marked a before and after in Spains music scene with very good reviews in the specialized press...In this album you can hear very clearly the bands influences but all sifted and recreated under a unique style: Scientists, Stooges, Music Machine, Suicide, Seeds, 13th Floor Elevators, Bolan, Kraut Rock, Pre-grunge, noise, chaos, acid folk, bad vibes, broken hearts, ecstasy, hallucinogens, innocence and risk... a dangerous cocktail. Sonic Boom captained this boat through seas of daring experimentation, which is why the end result is a timeless record that still sounds powerful and fresh today.The album is now presented with a new face, new cover, images and poster that reflect the spirit of its content and the creators of this soundtrack, with a renewed sound thanks to the the great mastering of Sergio Delgado, where details of Patxis guitar, hidden in the original production of 1990, are now shown. Plus the addition of bonus tracks.Liner notes about the album are also included with contributions by the great Kim Salmon of Scientists, Surrealists and Beasts of Bourbon, with a long connection to the band and good knowledge of their adventures ("Throw in some classic riffage, add great tunes, and heres proof that grunge didnt just come from Seattle!"); Fernando Gegndez, an experienced music journalist from Bilbao and aware of the evolution of La Secta since its inception (""Blue Tales" can definitely be valued and understood better now, because some of those songs that at the time someone judged as impersonal dispel all doubts and spit all their cyanide in their current live setting, which you should not miss"); and Lindsay Hutton, founder in the mid-1980s of the long-running fanzine The Next Big Thing, creator of the Cramps fan club from 1980 to 1983 (initially with Morrissey), and contributor to music magazines such as Sounds and Mojo ("Produced by Pete "Sonic Boom" Kember, there are traces of Spacemen 3 here along with a Stooge-like intensity that was far from common when these "tales" were first told. This is an altogether different world from the days when this was recorded").

TRACKLISTING: 01. Blue Tale 02. Dont Look Back 03. Youth 04. The Beast 05. Pseudo 06. I Hate That Trip 07. I Just Want To Be Myself 08. Sick 09. 20th Century Boy 10. Ghost Rider 11. Youth (alternative Mix) 12. I Hate That Trip (alternative Mix)

People who bought this item also bought LORDS OF THE NEW CHURCH, THE, ASTEROID B-612, GINO AND THE GOONS, FLYTRAPS, THE, ...

Format: LP

Disc Quantity: 1
Release date: 16-08-2019
Item # : 26604
Availability: IN STOCK

[login]